Wedding Budget Tips: Your Wedding Flowers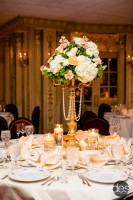 Beautiful wedding flowers are likely part of your dream wedding vision, with tall, glorious floral centerpieces on every guest table in your wedding ballroom, your wedding bouquet bursting with color and texture, and lovely seasonal flowers decorating your wedding ceremony and reception locations.
For 2015 weddings, the trend is returning to larger centerpieces, since the days of low-set budget wedding flowers are past. Tall wedding centerpieces look marvelous in a formal wedding ballroom with a dramatic high ceiling, and flowers are also now being used in the creation of tall flower-covered walls as backdrops to the wedding cake, sweetheart table and as wedding ballroom focal points throughout the room.
With larger wedding floral arrangements on trend for 2015 weddings, you'll likely want to find ways to have those elegant floral details on your wedding day, without spending a fortune on them. Here are some top tips for planning your wedding flowers and floral wedding décor on a budget:
Explore non-wedding flowers. Ask your floral designer to show you different types of flowers other than the traditional wedding flowers like pricy stephanotis and orchids. You'll find a wide variety of equally-pretty, yet lower-cost flowers to choose from.
Choose in-season, locally-grown flowers. We are extremely lucky to be located in New Jersey, where we enjoy a wide range of temperatures and the proximity of wonderful flower farms. Locally-grown flowers will most often cost far less than far-away grown flowers that need to be imported, elevating their prices. In-season flowers are also top budget wedding choices; you could have a particular kind of flower that you've fallen in love with imported from a place on the globe where they are in-season, but that is going to raise the cost. Ask your floral designer to show you the different types of flowers that will be in-season at the time of your wedding, and locally-grown to assist in your budget wedding choices for flowers.
Be flexible. If you select a particular kind of flower that you want in your bouquet, but your floral designer calls you with the news that the flower you want is limited in availability due to weather or crop issues where it's grown, have a second or third choice of flower in mind that you will be equally happy with, ones that are more available and thus lower-priced.
Plan for a mix of flower types in your bouquets and centerpieces. Using a variety of flower sizes will often mean that you need fewer flowers than you would for an arrangement with all one kind of flower.
Plan for a mix of flower colors in your bouquet and centerpieces. A monochromatic bouquet of, say, all red flowers may require a larger number of flowers per arrangement to make a good visual impact, whereas a variety of colors can create a larger impression while fewer flowers may be needed. It all depends on your flower choices and on your floral designer's skill with the type of arrangement you want.
Choose a 'hand-gathered' style of bouquet. Just like with wedding cakes, the more labor needed to create a wedding element, the higher the cost. A bouquet arrangement that looks like flowers were just picked from a wonderful garden and gathered beautifully will often be less expensive than a more structured bouquet style, depending on the types of flowers you choose.
Use plenty of greenery. Your floral designer can show you a wide range of pretty greenery elements to work into your wedding bouquet and the centerpieces that will stand out in your grand wedding ballroom. From wide banana leaves to curled green leaves to delicate ferns, greens fill out floral arrangements and add a lush natural beauty to them, all on a budget.
Make bridesmaids' bouquets smaller than your own. Our New Jersey brides often have large bridal parties, which could potentially add up to high costs for bridesmaids' bouquets. A top trend in 2015 weddings is to have bridesmaids carry small bouquets designed to complement the bride's bouquet, but still let her flowers stand out.
Give your bouquets a second life. In the past, bridesmaids' bouquets were laid flat around the wedding cake to adorn the cake table, but that has become a very dated look. Now, a top trend in wedding bouquet displays is to stand those bouquets up in vases and set those vases out as planned décor, such as on your guest book table or family photos table. You might design all of your wedding centerpieces to match the color, style and size of the bridesmaids' bouquets, so that the bouquets do double-duty as centerpiece accents on, say, eight to twelve of your guest tables.
While it may seem smart to DIY wedding flowers in an effort to save money on your wedding, keep in mind that wedding floral arrangements take great professional skill to ensure that the right flowers are used at the perfect moments of their buds opening, and arranging bouquets takes expert care and materials. It could be a waste of money if you attempted to make your own wedding florals and found your blooms to be wilted, or your bouquets falling apart, your roses browned before your ceremony. Top NJ floral designers will work with you on your budget to create the perfect flowers for your wedding vision, saving you time and money, making their hiring one of the smartest wedding budget steps of all.