How to Plan Your Wedding Entertainment on a Budget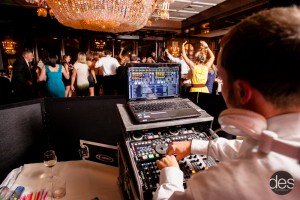 Fabulous wedding entertainers in New Jersey bring the house down with music choices that keep the dance floor packed for those romantic, swaying slow songs and high-energy dancing hours, spotlight dances and surprise musical performances that make a wedding unforgettable and may even go viral when guests post that amazing song rendition or your choreographed dance to social media.
High-quality wedding entertainment is worth the investment, so while there are ways to plan wedding entertainment on a budget, it's never advisable to book the cheapest wedding entertainers you find online, nor to ask a friend to be your deejay (unless he's one of the best deejays in the tri-state area as a profession.) Cutting corners on your wedding entertainment is one of those mistakes we don't want you to make, since cheap wedding entertainment almost always results in wedding nightmares, wedding regrets, and an empty dance floor.
Here are some of the top ways to plan wedding entertainment on a budget:
Compare both wedding deejays and wedding bands in NJ. It's a wedding myth that deejays are always less expensive than wedding bands. Prices will always depend upon wedding entertainers' experience, quality of equipment, reputation, and of course their quality.
Consider booking both a deejay and a band. When the deejay and band play half the time, it can add up to good budget savings compared to full-time performances from either.
Consider booking through a larger entertainment company. Some of the best entertainment companies in New Jersey are able to offer high-quality entertainers at discount prices, and may be able to help you choose the perfect wedding entertainers fitting your budget range.
Book your wedding during off-peak times. This is a general wedding budget rule, since prices may be lower with all of your wedding vendors. Off-peak wedding months of October through March, and weddings on a Sunday or Saturday afternoon, as opposed to Saturday night, may cost 20 to 40 percent less, depending on the details of your plans.
Avoid booking for too few hours. If you attempt to save money on wedding entertainment by booking them for under four hours, then want them to keep playing longer at your wedding, you'll face hefty overtime charges.
Ask your wedding venue for entertainer recommendations. The best wedding venues in NJ have worked with the best wedding entertainers in NJ, so they know which companies offer the best quality performances at budget prices.
Ask if you get a discount for paying your bill in advance. Some wedding entertainers will offer a 5 percent, 10 percent or more discount when you pay up front.
Ask if you qualify for special discounts. Many wedding entertainers in NJ offer discount prices to military couples and other special clients.
Check entertainers' social media sites for discounts. Some will offer their fans and followers 10 to 15 percent off special packages, and those sites may be where they announce their special seasonal sales and pop-up discounts.
Check music schools and NJ universities' music departments for talented artists. You may be able to book your wedding ceremony musician for a third of the cost of a professional musician, and the student gains valuable experience, a resume credit, and an online review from you.
Ask which extra effects and details are included in an entertainer's package. Some of the top NJ wedding deejays and bands include specialty lighting as part of their packages, with basic lighting being free and customized lighting and effects at extra charge. If your entertainer offers quality lighting effects, you may not need to hire a specialty lighting effects company.