Wedding Budget Tips: Your Wedding Invitations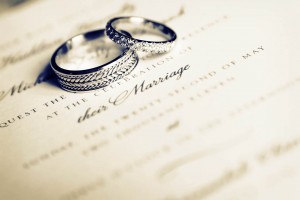 When guests receive your wedding invitations in the mail, they get their first glimpse of the elegance and style of your wedding to come, as well as an indication of the formality of your event. So much information is conveyed through the design and wording of your invitation, but what is most strongly received by your guests is excitement to join you at your wedding ceremony and reception, especially when they learn that you'll be married at one of the best wedding venues in New Jersey, a grand wedding ballroom or lovely wedding garden setting that they have heard so much about or seen in top wedding blogs. Now, thanks to you, it's their turn to experience an elegant wedding at one of the premiere wedding locations in the state.
With so much encompassed by a wedding invitation, you'll want to be sure yours is as beautiful and as high-quality as it can be, which is why so many of our New Jersey wedding couples are hiring custom wedding invitation designers to create one-of-a-kind invitations for their big day. Whether you'll order custom wedding invitations, or order from a reputable online wedding invitation company, you'll likely want to stick to your budget, getting the most from your wedding invitation investment. Here are some top tips for planning wedding invitations on a budget:
Stick to rectangular wedding invitations. Square envelopes cost more to mail.
Stick to one or two types of invitation fonts. Even if you love a range of different fonts, wedding invitation companies and designers charge more for the use of more than one or two different font types. Plus, a wedding invitation looks better in just two types of print than in a variety of font types.
Stick to standard invitation fonts. Your invitation company will offer a list of their standard invitation fonts, and they may also have a list of specialty, decorative fonts that cost more. You'll find plenty to choose from in the attractive standard fonts list, so quality will still be available.
Stick to one font color. Using more than one color of print for your invitation also raises the price of your order.
Choose an affordable print process. Thermography is one of the more affordable methods, letterpress is considered affordable as well, and engraved is one of the most expensive print methods.
Choose a lace print design printed on the invitation, rather than a laser-cut lace design that costs more to create.
Stick to standard elegant invitation paper types. Again, you'll find plenty of high quality invitation papers to choose from, without venturing into pricy imported papers or those embedded with flower petals and other items.
Don't assume that single panel invitations will always be less expensive than dual-fold, gated invitations or pocket invitation styles. It may seem that the extra paper materials and construction will automatically cost more, but it's the brand name, the paper quality and design that affect pricing. Comparison shop well before selecting a design.
Skip overlays. Some invitation designs are available with a lace, satiny, or vellum overlay for extra color and design, and these add on to the cost of wedding invitations.
Take great care with the proper wording of your invitation. Consult with your wedding invitation designer, and review invitation wording templates on a wedding invitation company's website, to be sure you're accurate with such invitation wording etiquette rules as spelling out the hour, so that your invitation order is perfectly-worded. An error could require a pricy re-order.
Order only 10% more invitations than you'll need to mail out, so that you have enough for later sends in case of errors, invitations lost in the mail and keepsakes.
Order your invitations early, so that you avoid rush fees.
Check with your invitation company to see if you would get a discount for additional print items such as your thank-you notes and menu cards ordered at the same time as your invitations.
Check online coupon code sites to save 10%, 20% or more, and perhaps get free shipping for your order.
Bring one complete invitation packet with all of your inserts enclosed and unsealed to the post office, to have it weighed for accurate postage on your inner and outer envelopes. This weighing task is essential, so that you don't have all of your invitations returned or undelivered for insufficient postage.