How To Select Your Wedding Floral Centerpieces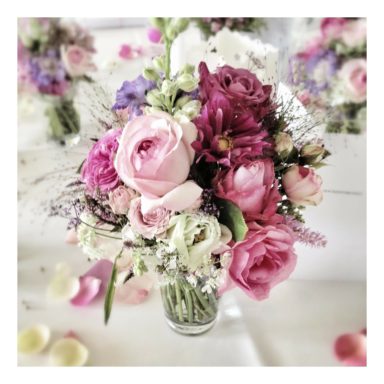 From upscale lavish rose arrangements in gold painted vases to a simple cloud of baby's breath nestled in a clear cylinder on tables, wedding the floral centerpieces set the tone for your wedding reception décor. There is a fine line between being a nuance and obstructing the view during a toast to being too mediocre. Floral centerpieces catch the guests' attention and unite all flower arrangements no matter the style or placement. Gorgeous floral centerpieces sitting on top each table are an important design element and wedding planners at The Manor's can help inspire you to have an unbelievable and visually appealing wedding day.
An Over The Top Effect Using Elevated Floral Centerpieces
Tabletops floral centerpieces will always be popular for wedding table décor but lifted floral centerpieces elevate luxury to another level. Lush, dramatic, bountiful floral arrangements are usually suspended at 24 inches to 48 inches off tabletops. These arrangements are usually placed in decorated floral stands made of glass or metal. The tall floral centerpieces reach high above the table's surface; they may even look suspended in air. The higher arrangements allow guests to see across the table. Elevated floral centerpieces add dramatic effect and are ideal for high ceiling wedding reception ballrooms as they take up space appearing grander.
Elevated floral centerpieces can also drape downward toward the tabletop. For an elegant look drape floral strands for a 'willow tree' effect using floral branches. Furthermore, for stunning shimmering floral centerpieces add suspended crystals on an invisible wire.
Glass Vases Provide Versatility For Displaying Wedding Floral Arrangements
Glass vases provide versatility when arranging flowers; you can arrange them in round, square, and rectangular clear glass vases. To create dimension vary the vase sizes both height and width. This provides an eye-catching trio of low, medium and high-set centerpiece containers.
Filling glass vases also provide a variety of option from soft colored rose petals to natural river stones. The brighter petals inside glass will contrast beautifully against table linens. Similarly, couples can hone in on the particular season with seasonal fillings such as acorns, faux snow, sunflowers, and berries. Florists may wrap the base of glass vases with green banana leaves or other green leaves to create a more natural appeal. Furthermore, the thick leaves serve a dual purpose to also help hide flower stems within the vase.
Picking Pretty and Colorful Flowers
By selecting brightly colored flowers, their hues are ideal to coordinate or contrast with the colors of tablecloths, table runners, and chargers on tabletops. Specific and popular color-combinations for today's wedding floral centerpieces include;
Ruby red and copper
Buttercup and amber orange
Turquoise and plum
Violet and lavender
Coral and amber
For couples that prefer an all-white aesthetic create visual interest by using several different types of white flowers. Utilize shades of off-white and cream flowers since the there is no one exact shade of white. Doing so allows each arrangement to have unique textures and more dimension.
Creating Floral Centerpieces On A Moderate Budget
Floral arrangements while an important decorative element for a wedding, they come with a pretty price tag. Featuring an unforgettable floral arrangement at your wedding does not have to translate to expensive. You can create some of the aspects yourself to remain cost-effective. Why not pick out luscious flowers and herbs from your very own garden, and then add them to your magnificent floral centerpieces? Using store-bought fruits and vegetables to work into your centerpieces are an economic and colorful option. Centerpieces created with wildflowers for a summer wedding or homegrown garden vegetables like pumpkins or for an autumn wedding, provide an element of comfort and simplicity.
Choosing Floral Arrangements for Seasonal Weddings
Depending on the time of year, different types of flowers can enhance the overall look of centerpieces. Also, choosing flowers that are in season can help save on costs.
Fall Weddings are often inspired by the warmth and beauty of the season. In the fall, floral centerpieces often include autumnal decorations such as acorns, crab apples, branches or leaves. Rich fall colors such as red, orange, and yellow are included along with amber, gold and russet colors to compliment. We recommend Aster, Chrysanthemum, Dahlia, Marigold, and Zinnia as in-season flowers to make fall centerpieces pop. Also, persimmons reach their peak orange color in the fall and can be a great addition to an autumn color scheme. Black cosmos can also be used to add a bit of black to an arrangement without overshadowing anything, they are eerie and dark and great for creating a rustic fall ambiance. In addition, many fall weddings incorporate vegetation of the season by decorating with dried greenery, pumpkins, ornamental cabbage, and crab apples. Consider adding an element of fall to make any centerpiece memorable.
Winter Weddings can be enhanced by floral choices. To complement the snowy season, white-tipped pinecones, blue-gray juniper boughs and silvery dusty miller can create a frosty effect. Many brides and grooms go for a soft, antique white effect during winter weddings, made up of flowers in creams, ivories, and even very pale blush hues. Decadent red arrangements have also become especially popular for those aiming to add a pop of color to winter weddings. The top red winter blossoms include roses, amaryllis, lilies, anemones and cymbidium orchids. If the wedding is holiday themed, choosing holiday flowers can enhance the impression. Consider using Poinsettias and holly to add a holiday touch to a winter wedding. Accenting any bouquet with evergreen instead of leaves can also further add a touch of winter.
Spring Weddings have numerous opportunities for flowers. Hyacinths are nice, fragrant flowers that are in season during springtime. Peonies have great volume, which can add great value to any arrangement. Many people also use spring herbs as part of their arrangements, including plants like lemon, verbena, and basil into the seasonal design. When choosing spring flowers, be sure to take into account that many seasonal spring flowers are known for their fragrance. Try to avoid flowers that may become overpowering. For example, just a few stems of oriental lilies can fill the air with strong perfume, so they are best used in moderation or for larger venues.
Summer Weddings are one of the most popular wedding seasons, and the perfect floral arrangements can pay homage to this romantic time of year. Bright warm colors are popular for floral summer centerpieces. Protea, seed pods, roses, and various greenery are great in-season choices to include. Agapanthus also come into season during summer, their beautiful shades of blue and white can add volume without density to table centerpieces. Croton, areca palm, elephant ear leaves and winding passionflower vine have tropical leaves, which can create an island feel for summer weddings. For beach weddings, many couples include seashells in centerpieces to add to the shore vibe. When choosing flowers to incorporate into your summer wedding, keep in mind the temperature. Delicate flowers like hydrangeas and peonies will require close attention on hot days, while dahlias, orchids, and succulents are able to thrive in summer heat.
DIY Centerpieces For Your Wedding
Floral arrangements are one of the most important decorative elements in any wedding ceremony, and they can often be expensive. But there are many ways to avoid spending a fortune on unforgettable floral centerpieces; many couples create their own floral arrangements and centerpieces. Unprotected wildflowers, herbs from a relative's garden, or even store-bought fruits and vegetables can be turned into extravagant floral arrangements. Centerpieces created with wildflowers or home garden vegetables like pumpkins or squash (especially in the Fall) are a great green option to consider.
Preparing Wedding Floral Centerpieces For Your Big Day
To best prepare for your big day following form and function are key. Floral centerpieces should be designed to make wedding guests feel special, not obstruct their view. By keeping your guest's point of view in mind during your decoration planning, future brides are sure to have a breathtaking and eye-pleasing room with dazzling centerpieces. Using the season to guide decision making for floral arrangements can help create a lasting impact. Contact a top wedding venue near you today to ensure the tables at your reception will be eye-pleasing and unforgettable.