How To Decorate Your Wedding Aisle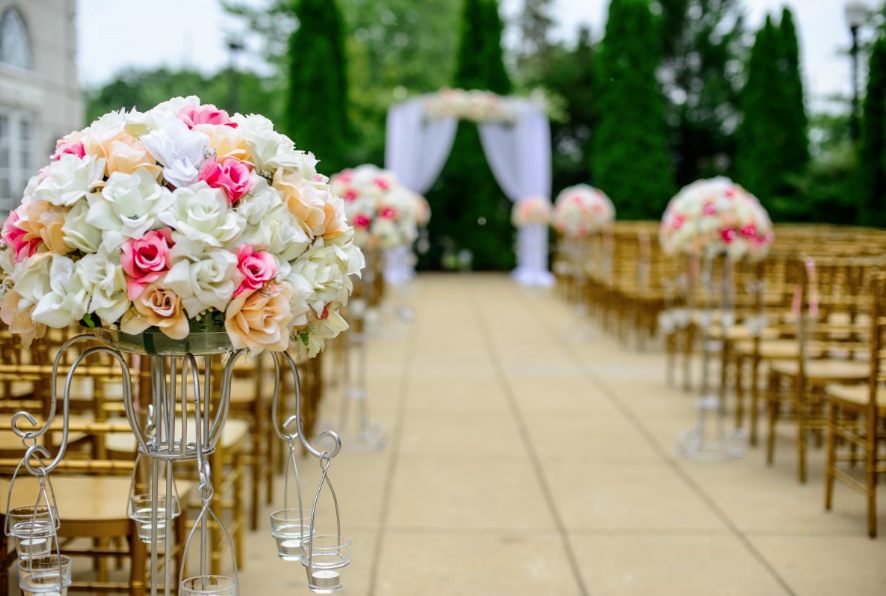 As guests gather and the music starts, your ceremony aisle is the focus of attention as loved ones excitedly wait for the procession and bride. Picking the right aisle decorations can change the feel of an entire ceremony, making your wedding extra memorable. From deciding between the aesthetic of bows, flower petals, tiebacks, ribbons or having a runner, your wedding aisle serves as an extra touch of personalized beauty to awe your guests and help set the mood for the bride's big day. Wedding planners at The Manor can help couples best select and coordinate your aisle décor with your wedding's theme.

Get Creative With Flower Petals
An easy addition, lining the aisle with flower petals adds a pop of color to any indoor or outdoor ceremony. Not just reserved for flower girls, petals add dimension and create a soft romantic feel to the entire ceremony. Couples can use multicolored rose petals to add a pop of color to the ceremony using petals from seasonal wedding floral arrangements. For a more modern twist, try creating a unique pattern such as creating a monogram with the petals. Ombre flowers petals create a subtle array of color, while a blanket of petals adds drama. For an elegant touch, consider a pattern with the petals, or scatter petals in 6- to 12-inch widths running along the sides of your aisle.
Often many brides include lanterns or soft candles lining the aisle—both work to help light the aisle and also give your wedding a magical ambiance. Consider including fall leaves, flower heads, fabric, or feathers into your composition to complement the scene.
Decorating Your Wedding Aisle Chairs
Depending on your ceremony you may have either chairs, typical for outdoor weddings or pews in a church ceremony. To further enhance the ceremony, you will want to decorate the chairs along the aisle. For example, you may tie flowers like baby breath, roses, or lavender with twine to make understated aisle decoration. Spark some imagination for a beach themed wedding by fastening starfish and coral with teal ribbons. For a rustic theme wedding, hang dried grass, wheat, and fall berries using natural colored raffia and twine to the end of each pew or chair. The opportunities are endless when creating a wedding aisle that is eye pleasing.
Hanging DIY Flower Cones On Aisle Chairs
Hanging bouquets of flowers atop streams of tulle can give your aisle an elegant and romantic look. Craft flower cones and attach them to the top seat of your chairs, or tie sashes along the back of them, or simply embellish them with flowers.
To make flower cones, cut medium-weight construction paper (something fancy!) into a 7-inch square. Use decorative scissors to scallop edge and a pencil to form the tip. Secure the outer flap of the cone with craft glue or invisible tape. Punch six holes, 1 inch apart, beginning at top front center. Thread 20-inch length of 1/2-inch ribbon through the holes. Tie a bow at the front, and leave a 7-inch loop at the back. Fill these flower cones with any kind of flowers you want.
Multipurpose Mason Jars For Your Wedding Aisle Decor
Mason jars add a rustic and vintage charm, to use as part of your aisle décor. A-cost effective and versatile option, mason jars can be one of the core thematic decorations for a wedding. Here are a few ways to use mason jars to their full potential:
Fill mason jars with colorful flower bouquets to line the aisle for a perfect outdoor wedding decoration. You can fill jars with water and float lotus flowers on top of them.
Mason jars also work well as hanging decoration. Tie twine or ribbon around the Mason jar or use it to hang the Mason jar from the aisle chairs. Mason jars also hang adorably from a shepherd's hook for outdoor or barn inspired weddings.
Create a lantern by using a clear or colored mason jar and place a tea light candle inside. To add a vintage touch, put doilies or lace around the mason jars.
Telling Your Love Story Through Your Wedding Aisle Decor
Your wedding day celebrates your life long commitment and devotion to one another, so why not incorporate that into your aisle décor? Try writing something meaningful on an aisle runner that tells your guests your story. Embellish the runner with a large monogram, a favorite piece of literature, a quote that is significant to you and your loved one. You can even line the runner with the love story of how you and your partner met.
Want to make your family sentimental on your big day? Line each row with framed childhood photos to denote the bride and groom's sides. Your guests will love to take a walk down memory lane and see how much you've grown up.
Here Comes The Bride
With all of the aisle décor options out there, choose one that fits you and your partner's personality as well as the atmosphere you've cultivated for your wedding day. At The Manor, our wedding planners look forward to decorating your aisle for your big day. Contact a top NJ wedding venue near you to start planning your upcoming dream wedding today!