How to Trim Your Wedding Guest List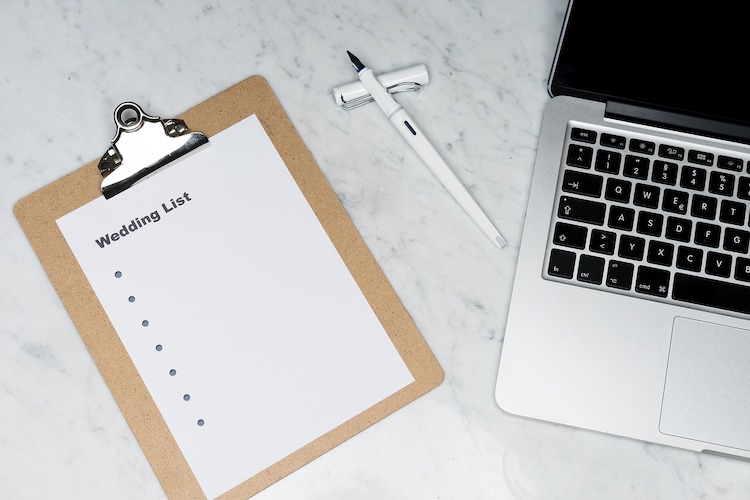 With COVID-19 still looming over the horizon, smaller weddings seem to be a lasting trend. The pandemic, which has discouraged large weddings, has led to a rise in micro weddings, and even virtual weddings.
These micro weddings, which were on the rise even before the pandemic, are fueled by the desire to create an intimate setting while still celebrating with your closest loved ones. When downsizing your wedding guest list into something more intimate, consider starting early and think about what you will say before you break the bad news.
Plan Early & Effectively
Talk to your wedding venue and wedding planner as soon as possible! You'll want to remain up-to-date with the strict protocols and expectations they have for you. A common requirement in these protocols is a limited wedding guest list, which most venues will strictly enforce. This specific number will be good to have moving forward. Even if you're without a venue, you'll want to establish a set wedding guest list, typically between 15-30, to find that perfect wedding venue.
According to New Jersey COVID-19 guidelines, indoor wedding receptions are currently capped at 10 people, while outdoor receptions are limited to 25 people. When it comes to the ceremony, New Jersey's limits are different: a wedding guest list is limited to 150 people for indoor ceremonies, or to 25% of a room's capacity, whichever is lower, and outdoor ceremonies do not have an attendance limit. While wedding venues will strictly enforce New Jersey guidelines, they may have additional limits they've set themselves. It's important to talk with your wedding venue and wedding planner directly to understand their protocols.
By calculating these numbers out early on, you can focus on finalizing seating arrangements and catering accommodations. Your wedding guest list will also ultimately impact your final cost. Thus, you'll want to have as much time as possible for all of these deciding factors.
Additionally, planning early will give you time to gauge your guests' comfort levels. With the extra time, you can call, text, or even send a poll out to see how they feel about traveling and in-person events. This extra knowledge can give you a good base when the time comes to organize your wedding guest list. The extra time will also allow your guests to plan accordingly and make any essential changes.
Making Your Wedding Guest List Intimate & Meaningful
Start by talking to your closest loved ones: these are the people you want at your wedding, no matter what. These loved ones could be your parents, siblings, best friends, or perhaps your grandparents. No matter the person, sit down and discuss realistic expectations with your wedding planner. This is an opportunity to discuss the COVID-19 guidelines that would have to be followed at your venue, the limit on the wedding guest list, and their comfort levels in attending.
After speaking with your closest loved ones, review your wedding guest list to begin prioritizing the guests you want in attendance. A good place to start trimming is plus ones. You might make it a rule that no plus ones are permitted, or limit it to those who have been in relationships the longest. Consistency is key: it will help you to explain why some received an invite and others did not.
From there, consider your relationship with each person. Have you seen or spoken with them in the past few months? If the answer is no, you might consider taking them off your wedding guest list. In prioritizing immediate family and very close friends only, your wedding guest list will begin to tinker down.
Remember to let guests know that they don't have to attend your wedding, especially if your guests are worried about their health. Talk to each person about how they're feeling and let them know that their friendship matters to you and will not be hurt if they do not feel comfortable attending.
How to Soften the Blow
Talking to friends and family members who had to be removed from your wedding guest lists can be a difficult conversation. Before getting onto the phone with them, emailing them, or sitting down with them, draft up what you want to say, and have a few talking points ready. Before you contact your guests, consider these talking points:
Explain why you decided to lower the guest count, and how you came to the difficult decision. Communicate that, because you love them, you're taking the precautions necessary to carry out an in-person event.
Let them know why you chose your new date. If you have plans for another ceremony, or a large party, post-pandemic, let them know about that too!
If you're planning on live streaming the event or hosting it virtually on Zoom or Skype, let them know.
Explain to them how much it means to you that they understand and remind them that, had COVID-19 not interrupted, you would have loved for them to be able to attend.
Overall, be confident in your decisions and know that you're doing the best you can: you're trying to keep everyone's safety in mind. A more intimate wedding, with a bigger celebration post-pandemic, might be the best possible alternative.
Are you still searching for a beautiful venue to hold your intimate wedding? Check out Knowles Hospitality's exquisite venues for the perfect setting for a luxurious, small wedding.