Natural Wedding Trends that Bring Nature and Romance Into Your Special Day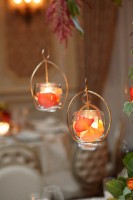 We've certainly seen our fair share of bold colors and wedding elements derived from statement pieces and color blocking recently. And we anticipate seeing more influences from the neons (especially pinks and oranges) and fuchsias that are walking the runways. But for those with a more classic aesthetic, you'll be reassured to know that we've also been noticing already this year–on the other side of the spectrum–softer wedding trends.  We expect wedding trends to drift even further in this direction. While over-the-top weddings will remain popular for sure, look for them to share the spotlight with more natural, less overstated affairs.
Though various nature-inspired wedding trends have popped up in previous years, following the ever-growing interest in eco-conscious weddings, today's natural wedding trend is less focused on being "green" specifically and more attentive to highlighting softer, more classic, and less ornate wedding styling.
But what does this mean for the average bride?
For wedding gowns, expect to see more light and airy dresses, with ultra-romantic being the intention, more than sleek and trendy. Think softer textures and more natural whites. Expect more and more lace elements in wedding gowns. Also look for more coverage, including sleeves, though still with a more modern twist.  Pastel bride's maids dresses will is also be a new wedding trend. And don't be too surprised to see the more daring brides even donning touches of peach, lilac, or pink in their gowns.
Softer shades and the watercolor look won't just be restricted to fabrics and linens. Wedding invitation trends are expected to reflect this influence as well. Wedding table card ideas, signage, and practically any printed wedding pieces will reflect a less overdone look, taking more inspiration from nature and the surrounding environment, utilizing more matte finishes and less stylized fonts.
The natural bride look for wedding hair and makeup is winning the day as well. We've noticed a renewed awareness that the best wedding makeup helps to highlight and enhance the beauty of the bride, not draw the focus to the makeup itself. In our experience, the most radiant brides use light makeup colors for their foundation and blush.  They pick colors that complement their skin tones. The same goes for eyelid makeup. We anticipate the top wedding makeup trends to focus on more blended looks and making the skin shimmer, to enrich the natural glow of a bride in love. We love it when we overhear guests saying "Wasn't the bride beautiful?" instead of "Wasn't her makeup beautiful?"
As for bride hairstyles, pin curs, soft waves, and the classic, can't-miss, chignon are all part of new wedding hairstyle trends. Romance and simplicity rule the day. Natural and not overdone, but with attention to detail are the focus. Lace headbands and flowery feminine accents that reference the trend complete the overall natural look.
There are so many great trends and options for incorporating a more natural, romantic feel to your wedding day. These are just a start, but we hope these trends have offered some inspiration for you to incorporate into your own style as you plan your dream wedding.