Advantages and Disadvantages of a Small Wedding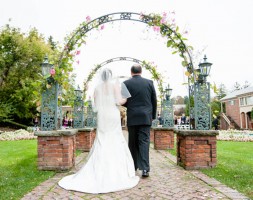 Some of the couples we meet with at our northern New Jersey wedding venues say their dream wedding is a small one, a more intimate event that's more their style. As you begin planning your wedding, you may be trying to decide if you want a large or a small wedding, and we can help you make that very important decision that factors into so many of your biggest and smallest wedding planning details.
Advantages of Small Weddings
With a smaller guest list, you have access to a large number of wedding venues, but are not limited to small party rooms. The best wedding venues, including those with outdoor garden wedding spaces and fabulous banquet halls, are adept at arranging the different spaces on their grounds to create spectacular wedding ceremony and celebration spaces perfectly proportioned to your smaller wedding guest list. The top NJ wedding sites can arrange trendy partitions with gauzy curtains – as seen on the top wedding websites, blogs and bridal magazines – to create smaller event 'rooms' throughout the grounds, both indoors and out.
A smaller wedding can cost less, depending on the choices you make. Event venues charge a certain amount per guest, and thus a smaller guest list may add up to a smaller wedding budget.
Having fewer guests at your wedding allows you to spend more quality time with each of them. If you have only fifteen guest tables in your banquet hall, as opposed to forty tables, it will be far easier for you – as the bride and groom – to visit each table and spend some time talking with friends and family who have traveled so far to attend your wedding. You'll also be able to get the initial table-to-table visiting done in a shorter time during your wedding reception, so that you're then free to enjoy more of the dancing, drinking and mingling taking place within your wedding venue.
A smaller wedding may give you more room in your wedding budget to offer a grander, more exorbitant menu, with a larger number of cocktail party stations, higher-end entrée choices, top-shelf bar offerings, a wider array of desserts and after-dinner drinks, for a luxury wedding on a smaller scale.
Or, if you prefer to plan a budget-friendly cocktail party reception for your smaller guest list, you may have more money to devote to your honeymoon or post-wedding house purchase.
Your wedding invitations shopping list will be smaller, and it will take less time to write out your invitation envelopes by hand.
DIY wedding projects for your smaller wedding will take less time and money to complete.
You might choose to have a smaller bridal party, spending less on gifts for them.
A smaller wedding taking less effort to plan may be less stressful for you.
Disadvantages of Small Weddings
When you choose a smaller wedding, your guest list naturally includes fewer people, which can cause friction and drama when family members and friends find out they're not invited.
Parents can also pressure you to include more relatives who invited your family to their weddings, or have a larger cultural wedding when that's not your choice, creating drama and conflict on both sides of the family.
Since the task of creating a smaller guest list can be very stressful, conflicts can arise between the bride and groom, each of whom may have small or large families or circles of friends they're having trouble whittling down.
Smaller guest list decisions often lead to hurt feelings among some friends and acquaintances, sometimes ending those relationships.
During the planning process, there may be a feeling of regret while friends talk about their more upscale wedding plans at elegant wedding venues, with elements you originally eliminated from your small wedding details.
Fewer guests mean fewer wedding gifts, which may be important to your plans to recoup some of your wedding expense money through traditionally-given cash wedding presents.
Couples who think they can plan a small wedding at home wind up facing higher-than-expected costs when rentals become necessary, and caterers have long lists of requirements to cook in the home kitchen. Party banquet halls and special event venues eliminate the hassles and complications of trying to plan an important celebration at home.
After the wedding, you may experience some regret over going 'too small' with your wedding plans, not having certain guests in attendance, not having more wedding elements. But that too can be solved, if you plan to renew your vows a year or several years from now at a top catering banquet hall when you may be able to better afford the celebration of your dreams, on a grander scale, with more of your family and friends in attendance. This a top celebrations trend in our northern NJ location, as guests understand that wedding couples would face enormous wedding planning expenses, especially when they're buying a house or facing school loans. It's never too late to have the celebration of your dreams, at a romantic wedding venue that's among the best New Jersey banquet halls.
Use our list to explore your wishes for a small wedding, and make your own Pros and Cons list to help you design the perfect size for your New Jersey wedding, with the best that a classic wedding venue offers for this new happy occasion in your life together.