Questions to Ask When Touring Wedding Venues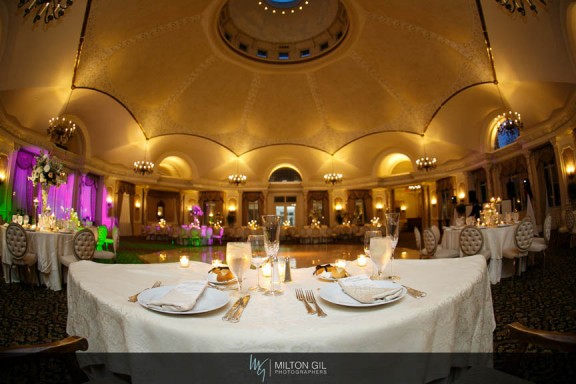 Touring wedding venues is one of the most exciting tasks in all of wedding planning, especially given the beauty of Northern New Jersey's foliage and scenery in all seasons. Wedding venues have planned their landscaping and their floor to ceiling windows to provide the most beautiful setting for the most special day of your life, so you will find yourselves in stunning setting as you search for The One, the location of your wedding reception, as well as your wedding ceremony in many cases.
As you embark upon your wedding venue tours, accompanied by your partner and your trusted relatives and friends when they can attend, be sure to ask these important questions:
Which dates are available in the month we'd like for our wedding?
What are the price differences for different seasons or months at this wedding venue? And what is the availability in any other month that interests us?
Do you only host one wedding at a time at this wedding venue?
Can we hold our wedding ceremony here as well? What are the capacities for the outdoor wedding spaces as well as the indoor wedding spaces in case of weather issues on our wedding day?
Is there a bridal suite where the bride can get dressed and ready? And is there a private room where the groom and his men can get ready as well?
Is there a private room where we'll be able to gather with our families and bridal party immediately after the ceremony?
Is there a site fee? An extra fee for using the wedding gardens?
Do you offer on-site wedding coordinating?
Is the site handicap-accessible?
What are the best locations for our First Looks photos?
Are there any plans for remodeling or different landscaping at this wedding venue before our wedding date? (If so. You'll likely be able to see design images.)
Are there any restrictions about this wedding venue, such as no staking tents on the grounds, or weddings needing to end by a certain time?
Can we bring in our own wedding vendors, or must we use your preferred vendors?
What are the hours we and our vendors will have access to the wedding venue on our wedding day? How many hours prior to the start of our wedding, and at what time do we need to leave the premises?
Do you provide in-house catering? (Ask about the wedding venue's chefs' experience and awards)
Is your kitchen kosher-certified (if applicable?)
Where do you source your produce? (Top wedding venues will often source farm-to-table produce and meats from local farms and growers for the best cuisine in NJ)
Can we do a food tasting to plan our wedding menu? If so, how many people are permitted at the tasting?
Do you have an in-house wedding cake baker? Can we bring in our own wedding cake, if desired? Is it possible to have a cake tasting?
Are you licensed to provide alcoholic beverages?
Do you charge a corkage fee?
Can we bring in any outside desserts?
Can we bring in any outside liquors?
What is the payment schedule? And in what forms do you accept payment?
What is your cancellation policy? Your refund policy?
Do you have liability insurance?
Do you have an eco-friendly policy and recycling plan?
Can we have a food truck on the premises for the departure time of our wedding?
Who will be on-site to assist us on the day of the wedding? Will we be assigned personal attendants?
Do you offer coat check?
Is there adequate parking on-site to accommodate our guest list?
If we wish to have our dog participate in our outdoor wedding, is that allowed at this venue?
Is there anything else we need to know about weddings at this venue?