Special Wedding Décor Trends 2014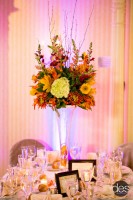 Each wedding season, the bridal industry shows off the newest trends in wedding décor, and at our top wedding venues in New Jersey, we see them all shown off in splendor. Brides look to celebrity weddings, the top bridal magazines, wedding blogs and top wedding pins on Pinterest for inspiration, and the best wedding designers in NJ bring the latest décor trends to life.
Here are some of the top wedding décor trends for 2014:
Aisle runners. Fans who watched The Bachelor wedding saw a stunning, champagne-colored aisle runner with hand-painted effects and crystals used in the outdoor wedding ceremony design, and gorgeous, customized aisle runners are being used for ceremonies as well as the entryways to the cocktail party and reception areas.
Floral arches. Large, lush floral-accented arches may be used for the wedding ceremony altar or the entrance to a garden ceremony.
Chandeliers. Top wedding designers and NJ's top event lighting companies work magic with lighting effects, and one of the top wedding décor trends for indoor and outdoor weddings is the installation of gorgeous, glamorous chandeliers providing ambiance-setting light effects.
Lighting projected on a wall. For years, wedding ballroom dance floors were the surface of choice for the projection of custom lighting effects like the bride and groom's names or patterns such as snowflakes or swirls. Now, these creative light projections are being trained on the walls and ceilings of top wedding venues in New Jersey for an impressive effect. These might be aimed at any wall, or projected onto the wall behind a dessert buffet or behind the bar.
Floral walls. Vertical gardens inspired this look, and top floral designers in New Jersey have taken the look and turned it into tall, dramatic walls covered completely with roses or other flowers. This wall might be set behind the guest place card table, the family photos table, or the ceremony altar or chuppah.
Creative displays of family photos. Those priceless photos from relatives' weddings, or photos of the bride and groom during their dating years, used to be displayed on a table at the reception entrance, and now their presentation is getting a style makeover. They might be hung on a wall (perhaps a floral-covered wall) with a flat screen television playing video of the wedding couple, or they might be placed on a grand piano in the cocktail hour room.
Tall centerpieces. Centerpieces are getting taller and more dramatic again, with tall glass vessels filled with water and florals suspending large, lavish groupings of flowers and greenery. When centerpiece florals are elevated, guests can more easily see across their tables and across the ballroom to view all the big moments of the day.
A line of centerpiece items. If a tall centerpiece is not used, a top trend in wedding décor is lining the centers of each table with an array of vases holding flowers and greenery, single bud vases, pillar candles in varying heights, votive candles, and natural elements such as smooth river stones. These collections are best arranged on a colorful or shimmery-fabric table runner for added contrast of shade and texture.
Ceiling décor. When guests look up in the wedding ballroom, they'll see hundreds or thousands of tiny paper cranes, or suspended flowers and crystals, creating detailed visual effects and a luxury look. This suspended décor might be hung over the dance floor, or over their sweetheart table, or above the wedding cake, as the top trends in ceiling accent placement.
Floral halo. An enormous ring of flowers and greenery hangs above the dance floor, providing a gorgeous effect for First Dance photos.
Wedding signs. At our northern New Jersey wedding venues, we see true artistry in the signs that are placed in and around our establishment and gardens. Brides and grooms are having fun personalizing these signs with sweet sentiments, such as "This way to our 'I do''" and "Our happily ever after starts now!" Signs also announce signature drink bars and point the way to the cigar bar or the candy buffet. Our eco-friendly wedding couples often use wedding signs made from repurposed wood, and some of our DIY wedding couples make their own signs. They add a custom touch to wedding décor, and they are keepsakes that can be displayed in the bride and groom's home after the big day.