The Top New Wedding Favor Trend for 2014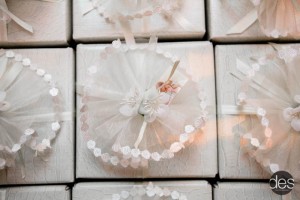 When you're looking at the top new wedding favors on bridal websites, trying to decide between the same-old tiny photo frames (that you've seen at so many other weddings) and yet another wine bottle stopper (that your guests have seen in NJ gift shops and at Williams Sonoma) consider taking a different direction and following the biggest trend in wedding favors 2014: edible wedding favors.
Martha Stewart shows them all the time in her magazine and on her website, as do the top wedding blogs and New Jersey Bride magazine. They're the beautifully-made sweets and savory treats that guests can either help themselves to on a dessert buffet or that you can individually-package for guests to take home.
The 'help yourself' dessert favor bar is the biggest focus of this new trend, since brides and grooms have added culinary flair to a smart budget-friendly wedding favor plan by offering take-home baggies, boxes, scoops and tongs to their dessert buffets so that guests can take home their personal choices of delectable freshly-made desserts or other treats.
Brides and grooms at our NJ wedding venues tell us that they personalize their edible favors to their love story, such as including each of their favorite candies or desserts, or the mini Napoleans they had after dinner the night they got engaged, and more.
Here are the top new trends in edible wedding favor choices:
Zeppole. Powdered and bagged while still warm just before the end of the reception, these NJ desserts are crowd-pleasers. Guests will very often eat them in the car on the way home.
Chocolate bark. It's an easy DIY wedding favor to make, and recipes might include chocolate mint, chocolate with a bit of cayenne pepper, and other flavors.
NJ Shore treats, like squares of rich, velvety fudge, chocolate-dipped Oreos, caramels, warm peanuts, flavored taffy and other treats you always head right to the boardwalk candy stores to buy in bulk. Wedding guests not from New Jersey love getting a taste of local NJ candies and chocolates.
Cookie or brownie mixes in mason jars. Mason jars have been a top wedding décor trend, and now they're holding the top wedding favors. With this favor idea, you'll layer all the ingredients for an easy 'pour into the bowl and mix with eggs, oil, etc.' baking project to make a baked treat.
Mini donuts. The donuts craze is still a top trend in wedding favors¸ so serve traditional styles or order custom donuts iced in your wedding colors. NJ caterers will often display these ringed on mini straws stuck into tiny glasses of milk for a late-night bite and dual wedding favor.
Popcorn. And kettlecorn, arranged in containers on a big popcorn buffet table for guests to take home.
Mini pastries. Napoleans, eclairs, mini creampuffs, and other small-sized pastries we all love from our pastry chefs' creations fill a take-home wedding favor bar deliciously.
Retro candies. A candy bar filled with colorful candies may feature retro candies that guests remember from their childhoods, like cinnamon candies, Pop Rocks, root beer bottle tops and others.
Seasonal desserts, like maple walnut fudge in fall, citrus-flavored frosting on cookies in summer, mint flavors in winter.
Outside of sweets, brides and grooms like to share with guests their love for barbecuing or cooking, packaging up chili seasonings or BBQ sauces for guests to take home and use in their own entertaining and meals. Top-quality olive oils and vinegars are also popular among the brides and grooms of our NJ wedding venue, as are packaged spice blends.
Another top trend in edible favors is having a food truck parked outside your elegant NJ wedding venue as a surprise to guests, who get to order their choice of treat and take their package home.