The Most Popular Flowers for Wedding Décor in 2014-2015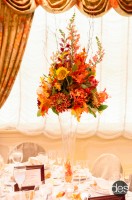 The top wedding venues in New Jersey are often brought to even greater beauty when wedding couples draw from the top wedding flower trends and then give those trends their own personalized twists. So not only are wedding flowers breathtakingly beautiful, they also hold great significance to the wedding couple and to their families. For instance, a bride might choose to incorporate into her wedding day flower choices the same types of flowers that her mother, grandmother and perhaps even great-grandmother used in their own wedding décor details, and of course floral inspiration can be taken from the groom's parents' and grandparents' weddings as well.

A few top trends in wedding flowers for 2014 and 2015 include:
Bringing the Outdoors Indoors. When your wedding venue has gorgeous wedding gardens and lush landscaping, you'll likely plan all or part of your wedding to make the most of a beautiful outdoor wedding setting, and then you can use florals and greenery to style a garden-like scene in your wedding ballroom as well as throughout your entire wedding venue. This trend includes such lovely floral touches as using potted trees, green garlands, cascading floral branches, and other effects, with florals in your choice of all-white, pastels for an English countryside effect  (inspired by the royal wedding of Prince William and Kate Middleton,) or vibrant bright blooms for a dramatic feel.
Wow Factor Centerpieces. The days of smaller, low-set centerpieces are over, as more wedding couples in NJ prefer large 'statement centerpieces' made with branches or actual trees reaching to great heights, drawing the eye up to the wedding venue's dramatic ceiling and architecture. These tall centerpieces are often made using flowering trees with wedding flowers added to fill out the effect.
Lighting your Wedding Décor Flowers. Specialty lighting effects are a top wedding trend for 2014 and 2015, and those gorgeous floral arrangements become even more eye-catching and impressive when they are lit from above, or from within such as with LED lights. And it's still a top wedding trend to suspend LED candles in tiny votive holders or mini lanterns from the branches of those centerpiece trees, as well as hanging them from the actual trees on your wedding venue's grounds. Potted trees arranged around your wedding ballroom can be uplit from behind to give them a standout appearance and add extra ambience to your wedding space.
Vintage-themed wedding décor. Pastel-colored flowers create that romantic vintage wedding look, with vintage-style lace effects added to bring out the beauty of countryside-feel flowers. Wedding couples are inspired by the Downton Abbey wedding trends that are so popular for 2014 and 2015 weddings.
'Luxe wedding flowers.' A top trend in wedding flowers is full blooms like peonies, ranunculus and especially large, 'blousy' varieties of roses that add volume and style to floral wedding décor.
Collections of vases. Again, in keeping with Downton Abbey wedding inspiration, a top trend in wedding flowers is displaying them in pretty, vintage or antique vases. Wedding mason jars are on their way out, replaced with pretty patterned vases and also with antique milk jars as a new wedding trend.
These top wedding flower trends include the top wedding flowers of 2014 and 2015:
Classic roses, the fuller the better. (And rose petals too are extending the effect of floral centerpieces and other wedding décor pieces, such as being sprinkled around wedding-trendy signs.)
Clematis
Jasmine (including South African vining jasmine, which comes in the Pantone Color of the Year 2014: Radiant Orchid.)
Peonies
Hydrangea
Succulents (especially popular as a wedding flower décor choice today.)
Bridal protea (a softer and more petite version than regular protea and a top choice for white weddings.)
Dianthus
Allium (a pretty round flower, popular in yellow especially.)
Thistle (great for texture, and there are many new varieties of it.)
Wildflowers (New Jersey weddings make the most of our being the Garden State with these pretty, colorful wedding wildflower types that don't look weedy.)
Celosia (a soft, velvety flower.)
Astllbe (another feathery flower that comes in bright shades like yellow, pink, orange and white, notable as a top fall wedding flower.)
Japanese mums
Lily of the Valley (Kate Middleton used these at her royal wedding, and brides continue to make them  top wedding flower trend.)
French tulips (with extra-long stems and large, tapered blooms…or parrot tulips with their fluffy, striped petals, ideal for spring wedding flower décor.)
Calla lilies
Stephanotis
Sweet peas (a flower with a symbolism of 'lasting pleasure.')
Gardenias (a top wedding flower pick, since so many brides' mothers and grandmothers have used this flower in their wedding day details.
And the tiny blooms of kalanchoe as a replacement for baby's breath, if the wedding couple finds baby's breath to look 'cheap.' Baby's breath has actually made a comeback as a wedding flower, since it's a very Downton Abbey, vintage wedding flower.