Wedding Etiquette: When to Send out Save the Date Cards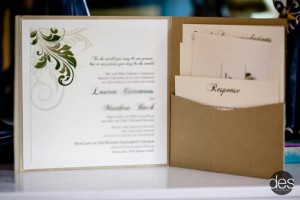 Save the Date Cards arrive in the mail, letting invited guests know when and where your wedding will take place, so that they have plenty of time to make their travel and lodging arrangements and be present for your wedding day. It's become a new Must in wedding planning to send Save the Date cards or magnets, and many couples in northern New Jersey and in New York City are among those across the country investing a tremendous amount of thought, time and money in their Save the Dates, to make a grand first impression and set the tone for the wedding to come.
No matter if you'll order Save the Date cards online or order custom Save the Date cards, you'll need to know the answer to this top wedding planning question: when should we send out our save-the-dates?
Wedding etiquette experts agree that determining when to send out Save the Date cards depends on when and where your wedding will take place.
As a general rule, most Save the Date Cards are mailed out between six to twelve months in advance of the set wedding date, with six months' advance time considered as the absolutely minimum. Guests need more than six months' time to arrange their vacation days at work, and perhaps arrange for relatives to come watch their kids if you've decided not to invite guests' children to the wedding. Families will need time to plan travel, and perhaps book their kids' camps and lessons for after your wedding weekend.
If your wedding date is on a holiday weekend, or during spring or winter break from colleges or schools, guests will appreciate a great amount of advance notice so that they can make their travel plans.
It would be terrible if a close relative or friend booked their annual NJ shore house for a week, and then found out your wedding will take place at that same time, or if they purchased non-refundable airline tickets for a vacation and will take a loss of their planefare. Some guests, angry at not getting a Save the Date early enough, may skip your wedding and perhaps cause a family drama for which you are blamed.
If you have many guests traveling in from great distances, aim for the nine- to twelve-month timeframe for sending Save the Date cards, and be sure to use good wedding etiquette: send out your Save the Dates only to guests who have made your final guest list (never before your list is finalized) and it's very good etiquette to send adults over age 18 their own Save the Date cards, write "+1" on the Save the Date card if you'll allow single guests to bring dates, and spell everyone's names correctly. You don't need to spell out titles in the high formality of wedding invitation wording and etiquette, but it's respectful to get first and last names perfectly-spelled. A common method for doing so is checking people's Facebook pages to see how they spell their own names.