The Top Trends in Wedding Cocktail Hour Menus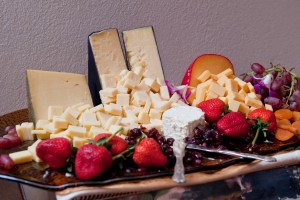 New Jersey wedding couples have phenomenal taste in food, having experienced the best restaurants in New Jersey and top restaurants in New York City, among other culinary experiences around the world. This foodie lifestyle leads wedding couples to focus in on their wedding catering, working with their NJ wedding venue's chefs to create a custom wedding menu that thrills every guest.
A top wedding catering trend for 2015 is planning a spectacular cocktail party, with a wide and impressive variety of stations, passed hors d'oeuvres and buffet menu items, once again returning to a 'more is more' mentality for their cocktail party menu. Recent wedding survey statistics reveal that wedding couples are skipping the budget wedding menu 'tricks' that are not quite tricks at all; wedding guests can see when shortcuts have been taken to save money on wedding catering, and they find it very disappointing if not offensive.
So when planning your wedding cocktail hours menu, asking yourselves 'how many types of hors d'oeuvres should I have at the wedding?' and 'how many stations do we need at our wedding?' always aim to have a generous amount of food, an impressive display of cocktail party fare, dishes to please all of your wedding guests. Your wedding venue catering director can help you design the perfect wedding cocktail party menu, so that you have the perfect number of cocktail party menu items.
Here, to help inspire your menu, are some of the top trends in wedding cocktail hour menus:
Lighter, fresher fare. The farm-to-table trend in wedding menus at the best wedding venues in NJ – so much larger a trend here, due to our many local family farms in New Jersey – has led wedding couples and guests to prefer lighter, healthier cocktail party menu items that make the most of seasonal produce and fresh herbs, like ceviche, grilled vegetables, mozzarella with Jersey tomatoes and fresh garden basil. These garden-fresh bites have replaced the array of fried appetizers that have since found their way onto Superbowl party menus. For today's cocktail party menu, fresh, crunchy, and naturally tasty is a top wedding menu trend for 2015.
Tasting stations. Allow wedding guests to enjoy small plates of delectable cuisine, such as an oyster station or a Prince Edward Island Mussels Fra Diavolo station – a dish that's made more special from its uniqueness, something guests don't cook for themselves every week (or perhaps not at all.) Your wedding venue's top chefs can create tasting stations manned by attendants who fix and perfect each guest's plate, making the cocktail party more interactive and a fine dining experience at your wedding.
Global dishes. In a perfect blend of tastes from around the world, today's best wedding venues create menus bringing together culinary dishes with a global reach. And there's a smart blend of international dishes that guests are familiar with – like the display of a sushi station, still a popular menu trend for 2015 – and menu items they may not have experienced before , like items on a salumeria platter.
Cheeses. In addition to the return of the cheese platter, made modern by the inclusion of artisanal cheeses, cocktail party menu dishes and stations may have tasty cheeses as part of their offerings. If you're among the NJ wedding couples planning to include a mac and cheese station at your cocktail party, know that the best NJ wedding venue chefs are using gourmet and artisanal cheeses in the creation of this crowd-pleasing station, to dial up the taste and add extra excitement to this top wedding menu trend.
Classic dishes. Inspired by shows like Mad Men, wedding menus are now including classic dishes like Beef Wellington and chateaubriand. This return to wedding menu classics trend is a crowd-pleaser, especially given that today's organic and farm-fresh meats add extra taste to these top wedding dishes. At the cocktail party, small plates of Beef Wellington bring in the classic feel.
The seafood bar. Guests love being able to choose their favorite seafood items from a beautiful bar of fresh seafood, and NJ wedding venues' locations mean that seafood is freshly-caught daily, sometimes just hours before cooking and serving. Again, keep in mind the top wedding tip that if guests don't prepare a certain kind of dish for themselves often, they'll be happy to see it on your wedding menu.
Braised short ribs. This is one of the top wedding menu trends for 2015, often chosen as one of the selections in the bride and groom's own signature cocktail party stations, and a top choice for a surprisingly budget-friendly cocktail party menu upgrade.
Whole suckling pig. Even at the most formal wedding, a whole suckling pig (with an apple in its mouth) delights guests who may be reminded of family reunion menus, tailgate parties, and special celebrations. This has become a top wedding menu trend for 2015, whether served as part of the cocktail party menu, or as a centerpiece of a rehearsal dinner menu.