Should We Use our Wedding Venue's Recommended Photographer?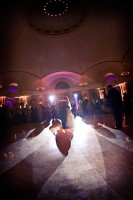 The best wedding venues know the reputations of the top wedding photographers in New Jersey, wedding professionals who have impressed us with their photography styles, talents and professionalism, and in an effort to help our NJ wedding couples plan the perfect wedding day, we offer a list of recommended wedding professionals for our couples to consider. With so many wedding photographers in New Jersey, it's important to choose a photographer who has a sterling reputation, years of experience, professional association membership and training, and many happy NJ wedding couples pleased with their work.
One mistake that wedding couples often make when trying to plan a wedding on a budget is booking the least expensive wedding photographer they can find, but they soon find – to great disappointment and wedding day disasters – that this cheap wedding photographer is just a hobbyist, someone with a reasonably good quality camera and little to no experience in all the nuances and artistry of capturing the best wedding photographs, nor using the light inside the wedding ballroom or outside in the wedding gardens. We like to help our wedding couples, to the best of our ability, avoid any subpar photographers.
When you see a NJ wedding photographer on your venue's list of recommended photographers, use that as a suggestion to add that photographer to your list of contenders, meaning that you will interview that photographer along with other New Jersey wedding photographers that you've located through friend and family referrals. The great benefits of strongly considering a venue-recommended wedding photographer include the following:
The wedding photographer has experience shooting weddings at our wedding venue. He or she knows all the indoor and outdoor wedding venue spaces, including rooms with windows and grand doorways that would be perfect for your pre-wedding, First Looks and couple portrait photos. With the wedding ballroom venue's best spaces and architecture in mind, your photographer will work more efficiently on your wedding day, leading you right to the best places for wedding photography, getting you back to your wedding quickly, with terrific photos taken. Included in this benefit is the fact that the venue-recommended wedding photographer knows the locations of venue areas affording the most privacy for wedding photos, shielding you from your wedding guests for your First Looks shots, for example.
The wedding photographer has experience with the seasonal lighting and landscaping of the wedding venue, again leading to pretty wedding photos taken, and your photographer's capturing of the perfect sunset, which he or she knows to flood the ballroom with gorgeous sunset lighting.
The wedding photographer knows that in such a stunning and expansive wedding venue, it's best to bring along a photography assistant or two to capture important photo opportunities taking place throughout your wedding venue's grounds. With two or three shooters, all of the action and fun occurring throughout your wedding venue is captured all the better. A photographer with no experience at your wedding venue may not know that additional shooters would be best, causing you to miss important photos.
Depending on the wedding photographer's packages and policies, you may be offered a discount on wedding photography, or be offered an additional disk or mini album as a premium for booking with them. That's not always a guarantee, but some photographers' special discounts may be applied when you book courtesy of a vendor referral from your venue.