Wedding Bar Ideas That Will Excite Guests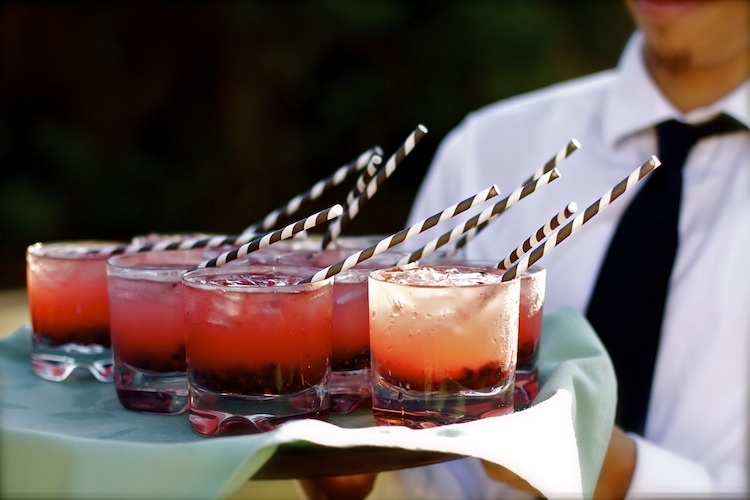 When it comes to a wedding bar, the choices are overwhelming. Should you try a cocktail bar, a wine bar, a tequila bar? With some creativity, the possibilities are limitless. If you want your bar to stand out and wow your guests, put your unique twist on these fun ideas!
Fancy Wine
Perfectly chill your favorite wines to elevate your elegant and classy theme. Design a custom label to place on every bottle. Wine barrels and wooden crate displays create a modern-rustic feel and enhance your décor. Guests will love the personal touch.
Beer on Tap
Beer fans can impress their guests with your best beers on tap. Select locally crafted brews and serve in customized glasses. A self-serve style will get your guests talking and keep them coming back for more. Compliment the wine bar with rustic tin pales to keep your favorite bottled beers and ciders sitting on ice. A beer bar is an effortless way to please a beer-loving crowd.
Signature Cocktails
Customizing your drink menu with signature cocktails livens up your bar with a pop of personality. Create names for each drink that pertain to the bride and groom, use wedding-themed colors, and incorporate your favorite ingredients. Delicious and Insta-worthy cocktails are sure to impress your guests.
Classic Open Bar
A no-frills open bar offers guests all their favorites. From beer and wine to hard liquor and cocktails, an open bar will keep the party going all night. If you want to keep the costs down, modify your open bar with a few select liquors, wines, and beers. This way, you won't pay to stock a full bar or be left with half-empty bottles. Offer a drink menu display to inform the guests of selections. If you want to keep it simple and classic, an open bar is probably your best bet.
Non-Alcoholic Refreshment Bar
A non-alcoholic bar with festive tea refreshers and mocktails is a hit for dry weddings. Cucumber and strawberry-infused water, passion fruit tea, blackberry lemonade, or a classic Shirley temple provide underage and sober with plenty of delicious options. These also hydrate your guests so they can continue busting out their best moves on the dance floor.
Coffee Bar
Fall and winter weddings call for some hot drinks. Get the warm and fuzzy feelings flowing with hot apple cider, hot cocoa, and coffee. These drinks are versatile, with options for both alcoholic and non-alcoholic beverages. Indulge your guests with hot toddy's, Irish cream coffees, and peppermint schnapps hot chocolate. Get creative and implement your wedding theme into the display.
Exceptional Food Pairings
Offer chips and guac with a margarita bar, warm pretzels and cheese alongside your beer tap, and a charcuterie station to pair with your favorite wines. Your guests will love munching away throughout the night. Another trendy option is to rent a food truck, opt for a dessert display (cupcakes, macarons, candies), or include a complimentary cigar bar. Any of these niche ideas are perfect for showing off your unique personality.
Get Started Planning Your Wedding Bar
A wedding bar is an event staple and a fun way to treat your guests. If you need some help making your dreams reality, Knowles Hospitality has you covered. Not only do we know how to finesse an exceptionally creative wedding bar, but we also provide stellar wedding planning services. Call Knowles Hospitality today at (973) 731-2360 to plan your special day!