The Wedding Planning Checklist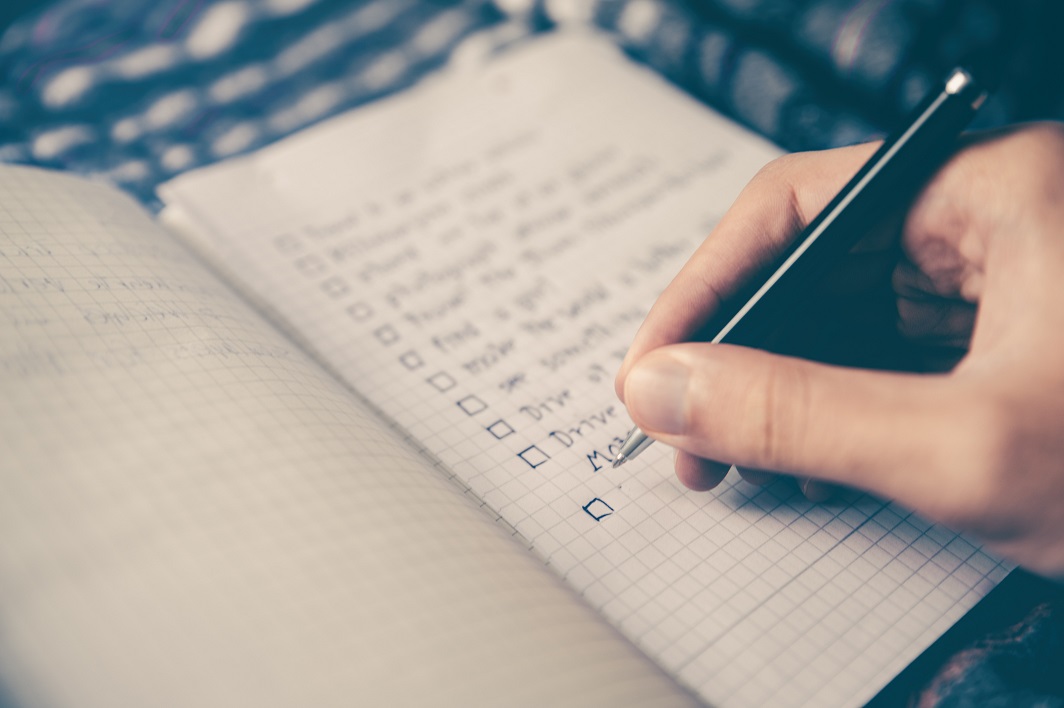 It's finally happened. You and the love of your life are engaged, and you are absolutely thrilled! After you finish telling all your friends, calling your mom and dad crying, and perhaps most importantly, posting an announcement on Instagram and Facebook, it's time to get down to brass tacks. The process of properly planning a wedding can take upwards of 16 months. It is a perplexing mixture of fun, joyful, and stressful experiences that can be difficult to navigate.
You may find yourself asking things like "when do I start looking for wedding invitations?" "When do I put a deposit down on the venue?" The Manor is here to answer all of those questions and more with our definitive wedding planning checklist.

16 Months Out
1) Start Your Wedding Plan Binder
Leaf through bridal, fashion, and lifestyle magazines for inspiration. Start your own journal to keep yourself organized and to write down things you'll want to remember.
2) Start Putting a Guest List Together
It's important to have a rough idea of how many people will be attending your wedding early on since it affects everything else.
3) Work Out Your Budget
Getting an idea of how much money you can spend early on will help inform all other decisions.
4) Reserve Date/ Venues
Figure out if you want the ceremony and reception to be in separate locations, and figure out travel time between each.
5) Book your officiant
Officiates can be surprisingly difficult to lock down, so the farther in advance you find one the better.
8 Months Out
1) Hire the Photographer and Videographer
You don't have to have specific aesthetics choices worked out yet – just be sure to hire someone whose work you like
2) Book the Entertainment
Pull the trigger on that band or DJ you've been looking at
3) Purchase a Dress
Schedule a time for fitting. Get your mom to come. Take pictures, cry, drink champagne, etc.
4) Reserve a block of hotel rooms for out-of-towners
Pick a few different hotels close to the venues and within your price range
5) Launch a Wedding Website
Obviously optional, but it will be an easy way to keep attendees up to date.
6 Months Out
1) Purchase Invitations
Pick something unique to you and your partner, and to the festivities!
2) Shop for Bridesmaids Dresses
Allow 6 months for everything to be picked and sized
3) Book a Florist
Bring your wedding binder so they understand your aesthetic.
4) Send Save the Dates
5) Compose a Day of Itinerary
Include any necessary transportation details. Draw up a schedule, and be sure to include each component (first dance, cake cutting, etc).
4 Months Out
1) Book Rehearsal Venues
This applies to the rehearsal and the rehearsal dinner. Negotiate the cost of the menu, and get your wedding planner to help (if you have one)
2) Select and Order the Cake
Keep in mind that some bakers are booked up many months in advance. Also, book tastings with several before making your final decision.
3) Purchase Wedding Shoes and Begin Fittings
Make sure to bring your shoes to the first fitting so that your tailor can size you appropriately.
3 Months Out
1) Finalize the Menu and Flowers
You've waited this long to find out what will be available. Remember – food and flowers are affected by season.
2) Send Out Invitations
Set the RSVP cutoff for 3 weeks after the post date.
3) Meet with the photographer
Discuss specific shots and walk-in locations, as well as the settings for both the reception and the ceremony.
4) Purchase the Rings
This will give you time for resizing, engraving, etc.
5) Enjoy your bachelorette party
If you have good bridesmaids, you shouldn't have lifted a finger for the planning. Relax, and have fun. You deserve it.
6) Get Vendors Up to Speed on the Itinerary
This will give them plenty of time to give you feedback
2 Months Out
1) Touch Base Again with Vendor
Just to make sure everyone's on the same page
2) Review Playlist with Band or DJ
Make sure they know/ have all the music you want at the reception
3) Submit Newspaper Wedding Announcement
Some publications have very strict rules about rules about the format of photographs they accept, so make sure you check their website before you submit
4) Mail Rehearsal Dinner Invitations
1-Month Out
1) Visit Dressmaker for (hopefully) The Last Time
2) Stalk the Bar
You know who's coming and what to expect, so you can finally start planning.
3) Send Out as Many Payments as you Can
Some vendors might be more flexible here than others. Find out which ones are so that you can get them paid and cross something else off of your list
4) Schedule Hair and Makeup for You and Your Bridesmaids
Make sure you hire someone who is okay with the bride's suite shenanigans and will work while champagne is being consumed
5) Assign Seating
Make sure your aunt and her new boyfriend are seated far away from her ex-husband
Week of The Wedding
1) Delegate Small Wedding Day Tasks
Chose someone to carry your dress, someone to keep track of gifts, etc.
2) Pick Up Your Dress
Or, if you prefer, arrange for delivery
3) Break in Your Shoes
Your feet will thank you
4) Pack for Your Honeymoon
You're almost done – Bermuda is only a week away!
5) Book a Spa day
Get your nails done. Maybe schedule a massage, as well
We Know: This is A Lot
Planning a wedding can be unbelievably stressful. But trust us when we say that this will be one of the most fun, exciting times in your life. Not only will you be tying the knot with someone you love, but also in the process of planning your special day, you'll wind up closer with your mom, your dad, your friends, and your entire family. So enjoy it. Take pictures. You will look back on this process fondly for the rest of your life. For more helpful tips from New Jersey's #1 wedding venue, subscribe to our blog.