Tips for Setting Up a Wedding-Friendly Pinterest Page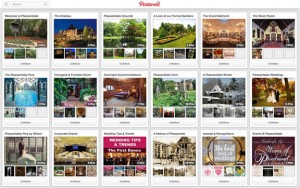 For those who already use Pinterest, the image-oriented social media platform, you know how addictive it can be–for brides especially. By giving users a way to easily catalog their interests by "pinning" ideas, information, photos, and more found across the web or uploaded on your own to a virtual pinboard–or even "re-pinning" favorites from other users–the site has opened up a new universe where creativity and new ideas can be discovered and shared.
Unique among social networks for its strong visual focus, largely female demographics, and Martha Stewart-like members, Pinterest has become an ideal website for planning a wedding. Gone are the days of the 10-pound binder stuffed with swatches, scribbled notes and pages torn from magazines.
For many brides looking to plan the perfect wedding, Pinterest has become an invaluable tool. It has developed an ever-growing following of brides looking to find the best wedding ideas and top wedding trends. We've worked alongside a host of brides-to-be to help them bring to life many creative wedding ideas that they found on Pinterest.
In working closely with our brides at our NJ wedding venues, we know that Pinterest offers many opportunities for putting together ideas for a unique wedding, but that it also has increased the potential for information overload. We feel it's important for brides to have an enjoyable wedding planning experience – as it should be. That is why we work hard to help this important time to be as memorable and low-stress as possible. To that end, here are a few tips for a successful wedding when using Pinterest:
Consider creating an entirely separate profile page dedicated exclusively to your wedding.
This will make it easier down the line to navigate through all your boards, knowing they are all wedding-focused (and not intermingled with your other pins about other interests, hobbies, and every-day items). This may also come in handy when sharing your "pins" with others and interacting with your followers. We know from some of our brides that their everyday style is a lot different from what they want their wedding to be, so keeping the pages separate also avoids any confusion with your friends and family who you enlist to help find the things that match your style. (Besides, you can always create a pin or board that links from your general Pinterest page to your bridal page.)
 When you're first creating your "boards," try to make them as specific as possible.
Once you get started pinning, you'll be finding lots of things to add. So making individual boards for hairstyles, wedding dresses, accessories, etc., instead of a singular, more general board for "style ideas," for example, will help keep you more organized. And, if you're undecided about the type of dress you want–short dresses, vintage dresses, couture-inspired dresses, etc.–you could break the boards up even further to help make your decision easier later on.
 It shouldn't feel like homework, but when you're pinning, don't simply pin an image; take notes.
Pinterest allows you to write-in comments on the image you're selecting, so take full advantage of it by noting anything specific about the image that influenced you to choose it. This will come in handy later on when you're trying to put together an overall theme and help you narrow down your options. Just the act of typing the idea out will help you to focus your thoughts. Also, any details that aren't found through the image link can be noted here—for example: wedding favors—add notes such as where you may be able to find a similar item, what you'll need to make them, how many you might need, or what items you'll want to go with it.
 Pin away. When you start your wedding planning process, it should be as much fun as you dreamt it would be.
Have fun scouring wedding websites, blogs, magazines, and other Pinterest users' boards, pinning all the items that inspire you. Don't feel like you have to be strict with yourself about being very discriminating with each and every image you pin. One of the many benefits of a virtual pinboard is that the board can be as big as you want it to be – you don't have to fit it on your corkboard or in your scrapbook. It's easier to delete a pin than to not save it and wish you had it later on. It has been our experience that while many brides knew from day-one exactly what they wanted and had very specific ideas, most went through a process of gathering ideas and weaving together an overall theme from many different points of inspiration. And it can be just plain fun and exciting to see all the varied creativity that goes into creating a personalized wedding experience.
We hope these tips help you get started on the right track when using Pinterest to plan your wedding. All that's left to do is to get pinning and start planning!