Trends in Wedding Cake Flavors for 2014 and 2015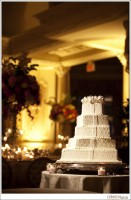 You may know the top wedding cake trends of 2014 related to how the cake looks – ruffled frosting layers, naked wedding cakes, all-white cakes – but do you know the top wedding cake flavors for 2014 and 2015?
A wedding cake has to taste wonderful, as well as being beautiful to look at, and wedding guests have very high standards for wedding cake flavors. They love the classics (a top-quality, moist vanilla cake with not-too-sweet vanilla buttercream, for instance,) but they also love to be surprised by exotic flavors and culinary combinations.
Cake bakers shop at farmer's markets to acquire the freshest berries and other fruits for their creations, knowing that the all-important cake flavor is what makes or breaks the perfect wedding cake.
Here are some of the top trends in wedding cake flavor and filling combinations for 2014 and 2015:
Almond – cherry preserves
Banana – peanut butter cream cheese
Carrot – cream cheese
Chocolate — chocolate mousse
Chocolate – Nutella
Chocolate – salted caramel buttercream
Chocolate — white chocolate mousse
Chocolate cinnamon – salted chocolate ganache
Chocolate mint – crème de menthe chocolate mousse
Coconut – lime buttercream
Devil's food – coconut pecan buttercream
Lemon – lemon curd and raspberries
Lemon – Raspberry buttercream
Pink champagne – rum custard
Red velvet – cream cheese or chocolate ganache
Spice cake – apple butter or apple buttercream
Vanilla – passionfruit buttercream
Vanilla – vanilla buttercream
White chocolate – raspberry cream
While a past wedding cake trend included having each tier be a different flavor combination, now it's more popular to offer one larger spotlight wedding cake in a luscious flavor combination, and then also set out next to it several smaller wedding cakes in alternative flavors so that guests can choose their favorites, and the presentation of several wedding cakes looks elegant and exorbitant, as befitting a luxury wedding.