Ways to Make Cutting Your Wedding Cake a Special Moment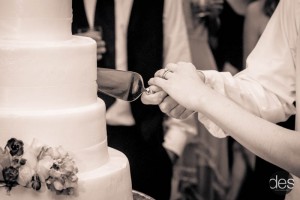 It's the big moment at a wedding – the cutting of the cake.
With weddings being so personalized now, and so many top wedding traditions given modern spins, it's only natural that the cake-cutting ritual also gets a personalized and modern spin. This is a moment, after all, when every guest in your wedding ballroom is looking at the two of you, ready to cut your beautiful wedding cake and feed the first bites to one another
Here are some new trends in cutting the wedding cake:
Make sure you choose the song you'd like your wedding band or deejay to play for your cake-cutting ritual. If you don't specify a song you love, you might end up with a song that's over-played at weddings, something that's not your style. Choose this song to reflect your relationship as much as your First Dance song does.
Use the cake-cutting knives your parents used at their wedding. Or your grandparents' cake-cutting knives.
Many of our wedding couples often choose new cake-cutting knives, receiving them upon request from a very special relative, or the friend who originally introduced them. The wedding deejay or bandleader then shares this FYI with your guests.
Have your first slice of cake placed on a keepsake cake plate that you bring with you to your wedding venue. It's not one of your wedding venue's plates, so you get to take it home with you, and use it again on each of your anniversaries to hold your celebratory dessert each year.
Decide ahead of time if you'll feed each other a bite of cake neatly, which wedding symbolism often attributes as a sign of trust, if you'll feed each other neatly and then dab a dot of icing on each other's noses (a playful moment that can keep guests from calling out for you to smash cake in each other's faces, an outdated tradition,) or if you'll get a bit messier (yet still spare your wedding gown from stains.)
If you have a child or children, include him/her/them in the cake-cutting ritual. For instance, you might cut your wedding cake traditionally, and then cut an additional family slice with the kids helping to push the cake knife through. Then everyone grabs a fork and takes their bite of the cake slice. This makes for a great family photo at the wedding.
Have your photographer capture more than just your cutting the cake. Ask for a photo of the cake portion uncut, then your slicing the cake and feeding it to each other, and then a photo of your singular slice missing from the cake.
Say a toast before you cut your cake, thanking your parents and your guests for being such an important part of your lives and your partnership.