Wedding Budget Tips: Your Wedding Drinks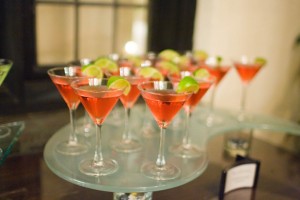 Thankfully, we're long past the days of questionable if not completely unrealistic wedding budget tips for drinks. In years past, wedding couples were told to offer just two or three types of cocktails, close their bar an hour before the end of the reception, and even offer 'drink tickets' that wedding guests would hand to the bartender to get each of their two allotted drinks.
Now, wedding couples know far better, refusing to sacrifice drink quality by serving low-quality liquors, and refusing to limit drinks at their weddings. They know that top-quality wines, cocktails, beer and liquors is every bit as important as serving the best wedding catering, since their wedding guests are extremely savvy about their drinks. They've taken to heart the advice to have an open bar with a wide range of drink options, and the best wedding venues in New Jersey offer them inspired and upscale ideas for wedding drink lists and signature cocktail ideas.
It's never a good idea to cut back your wedding drinks budget to a bare minimum. You always want to be as generous as possible with your wedding bar offerings, keeping in mind the new wedding rule that 'if your guests will taste it, invest well in it.'
If you don't have an unlimited budget for wedding drinks, there are ways to make it seem like you spent a lot of money on your bar offerings, while actually spending less. Here are some top budget tips for your wedding drinks:
Learn about well-priced vintages. Your wedding venue's bar manager can share with you the high quality of the venue's recommended wines at different price points. In today's expansive world of fine wines and champagnes, top-rated vintages are often available at more affordable prices.
Choose wines and beers from local vineyards and breweries. We're quite lucky to have so many wonderful NJ wineries and news-making NJ microbreweries near us, and for your wedding or for any gatherings you'll host in your home, locally-sourced drinks are often smart for your drinks budget.
Offer Prosecco or Spanish cava. As light, refreshing alternatives to champagne, they're also budget-priced compared to the price of some higher-end champagnes. Prosecco is a top trend in wedding drinks, which means guests will be happy to see it on your bar list or offered at a wedding drinks station.
Skip the champagne toast. Especially if you have a large wedding guest list, one that fills your wedding ballroom, it can be a smart wedding budget decision to eliminate service of champagne to all guests for the toasts. Wedding guests will simply raise their glasses of whatever they may be drinking at the time, often very happy not to mix liquors at this early stage of your wedding.
Offer champagne cocktails. Guests get a bit of bubbly, paired with a ½ or ¼ pour of fruit juice or fruit nectar. This adds color to those champagne drinks and stretches out the service from each bottle of bubbly.
Offer sangria on your drinks menu. Wedding guests love a high-quality sangria, since it may not be something they make for themselves all too often. Your wedding venue's mixologist can make an authentic sangria filled with farm-fresh fruit slices, a budget wedding drink choice that doesn't seem lower-cost at all.
Arrange for smaller pours of signature drinks. This has become a new top wedding budget tip. When you offer signature wedding drinks, many guests tend to take a sip or two just to try it, and then they return to 'their' drink. So to cut down on your drinks budget, arrange with your wedding venue's bar manager to offer smaller pours of your signature drinks to avoid waste.
Offer a terrific non-alcoholic drinks menu. At your garden wedding ceremony, for instance, set out several decanters of iced teas, apple cider, or other seasonal drinks, and add to your bar menu virgin versions of cocktails for guests who wish to pace themselves with their alcohol consumption, or who prefer to skip liquor altogether.