Wedding Invitation Trends for 2016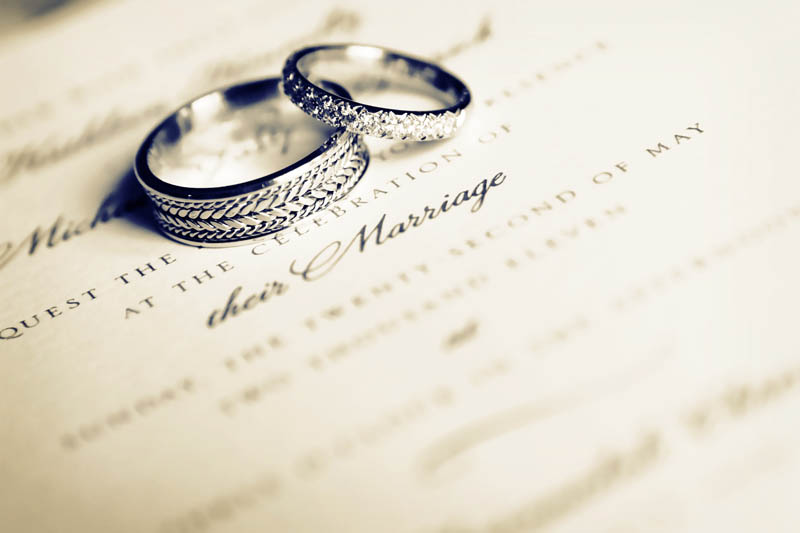 Wedding invitations have never been more gorgeous, as top wedding invitation designers are offering lovely, detailed designs on luxury papers, turning each invitation into a work of art. (In fact, many of our NJ wedding couples have their wedding invitations professionally-framed to display in their homes! So they truly are designing invitations with Forever appeal in mind.)
To help inspire your wedding invitation design, we've collected the top wedding invitation trends for 2016:
Neutral shades. From romantic ivory to shades of tan, putty, and charcoal gray, background colors for 2016 wedding invitations come in lovely neutral tones that work with any combination of bright or pastel colors. Neutral shades have become a wedding etiquette-friendly alternative to white wedding invitations, conveying the same sense of formality via their design and wording.
Jewel-tone shades. Outside of neutral-colored wedding invitations, rich, deep, jewel-toned shades of purple and blue are a leading trend in wedding invitations, with white, metallic or lighter shades of font allowing the lettering to stand out against these luxury shades ideal for any season of wedding, but notably for fall weddings and winter weddings.
Metallic accents. Copper joins gold and silver as the trio of metallic invitation accents, with foil and metallic lettering adding shine to invitation designs. Invitations may also have a shimmery border or entire background, since sparkle is in for 2016 weddings.
Damask and floral patterns. These pretty, feminine designs top the 2016 wedding trends list, adding a delicate motif to wedding invitations – and the design is often carried into other elements of the wedding for a unified bridal look, such as wedding cake icing patterns, even the floral accents on the wedding gown.
Calligraphy. Ornate calligraphy and unique wedding fonts are In for wedding invitations in 2016. We're seeing fewer basic fonts and more artistic fonts, at times custom fonts created just for the wedding couple, to give wording more visual flair and the invitation more personality. Again, invitations are a work of art, and it's the lettering that creates much of the impression here.
Enlarged names. It's not a new style note to have the wedding couple's names printed larger on an invitation. Now, they're much larger – not just two font sizes larger than the rest of the invitation print. Names stand out in enlarged print, making you the focus of the invitation itself.
Angled text. In a new feature for 2015 and 2016 weddings, more free-form artistry in invitation design allows the text freedom to arch or angle, in much the same way as the text in a children's book, yet still befitting a formal invitation.
Circular or frame-shaped invitations. Rectangular invitations may be too traditional for our more creative wedding couples, so unique shapes have become a top trend in invitations. (Be aware, though, that these non-traditional wedding invitations will cost slightly more to mail than rectangular invitations.)
Monograms. And family crests, adding a custom touch to your wedding invitations. Many of our NJ wedding couples commission custom monograms that they'll then use later in their personal stationery and home décor.
Polka dots. This playful design is having a popular year in 2016 as a trendy invitation motif.
Chandeliers. This elegant motif remains on the list of 2016 wedding trends, also popular for 2015 wedding invitation trends. Using a chandelier motif on your invitations allows you to continue the theme when your wedding venue ballroom has stunning chandeliers of its own.
Flowers and herbs. Nature elements are trending up for 2016 weddings, adding a botanical invitation theme to your print items.
Your photo. It's now etiquette-okay and a big wedding trend to include your styled or engagement photo on your wedding invitation, not just your Save the Date card. Forget outdated wedding etiquette rules that list formality do's and don'ts. That terrific photo of you can be your personalized invitation feature.
Envelope liners. Add some color to the interior of your outer envelope to coordinate with the colors of your invitations and create a more polished wedding invitation package.