Wedding Transportation Trends for 2016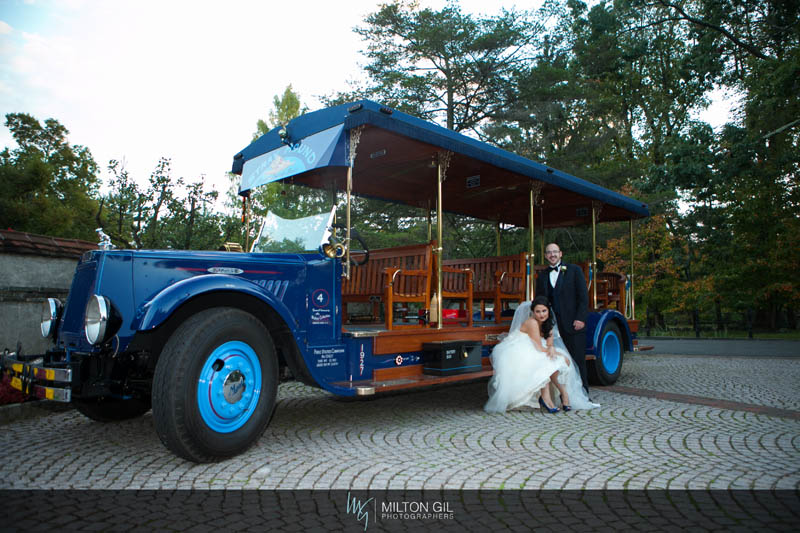 While the classic limousine arrival and departure is part of most NJ wedding couple's dream transportation, and continues to be a top 2016 wedding trend with the choice of a regular or stretch limousine and white or black cars completing the wedding vision, a variety of transportation options have emerged as choice picks for VIP-style grand entrances and exits. We've collected some of the top trends in wedding transportation:
SUV Limousines. New Jersey wedding couples love their stretch Hummers, stretch Escalades, and stretch Navigators, for the Wow Factor of that kind of ride, the celebrity-style of these vehicles, their interior fun factors like fiber optics, lasers and sound systems. The best limo companies in NJ rent fleets of these alternative SUV limousines, in bridal white and elegant black (which provides nice contrast to your white, ivory or trendy blush-colored wedding gown!)
Sports cars. Think Maserati and Lambourghini for your 2016 wedding arrival, departure and especially your wedding photos. Exotic cars are a top trend in wedding transportation, with exotic car rental companies in NJ and NYC exotic car rental companies also stocking impressive car makes and models. (A big trend in 2016 weddings will also be surprising the groom with the arrival of his dream exotic car on the wedding day! And not to be left out, car-loving brides may also get this surprise on the wedding day.)
Vintage cars. With vintage wedding trends moving into upscale-vintage, more couples are renting Gatsby-esque rides, such as Rolls Royce Phantom, Rolls Royce Silver Cloud, Bentley S2, and other dream cars, again for a jaw-dropping arrival and departures as well as for fabulous wedding photos. Some couples who plan to have both their wedding ceremony and reception at their NJ wedding venue, and thus have no real need for wedding day transportation, will still rent a vintage car just to be parked out in front of their wedding venue to impress guests upon their arrival… and provide everyone with a great photo opportunity!
Motorcycle. Brides have to have a dress that works for a ride on a motorcycle, but this could be an excellent departure ride from your wedding. We've seen bikes with sidecars, so that the bride can still get that moment but protect her dress from bike oils.
Taxi. This wedding trend came to us from NYC weddings, with the wedding couple smiling as they step into the iconic yellow taxi, and now NJ wedding couples are following suit with their own taxi moments outside of their wedding venue. So many of our NJ wedding couples have lived, worked, and met in NYC, and we've seen some Big Apple-inspired details included in their day and their wedding ballroom décor. And this is a fabulous, creative way to give NYC a nod and still have a wedding ride moment and photos that are personalized to your love story.
Party bus. With lights, sound and the ability to keep the party going as the bus transports you and your group to the after-party, this vehicle has long been a part of wedding trends. What works nicely for our NJ wedding couples is that it's not a long ride to the guests' hotel or to a buzzing, energetic city where bar-hopping can commence, and all guests kept safe from drunk-driving.
And, of course, you may find that you don't need wedding day transportation at all, if you'll marry in our wedding gardens and simply walk inside to our wedding ballroom. The beauty of a sprawling wedding venue with so many ceremony and reception locations open for your use is that you can potentially skip the expense of wedding transportation, and perhaps use that money to add extra elements to your wedding catering, desserts, décor or even your honeymoon.