Wedding Trends 2016: Wedding Cakes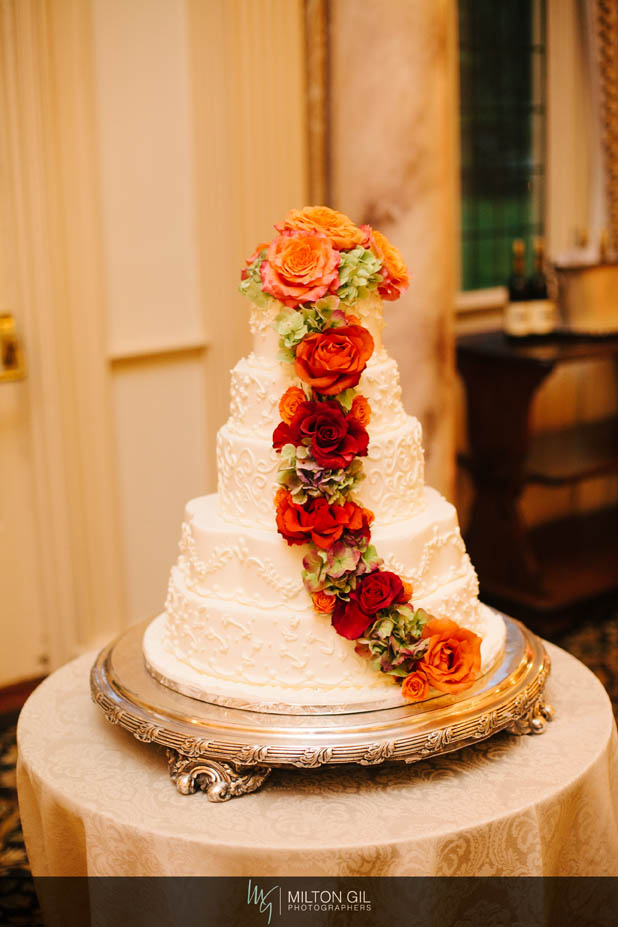 Our wedding couples have brought into our wedding ballrooms some spectacular cakes over the years, and we must say that the 2015 wedding cakes have been especially superb in design (and taste, judging by our many wedding guests' rave reviews!)
The huge, towering wedding cakes of the past have been brought down to four or five tiers this year, each spectacular decorated as standout focal points in our wedding ballroom, with specialty lighting illuminating them. So they really are quite breathtaking as part of the initial Wow Factor when guests walk into the room.
We looked ahead at some of the leading wedding cake trends for 2016, and we still see that the four- or five-tier wedding cake is in high demand. Here are some additional wedding cake trends to inspire you:
Metallic shimmer. With edible glittery frosting that's elegantly subtle but still catches the light in our wedding ballroom, cakes have taken on a stylish shimmer. And without glittery frosting, wedding cakes may be wrapped with shimmery ribbon or a shimmery fondant border around the base of each layer, for added shine. And a sparkling brooch affixed to the front of one tier is a stellar wedding trend we will see continue as a top wedding cake trend in 2016.
Texture. Ruffled frosting all along the length of the wedding cake adds a delicate, romantic look to a wedding cake, and this is one of the top trends in wedding cake design for 2016, reported by top NJ wedding cake bakers as THE top cake trend. Texture can also be created by an intricate pattern in fondant layers and 'ribbons' overlaying the cake frosting, for a 3D effect, and lace patterns to match the lace on the bride's gown is also an enduring wedding cake trend. Pleats, lattice, and herringbone patterns in icing and fondant designs also rule the top wedding trends lists, and following the top fashion runway looks, geometric patterns also bring texture to wedding cakes.
Naked cakes. Check Pinterest wedding cake designs to see this look. A layered cake is presented without an outside layer of frosting, showing off the tiers and fillings inside. This is a top trend for wedding couples who like a rustic elegance as their wedding style, and also those who prefer not-too-sweet cakes.
Multiple cakes. In place of a tall tiered cake, many NJ wedding couples are opting for multiple smaller wedding cakes on display together, for an impressive array of beautifully-designed cakes made by NJ's top cake designers. You can design cakes in multiple flavors and filling combinations, if you don't wish to choose just one taste for your wedding cake. Guests also love getting their choice of flavors via multiple wedding cakes.
Foodie flavors. Coconut chai tea latte is just one of the top trends in wedding cake flavor profiles, followed by the NJ wedding favorite of key lime-flavored wedding cakes (perhaps a nod to the couple's engagement setting in Key West, Florida!) Caramel apple may be your wedding cake flavor of choice for your cake (or for one of your multiple wedding cakes. And lavender tastes abound in creative cakes. Another trend in foodie flavor wedding cakes is the use of organic fruits purchased at local NJ farmer's markets, and flavored buttercream fillings. Of course, classic vanilla and lemon wedding cakes will always be on trend, as will NJ wedding favorite cannoli cakes, but the top trend in wedding cakes for 2016 will be your favorite flavor combinations. Keep your favorite flavors in mind for your wedding dessert bar as well.