Wedding Trends 2016: Wedding Gowns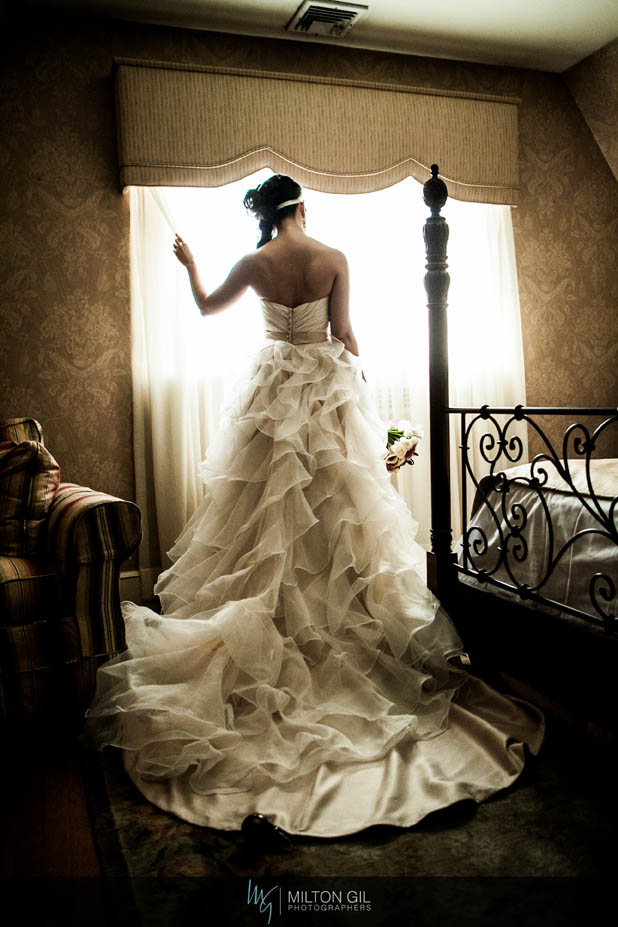 We've seen many beautiful brides walk through our doors wearing their dream wedding gowns, and we're looking forward to seeing our future brides arrive in these stunning 2016 wedding gown trends seen on the Spring 2016 Bridal Fashion Week runways:
Blush-color wedding dresses. While the traditional all-white wedding gown will always be a top wedding gown trend, spring 2016 is bringing even more of the blush pink-hued gowns that we started to see this year. From barely-there blush pink to rose hues, the new look in wedding gowns has a touch of spring-like color to it. Many brides feel that blush-color wedding gowns complement their skin tones better than all-white wedding gowns, so they're more open to this top gown trend for 2016.
Stone-shades for wedding gowns. Think stone, taupe and nude as the new hot neutral shade for wedding gowns, and putty and gray-wash are also joining in the stone-color wedding gown trend. Again, these soft and natural shades might complement your skin tone, and when your wedding venue has plenty of natural stone details in the architecture and wedding gardens, you may love how beautifully your wedding setting provides the perfect colors and textures to show off your wedding gown style.
Floral prints. This top wedding gown trend for spring 2016 adds floral patterns and color to your dress, and again, when you have an outdoor wedding garden ceremony or outdoor reception in NJ, the florals in your dress look their prettiest against a lush green manicured lawn or surrounded by wedding garden flowers and greenery.
Layers of lace. Lace is still a top wedding gown trend, as the Duchess of Cambridge (aka Kate Middleton) seems to have set a permanent trend with her royal wedding gown. This spring 2016 wedding trend look adds in layers of lace, such as Chantilly lace over tulle or layers of Swiss dot lace.
Sheer skirts. The soft, feminine wedding gown trends of 2016 continue with the stylish look of a subtly sheer skirt in tulle or lace, letting your legs show through your skirt just a touch, always properly and on trend.
Cropped tops. Another skin-bearing look favored by 2016 brides is the cropped top showing just a slight, barely-there sliver of skin across the midriff – letting you show off the results from all those months of bridal boot camp in NJ or your personal trainer sessions. The two-piece wedding gown is also a top wedding gown trend for 2015.
Dipped V-necks. These are not the plunging J. Lo dress styles; this top wedding gown trend features low V-necklines that are low but not too low. They add drama to your wedding gown look, and again fit with the skin-baring trend from the bridal fashion runways.
Illusion necklines. Illusion fabric covers the bodice area, allowing you to be well covered-up but look like you're wearing a deep V or swirled skin-bearing dress. Illusion fabric is accented by crystals, lace floral accents or other designs for an artistic wedding gown look.
3-D gown accents. Adding texture and style to a wedding dress, 3D accents like laser-cut appliques, lace flowers and beads are featured on the top wedding dress looks of 2016. In a dramatic wedding ballroom, this gown stands out.
Feathers. Soft, fluttery feathers add movement to your dress, used as an overall accent, a waist accent, or they may comprise your entire skirt for extra wow factor. Feather-accented dresses look equally pretty and elegant in a ballroom wedding venue and in wedding gardens.
Wedding suits. Speaking of two-piece wedding outfits, the ladies' pantsuit look was also a top look on the Spring 2016 Bridal Fashion Week runways. Well-fitted pants elongate the legs and give you a city-chic look for your NJ wedding.
The Bateau neckline. It's a look made famous by Audrey Hepburn, the almost straight across line at the neck, with just a slight curve. No deep plunging neckline; this wedding gown trend is stylish, sophisticated and one of the looks we're most excited to see make a grand entrance at our wedding venues in spring 2016.