Wedding Trends 2016: Wedding Menus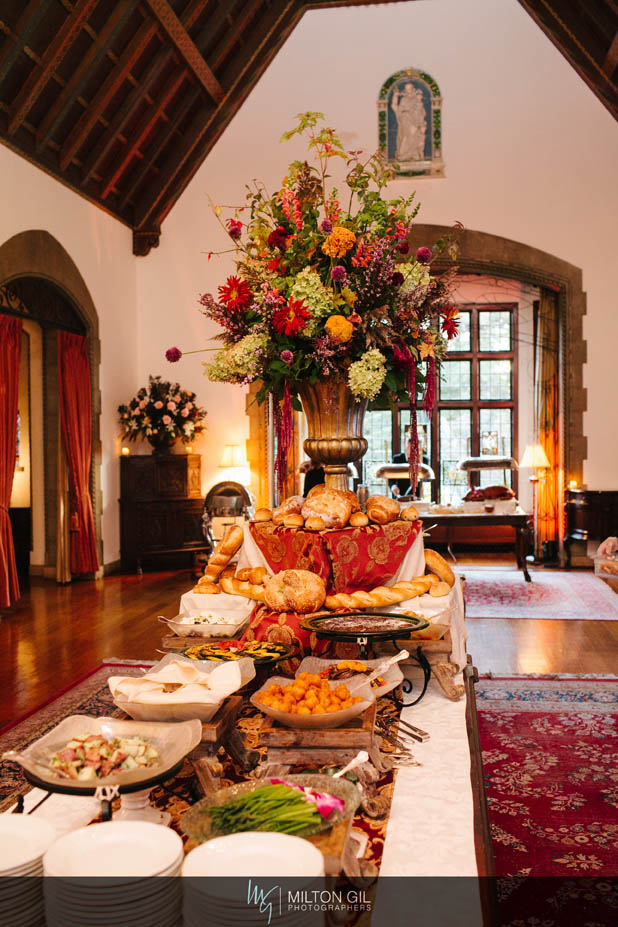 Wedding couples know that their guests are savvy foodies with an appreciation of fine cuisine and a sophisticated palate. They also know that wedding guests fully enjoy comfort food, sliders, and short ribs. So the big trend in wedding menus for 2016 is a blend of elevated cuisine like a perfectly-cooked Chateaubriand and chef-elevated comfort foods like mac n cheese (elevated by adding in lobster, goat cheese or the finest truffle oil.) A good rule of thumb for a wedding menu is offering dishes that guests don't cook for themselves very often, and offering dishes that guests have never seen like this.
Here are the top wedding menu trends for 2016:
Exceptional meats and seafood. Only the highest quality meats and seafood will do for today's food-savvy wedding couples and their guests. The best wedding catering in NJ centers around the highest-quality ingredients, including organic meats and sustainably-caught seafood, each prepared by the wedding venue's top chefs.
Fresh and healthier fare. The days of endless fried hors d'oeuvres at the cocktail party are over, replaced by the 2016 wedding menu trend of fresher, healthier light bites like ceviche and NJ wedding-favorite classic shrimp cocktail that leave guests feeling refreshed and prevent greasy fingers and stains on clothing. Farm-to-table, local ingredients are a must for today's weddings, and garden-fresh salads are prepared with tasty artisan cheeses from NJ farms and makers as well as gourmet imported cheeses as a top wedding menu trend.
Tasting stations. Speaking of light bites, wedding cocktail parties feature more tasting stations, offering guests little bites of menu items, often paired with specialty drinks, mini servings of beers and liquors like fine bourbon.
Seasonal menu items. Fall weddings in NJ will include more autumn-style foods and flavors, and winter weddings in NJ feature heartier fare than spring and summer's lighter fare. Again, locally-sourced flavors like maple syrups and honeys are introduced into menus for a seasonal taste, and even the wedding cake may feature seasonal flavors as well.
Cultural dishes. Wedding couples draw from their cultural backgrounds and family-favorite dishes to personalize their wedding menus.
Dishes from the couple's love story. It's a big wedding menu trend for 2016 to personalize wedding menus with dishes inspired by their own love story, such as including a dish they shared on their first date, or the first meal the groom ever prepared for the bride. These dishes are then included in the wedding menu, and the love story element is shared on the menu card to delight guests with this wonderful glance into the couple's beginnings and path to their wedding day.
Classic entrees. We're returning to the classic wedding meals that the couple's grandparents may have had at their weddings – stuffed chicken breast, filet mignon, and lobster. These dishes are then elevated by the best wedding venue's chefs with fresh, organic ingredients and a wonderful presentation, pairing the entrees with garden-sourced vegetables and again classic sides like potatoes gratin.
Trendy side dishes. For 2016 wedding menus, one of the hottest vegetables is brussels sprouts, with cauliflower and beets rounding out the top three wedding menu items as side dishes. In greens, collards, spinach, arugula and especially kale are the trendiest sides on an entrée plate, or a course in and of themselves.
Fabulous food displays. The Knot NJ mentions the top wedding food trend of creating a surprising and exciting food presentation, like designing a cocktail party station with a tall board on which donuts are individually hung on a pegboard. Tiers, trays and stunning bowls display the beautifully-prepared wedding food, tying into the saying that 'guests eat with their eyes first.' With wedding menu items presented with such flair, guests get very excited to sample your impressive wedding menu items.
Specialty foods. The best wedding catering includes a wide variety of dishes for guests who must have gluten-free food, for instance. More care is devoted to gluten-free, vegan, kosher, dairy-free and Paleo diets, so that guests can fully enjoy their time at the wedding.