Wedding Trends: Celebrating Cultures Around the World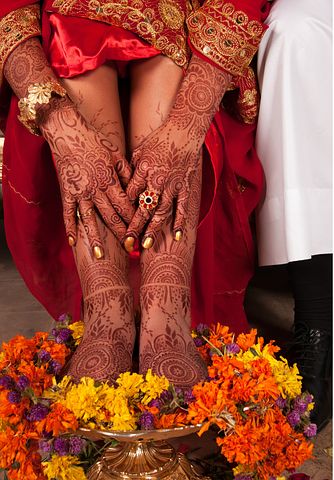 Every wedding represents the celebration of dedication and union of two individuals in love. But when two different cultures come together in holy matrimony, they bring unique traditions together. Whether you are marrying into a culture, or paying homage to your own, the wedding planners at The Manor highlight the following global cultures for couples to embrace and incorporate into their own wedding.

Traditional French Weddings
As two adoring people come together to say the ultimate, "Je T'aime", there are certain ceremonial traditions, also known as "cortege" in French weddings that differ from that of traditional American wedding culture. First and foremost, French weddings do not include bridesmaids and groomsmen; instead, the bride and groom each select a trusted witness for their ceremony. The ceremony procession features the groom walking his mother down the aisle, followed by close family. Then, flower girls and ring bearers make way for the blushing bride or help the bride by holding her train down the aisle.
In France, it is common practice for all ceremony guests and extended friends to attend a cocktail hour, featuring a magnificent champagne tower. Later into the evening, an exclusive dinner is served for close family and friends. Finally, dessert hour is quite a treat for a French Wedding. Instead of an tiered frosted wedding cake, French culture showcases a beautiful and tasty "Croquembouche," which is a sought after dessert for many French milestone parties. This pyramid-shaped dessert is a structure of pastry balls filled with and custard, and held together by caramel or toffee. Following traditional "Les Dragess" are typical guest favors of sugarcoated almonds, which are handed to guests and symbolize everlasting love.
Wedding Celebrations Under the Equator: Australian and New Zealand
Oceania, comprised of Australia and New Zealand, are the two most remote countries in the world. They borrow many of their wedding traditions from Great Britain and while mimicking western traditions. Similar to western cultures, it is bad luck for the groom to see his bride before the wedding. Traditions in Australian and New Zealand include lavish church ceremonies and bridesmaids dressed white. Meanwhile, the groom dresses in dark pants with a white shirt with a dark overcoat.
Exclusive to Australian culture, a wedding keepsake bible is handed down to each generation as popular wedding gift to treasure. The unity bowl tradition symbolizes unwavering love and support form all guests and family attending. Guests are given stones to hold onto during the ceremony. At the end they place stones into a unity bowl, which the happily married couple shall cherish for years to come.
New Zealanders also incorporate traditional Maori wedding customs, which are the indigenous Polynesian culture within New Zealand. This includes the ceremonial "Powhiri welcome" to the bride and groom and the traditional warrior challenge. A Maori tribal elder officiates the wedding and blesses the couple. At the end of the ceremony, the newlyweds get adorned by an infinity loop placed around their necks, which symbolizes infinite love and devotion to one another.
Armenian Wedding Day Traditions
In the Middle East, Armenian wedding traditions begin the night before the wedding ceremony. It is customary for the groom's family to bring the bride's family beautifully wrapped gifts. Each box contains a different gift that the bride will use on her wedding day. A few examples of these gifts are a veil, wedding-day shoes, chocolate, Armenian cognac, perfume, and flowers.
Another Armenian wedding tradition is for the bride's brother to place money in her shoe for good luck before the ceremony. A traditional Armenian bride wears an elegant red silk gown with an ornate headpiece shaped like wings and covered with feathers. A happily married woman will also place the veil on the bride's head to bring luck to her marriage.
Celebrating Congolese Wedding Customs
In Congo, Africa, Congolese family members arrange marriages. Though the later tradition is phasing out, one tradition that dates back to ancient times is the dot, or "brideprice." Once the price of the bride has been set between the two families, the groom must pay the bride's family to marry her.
It is a tradition that Congolese brides and grooms do not engage in any affection or romance such as smiling during their entire wedding day, from ceremony to reception. If they do smile, it symbolizes that they do not take their matrimony seriously. Once married, a ritual is performed to confirm the virginity of the bride. The morning after the wedding night, trusted women from both sides of the family questions the newlyweds of their wedding night, and visit the bedside to find a presence of blood, which indicates virginity. If virginity is not proved, the marriage can be annulled and the groom can be reimbursed for his brideprice.
Embracing Japanese Wedding Traditions
While the Japanese wedding ceremony joins two individuals, it also focuses on joining two families. A Japanese wedding can be of varied religious sects such as Shinto, Christian, Buddhist, or non-religious. However, most ceremonies are traditionally performed by a Shinto priest at a shrine in a private ceremony surrounded by only family and a few friends.
A popular tradition is the exchange of the nuptial cups filled with sake, called "san san ku do". Both the bride and groom drink sake three times from three different sized cups. This represents the exchanging of vows. The parents also take sips from the cups, indicating a bond between families. Many ceremony locations have a room with a Shinto shrine for the vows and the ceremony concludes with a symbolic offering of small tree twigs.
Cultural Wedding Traditions
All cultures have an intricate mix of beliefs and traditions, and the wedding planners at Manor can help bring each couple's heritage customs together for the ideal wedding. For the best wedding planning advice on incorporating your culture for your big day, contact a top wedding venue in New Jersey today.