What are the Top Fall Wedding Ideas for 2016?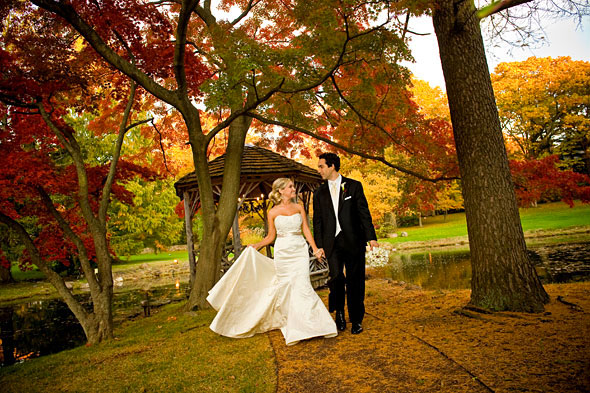 Fall weddings have grown in popularity for NJ wedding couples, since the weather is so comfortable in our region, the fall foliage so beautiful (especially at outdoor wedding venues and on the grounds of scenic wedding venues,) and fall wedding trends including gorgeous décor and food inspirations.
According to the wedding industry survey site The Wedding Report, the most popular months for weddings in New Jersey include September at 14.0%, October at 13% and November at 8%. If that doesn't sound overly impressive, keep in mind that April weddings in New Jersey are at 7%, May weddings are at 12% and June weddings are at 13% — which makes October weddings equal in popularity to June weddings, and September beats them all as the top month for weddings in New Jersey.
To help inspire your fall wedding plans, here are some of the top new trends for fall weddings in 2016:
Outdoor ceremonies and cocktail parties. With such gorgeous autumn color in the trees and landscaping all throughout your wedding venue and outdoor wedding gardens, you get gorgeous scenery, color and textures courtesy of Mother Nature (without adding a penny to your wedding budget for décor!) There's something so special about gathering your loved ones in a scenic outdoor space for your ceremony and cocktail party, especially during peak fall foliage times in NJ.
PANTONE® wedding colors. Color trend-setting specialists PANTONE® announce the top wedding colors for each season, and their fall wedding colors include the loveliest shades of cranberry (such as the PANTONE® color of the year, Marsala,) brick, dark green, gray-blue, and other shades that add depth and richness to wedding plans. You'll see a number of PANTONE® wedding inspiration boards on Pinterest, sharing gorgeous fall wedding design inspirations by color, including which top wedding colors to combine for fall. One of the top neutrals for fall wedding colors is charcoal gray, which adds an elegance to wedding design, and lest you think fall wedding colors are only in the darker shades, pops of bright colors are a top trend for fall wedding color combinations.
Jewel- toned crystals. Clear crystals have long been wedding décor staples, and now a top trend for fall weddings that add sparkle and rich hues is jewel-toned crystals such as sapphire and burgundy shades, in addition to oranges and yellows.
Intimate lighting. Fall weddings get all the more intimate and magical with lots of pretty lighting, including table-set candles in varying heights and styles (candelabras, pillar candles, votives, etc.) lantern lights, suspended lights, chandeliers, and specialty lighting companies' color washes, uplighting and custom lighting effects projected onto the dance floor, walls and even onto the driveway outside your wedding venue for an exciting welcome to your wedding celebration.
Fall flowers. And not the usual ones you'd expect for wedding flowers in the fall. Celebrity wedding planner David Tutera listed out his favorite fall wedding flowers as including Iris, Hyacinths, zinnia, snapdragon, freesia, and lily of the valley – all surprising choices, since these are commonly known as spring wedding flowers and summer wedding flowers. But in the world of flower creation, new hybrids are sprouting up spring and summer colors and delicate flowers in the fall season. New Jersey-grown flowers are also on the fall wedding décor trends list, such as popular blooms like sunflowers and roses.
Fabulous fabrics. Fall weddings call for heavier fabrics for your table linens, in rich, touchable textures that add elegance to your wedding décor.
Fall wedding menus include lots of meats with paired sauces, and stations offering both heavier and lighter, fresh, garden-inspired fare. In a top fall wedding trend, pair foods with NJ microbrew beers and ales, and bourbon-glazed meats. And side dishes include chef-elevated fall veggies with a gourmet twist, making side dishes as enticing as the main course. Soups, particularly creamy soups and bisques make the list for top wedding menu stations and courses.
For fall wedding drinks, include hot toddies like hot rum drinks and hot spiked ciders for that elevated autumn drinks menu, and include an array of flavored coffees for after dinner.
In desserts, add pies to your dessert hour list, since pies are a top trend for wedding desserts, in full-sized pies for slicing, and as mini pie tarts.