Your Essential 2020 Wedding Planning Checklist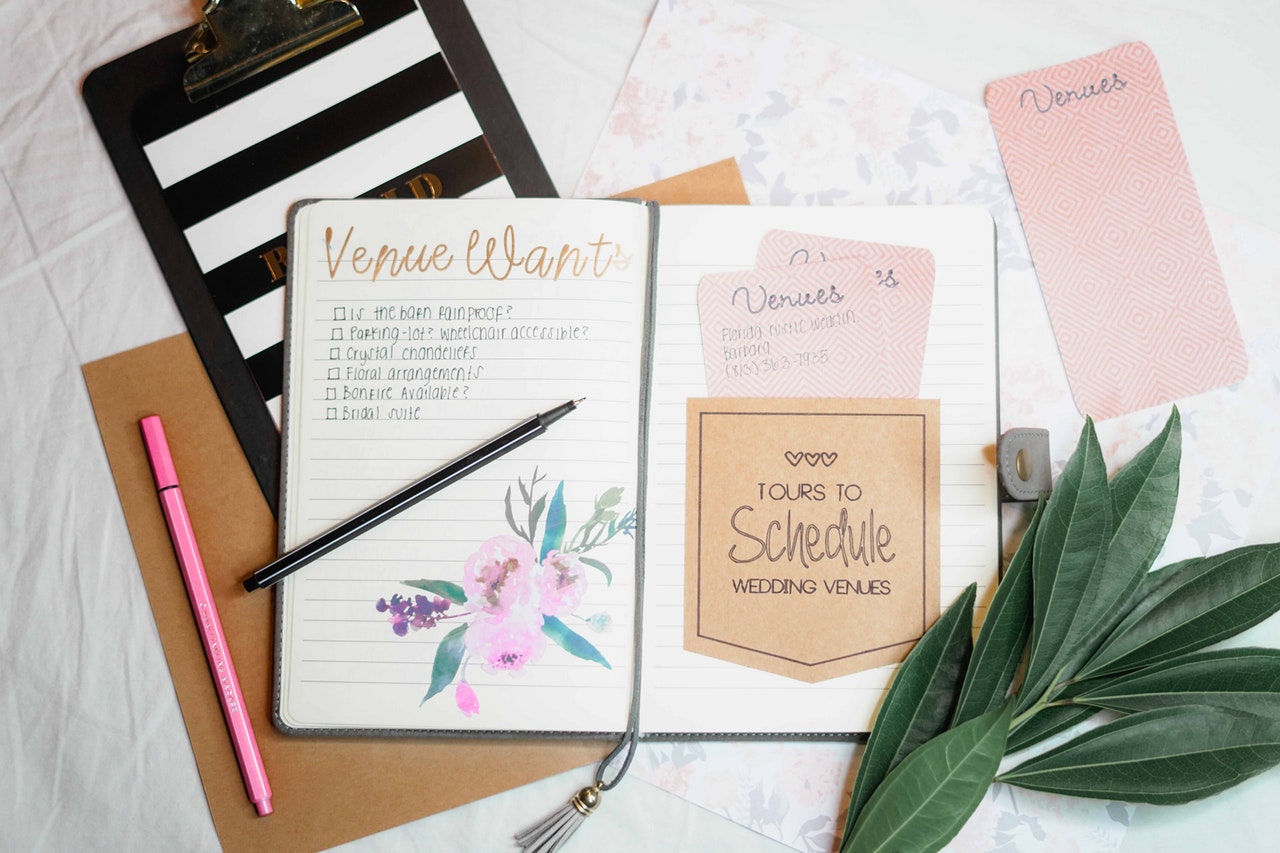 Getting engaged to the love of your life is truly a fun and exciting stage in your relationship; from showing off the ring on social media to announcing the wonderful news to friends and family and looking, it's a whirlwind of excitement. After letting your new reality settle in, you'll soon come to realize that planning a wedding isn't the same as hosting a small shindig in your apartment. The stress and concentration needed for executing a mesmerizing wedding are enough to make even the most organized bride-to-be feel insane levels of stress. (It's no wonder why some brides eventually transform into a bridezilla).
So whether you're looking to hire a professional wedding planner or planning your wedding by yourself (which we do not recommend), you'll need a starting point to make the magic happen. Don't worry, here's how you can start and what to include in your wedding planning checklist.
Start Planning Your Wedding With A Vision Board
Every bride-to-be probably already envisioned her dream wedding when she was a kid. These ideas probably evolved throughout the years, so brides can start the wedding planning by first organizing all the creative ideas in one place. Starting with a wedding vision board will help you organize all the details you want to include in your special day. After you announce your engagement, it's important to remember that this day is dedicated to you and your partner, so include only that the things that you and your loved one want. Print pictures out of wedding bouquet ideas, table settings, centerpiece, wedding dresses, themes and other details that you want to put on your vision board. This will help you pick and choose the ideas that you'll ultimately stick with and in finalizing how you want your wedding day plays out.
A Simplified Wedding Planning Timeline
Many wedding planners believe that the most ideal timeline for planning a wedding is 12 to 14 months before the big day. (However, you may take as long as you want to ensure that every last detail is flawless). Within this time frame, you can check off tasks on your list according to the timeline you have set for yourself. A monthly wedding checklist may look something like this:
My Wedding Planning Timeline
12 Months Before The Wedding
Determine your wedding budget
Brainstorm your wedding guest list
Research and hire a wedding planner
Research and select a wedding venue
11 Months Before The Wedding
Finalize your wedding's theme and aesthetic
Research, hire and coordinate with essential wedding vendors
9 Months Before The Wedding
Shop for your wedding dress
Send out save-the-date notices
Book the rehearsal-dinner venue
Meet with a wedding florist
You get the idea, right? Keep in mind that this is only a template and that you can organize these tasks in a way that works with your schedule. A wedding timeline should be customized to you and your needs for your wedding. Every wedding is unique, all activities and details (other than wedding venues and such) that you give your attention should only be things that you and your partner genuinely want. How you decide to accomplish tasks like booking a wedding venue, meeting with a caterer, etc. should be done according to the time frame you are allotting yourself.
Wedding Planning Tip: Don't Forget The Important Details
Not all weddings are the same but there are a few things in planning a wedding that is universal and needs a spot on your wedding checklist timeline. Here are all the tasks that must appear on your checklist:
Choose a wedding venue
Create a wedding guest list
Hire the wedding caterer
Hire wedding vendors (DJs, photographers, band, videographer)
Book hotel room blocks for you and your guests
Send out save-the-dates and formal invitations
Hire a wedding officiant
Choose your wedding cake
Brainstorm guest favors
Apply for your marriage license
Finalize seating charts
These are some of the most significant details that cannot be forgotten about throughout this process. Whether you hire a wedding planner or not, these are the things that will require your attention no matter what. There will be activities and other details that will be included in your specific wedding plans, but this is an overall list of universal tasks that must be addressed when planning for a wedding.
Don't Forget to Say 'Thank You'
During this time, it is important not to overwhelm yourself with all the things you will need to get done. Don't forget that it is okay to ask for help from close friends and family members especially if you decide to opt-out of hiring a wedding planner. No matter who gets involved in planning your wedding, remember to say thank you! From your wedding vendors to your bridal party and the groomsmen, to your caterer and DJ, a little gratitude will go a long way.
Need help planning your wedding? The Manor has a team of unrivaled wedding planners that can make your dream celebration come true. Connect with our wedding experts today by dialing (973) 731-2360 today.