2022 Wedding Cake Trends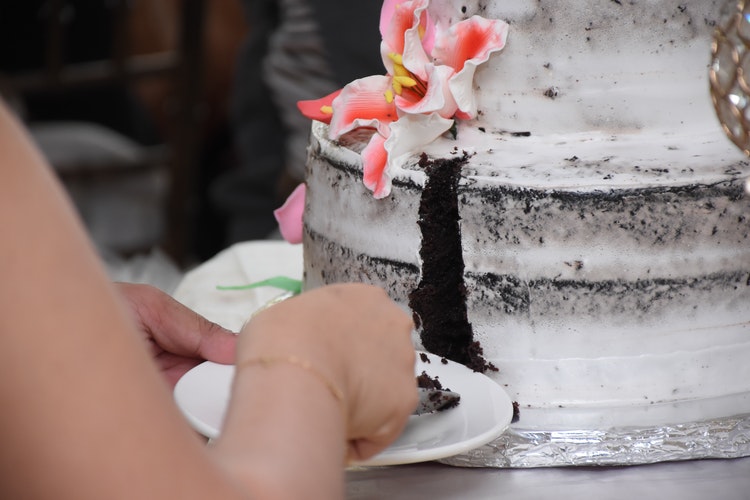 Classy, colorful, bold, flavorful, floral – we guarantee we found a 2022 wedding cake trend that will capture your attention! With a new and exciting wedding season ahead of us, couples are looking for wedding cake inspiration to complement their one-of-a-kind themes. Knowles Hospitality has summed up the best and the brightest cake ideas, and we are here to reveal the best wedding cake trends for 2022.
Pressed Florals: A Return to Classic Design
As a result of the pandemic, the wedding industry is experiencing a shortage of flowers. Don't worry brides! This pressed floral cake trend will surpass any other floral cake you could imagine. This simple, yet elegant design is a classic and will surely delight your wedding guests. More importantly, the verdant assortment of flowers adds a pop of color to tie your wedding theme together.
Separated Tiers
Do you remember attending any weddings featuring cakes with separated tiers? These old-Hollywood masterpieces are making a big comeback in 2022. The metal or clear plastic piece separating the cake's layers creates an illusion of flying cakes! This cake trend is nothing short of a show-stopper, especially with extra customizations. Give your wedding cake some extra flair by using candy, fresh fruits, or flowers to fill in the empty spaces,
Sugar Flowers
The miraculous return to the sugar-flowered cake is a glorious one. These elements add rustic textures and an elegant appeal since they mimic the bouquets and decor in the ceremony. These flowers give wedding cakes a subtle charm by using monochromatic or neutral palettes. Sure, they aren't as vibrant as some modern wedding palettes, but they're still crowd-pleasers and keep taking the wedding industry by storm.
Get Creative with Bold Cake Designs
In recent years, we've noticed more couples opting for naked cakes with simplistic designs. But as the urge to celebrate big arises, couples keep searching for creative ways to make bold and beautiful statements through cake design. Well, the results are in! 2022 demands bright colors, uneven tiers, bold patterns, and unique textures. Now is the time to let your creativity run wild and turn heads with a bold wedding cake!
Fun-Sized Mini Cakes
The 2022 wedding season calls for all-things tiny, with couples offering everything from cupcakes to pint-sized cakes at their wedding. Instead of a giant multi-tiered cake, couples keep choosing individual mini cakes as a gorgeous alternative. This way, it is safer for all guests with the plus side of dabbling in multiple exotic flavors. Your guests will find it difficult to take their eyes off these adorable Instagram-worthy mini cakes!
Pet Cake Toppers & Animal Prints
Animal lovers will get to enjoy an extra treat. Since pets play a critical role in our lives, more couples choose to include them in weddings! Everyone has seen the adorable viral videos of dogs acting as ring bearers or sitting in as groomsmen. Now, you can feature your adorable fur babies in your wedding cake design. From cake toppers to subtle prints on the back of the cake, your pet can make your wedding cake even more meaningful.
Find Your 2022 Wedding Cake with a Professional Wedding Planner
If you need help coordinating your wedding cake, the experts at Knowles Hospitality are here to help. We will assist you in picking out a cake that best fits your needs and decor. We work with vendors to ensure every detail of your big day is a success!
Let Knowles Hospitality help you pick a mouth-watering cake that will surely delight your guests. Dial (973) 731-2360 to connect with the wedding planning team at Knowles Hospitality. Don't forget to subscribe to our wedding planning blog for additional expert wedding advice, tips, and trends!