5 Gorgeous Hairstyles for Winter Weddings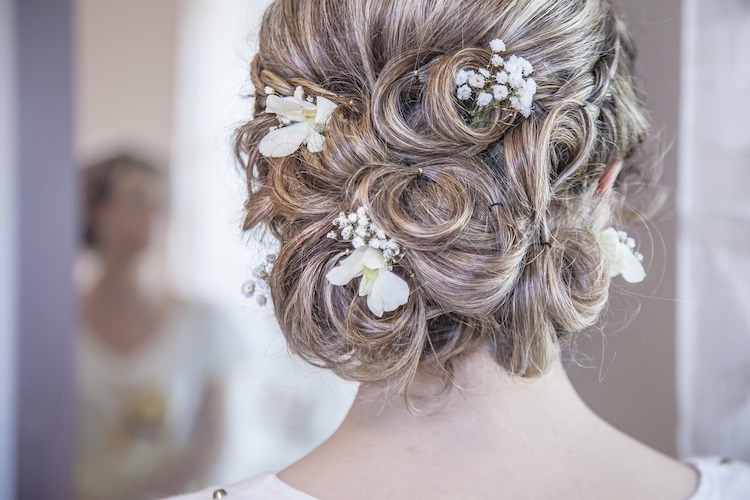 For a dreamy winter wedding, brides want to choose the perfect hairstyle to match their wedding dress and the wintry aesthetic. From updos to low buns to half-up, half-down hairstyles, many elegant options exist for different hair lengths and styles. Add a magical touch with winter-themed accessories, such as sparkly snowflake tiara or ice crystal hair pins.
The Knowles Hospitality wedding planning team collected five gorgeous winter wedding hairstyles — from the snowflake bun to the winter princess hairstyle to the loose braid with holly — to help the bride-to-be find her dream hairdo for her special day.
Snowflake Bun
For a fun, playful winter wedding hairstyle, try the snowflake bun. This hairstyle consists of a braided bun in the center, surrounded by a hexagonal rope twist pattern in the shape of a snowflake. For an extra wintry touch, add white ribbon or glittery snowflake hair clips. When paired with a simple, elegant wedding dress, this intricate hairstyle can serve as the centerpiece for a bride's winter wedding look — or as the perfect match for a snowflake-inspired wedding dress and the wintry decor.
Winter Princess Hairstyle  
For brides planning a fairytale wedding, try this enchanting winter princess hairstyle. This hairstyle features romantic, cascading curls with a waterfall crown braid. This half updo is a versatile style, which works for short, medium, and long hairstyles.
Add a little extra magic to the look with a sparkly snowflake crystal tiara, nestled into the crown braid. The elegant lines of this hairstyle complement a V-neck princess winter wedding dress, drawing attention to the beautiful silhouette of the bride.
Modern Chignon with Dried Florals
The modern chignon offers a fashionable, voluminous updo for winter weddings. The chignon is a classic formal hairstyle, with the hair pinned into a knot or a bun at the nape. The modern take has a relaxed and undone — almost messy — aesthetic.
For accessories, dried florals highlight the winter aesthetic, especially if drawn from the classic palette of creams and whites. This style pairs well with a cap sleeve or bateau neckline winter wedding dress, allowing the bride to show off her shoulders and the intricate patterns of her nuptial wear.
Loose Braid with Holly
Add a festive touch to any winter wedding with the loose braid, adorned with greenery and winterberry holly. The loose braid offers a relaxed, effortless hairstyle, highlighting the bride's natural beauty. For the braid technique, brides have several options: the simple three-strand braid, fishtail braid, French braid, rope braid, or plait braid.
Do not forget to braid in or clip on the greenery and winterberry holly to bring out the holiday spirit. This hairstyle looks marvelous with a high or halter neckline winter wedding dress, complementing the bold neckline.
Side Sweep with Pearl Bridal Comb
Side sweeps have become increasingly popular in recent years for winter weddings. This gorgeous asymmetric hairstyle consists of sweeping all the hair to one side and braiding or pinning the other side, often with an eye-catching accessory. Many styling options for the side sweep exist to accommodate different lengths and styles of hair, including soft "S" waves, 3/4" wrapped disco curls, tight curls, and a middle part.
For a winter theme, the accessory should be white or cream-colored, like an elegant pearl wedding comb. The side sweep pairs perfectly with a one-shoulder wedding dress, balancing the asymmetrical neckline and highlighting the bride's shoulders.
Start Planning Your Magical Winter Wedding Today!
These five gorgeous winter wedding hairstyles come from Knowles Hospitality, northern New Jersey's premier wedding venue. With over 60 years of experience, our wedding planning team wants to help you plan your magical winter wedding this year. Contact us at (973) 732-2360 to connect with our wedding planning team today!