The Top 5 Winter Wedding Trends of 2022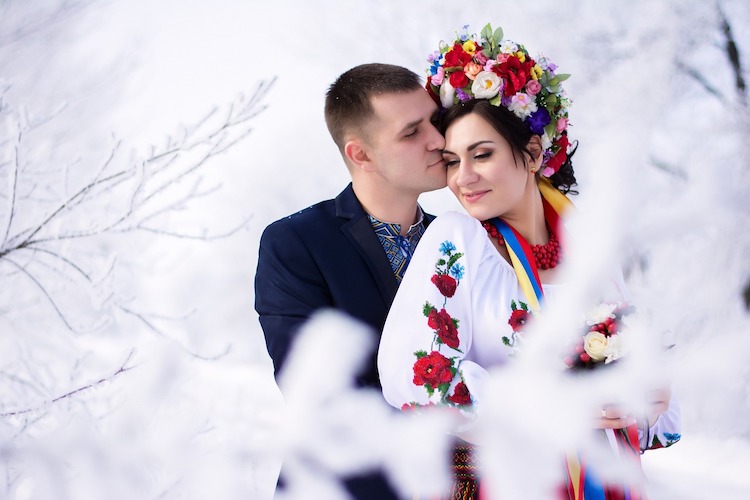 Looking for the latest wedding trends to plan a magical winter wedding?  In recent years, many couples have fallen in love with the charm of winter weddings. Tying the knot during the holiday season can be even more special, thanks to the majestic natural scenery, cozy atmosphere, and festive spirit.
We've gathered the five top viral trends of 2022 — from Bridgerton-inspired winter weddings to sustainable, green winter weddings — to help couples infuse their special day with romance and joyful memories.
Bridgerton-Inspired Winter Weddings
Weddings inspired by Bridgerton, the steamy historical romance TV show based on Julia Quinn's book series, surged in popularity throughout 2022. Since the release of season two this past March, Bridgerton continues to become a cultural phenomenon, with many fans wishing to recreate the opulent Regency era aesthetic as the backdrop for their unique love story.
For a Bridgeton-inspired winter wedding, Regency blue, a lovely wintry color, should form the basis for the color palette. The bride should choose an elegant, empire-waisted style winter wedding dress with bridal gloves, while the bridesmaids should wear flowing dresses in a variety of bright colors. The groom and groomsmen should wear traditional tailcoat suits.
Cozy winter wedding decor ideas include rustic tables with vintage China table settings, candles, and wisteria flowers, as well as a crackling fireplace. Though a Bridgerton-inspired winter wedding will require ample planning and flexibility, the couple and their guests can look forward to an incredibly special, romantic wedding day.
Holiday Drink Bars for Winter Weddings
On a cold, snowy winter wedding night, guests will love a holiday drink bar. The ultimate comforting, crowd-pleaser for children and adults alike would be a hot chocolate bar with delicious toppings such as caramel, marshmallows, candy canes, pumpkin spice, chai, and whip cream. Other family-friendly drink bar ideas include apple cider, eggnog, or tea.
For adults, coffee with delicious liquor like Baileys or Peppermint Schnapps, hot buttered rum, mulled wine, or holiday punch. With the self-serve drink bar, guests can have fun making personalized DIY drinks and help themselves whenever they like throughout the night.
Sustainable Winter Weddings
With the push towards sustainability booming in recent years, many couples want to plan more eco-friendly winter weddings. Traditionally, the wedding industry produces significant amounts of waste. According to the Green Bride Guide, the average wedding produces 400 pounds of garbage and 63 tons of carbon dioxide.
To reduce the environmental impact of their special winter wedding, couples can make a few simple changes, such as choosing a venue with sustainable practices, renting bridesmaids' and groomsmen's outfits, and thrifting or reusing wedding decor. For a winter wedding, a few themed options include biodegradable leaf confetti, snowflake wedding invitations made from recycled paper, and pine tree wedding favors.
For the more ambitious eco-conscious couples, they can aim for a net zero winter wedding by offsetting all carbon emissions. They can do this by planting trees or purchasing carbon offsets. With a bit of careful planning, couples can enjoy the green winter wedding of their dreams.
Unique Winter Wedding Lighting
As wintertime tends to have less daylight, lighting is a key part of winter wedding planning. This year's lighting trends favor unique, intricate arrangements. A few winter wedding ideas include vintage chandelier centerpieces, a ceiling of lights like a starry sky, ornamental candles with hanging greenery above, and custom neon signs.
To keep guests warm, a fireplace would add a nice touch as well. Since most winter weddings will take place at night, the lighting plays an important role in the romantic ambiance — and, of course, the beautiful lights will create a magical backdrop for winter wedding photos.
Winter Destination Weddings
In recent years, smaller, more intimate winter weddings have become more common, especially during the COVID-19 wedding era. With shorter guest lists, couples more easily plan special destination winter weddings for their close family and friends on a budget. At their destination of choice, couples can have their dream wedding in a winter wonderland or a tropical paradise.
A few picturesque winter wedding destination locations include Aspen, Colorado with its snow-capped peaks of Maroon Bells and luxury ski resorts; Montage Deer Valley in Utah, a ski and spa retreat surrounded by breathtaking views of the alpine trees; and the Schuyler in Washington, D.C., a luxury hotel in the city center that features an ice-palace aesthetic. For those craving a warmer winter wedding, they can head to an exotic, sunny location, such as Cabo San Lucas, Mexico; Oahu, Hawaii; and Villa Punto de Vista, Costa Rica.
Start Planning Your Whimsical Winter Wedding Today!
These top winter wedding trends come from Knowles Hospitality, northern New Jersey's premier wedding venue. With over 60 years of experience, our team at the Manor & Pleasantdale Chateau wants to help you bring your dream winter wedding to life this year. Contact us at (973) 732-2360 to connect with our wedding planning team today!