Choosing The Perfect Songs for Your Wedding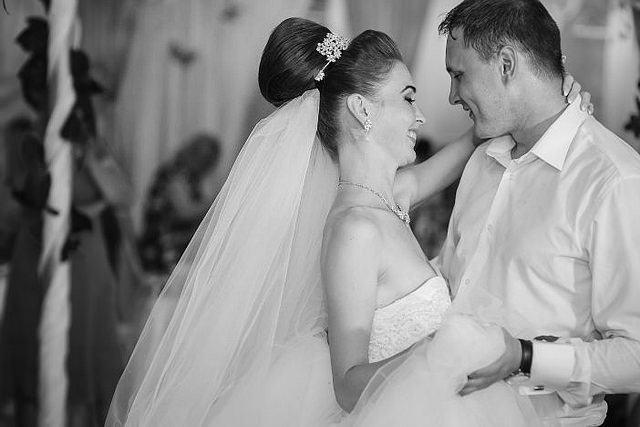 Do you remember the song playing when you first met your significant other? Music at a wedding isn't as trivial as some believe. It's customary to choose songs for your first dance as newlyweds, the father-daughter dance, and the mother-son dance. Song dedications can also show appreciation for other family members and groups of friends, or even as a tribute to loved ones no longer with you. Song choices have monumental meaning through lyrics, melody, as well as rhythm. And so, the expert wedding planners at The Manor have rounded up the perfect wedding play list of songs that will remind you of your wedding day, long after you say, "I do".

The Most Popular First Dance Songs
As you and your spouse step onto the dance floor for your first dance as husband and wife, the song selection is forever labeled "Your song". It becomes deeply meaningful; so the first-dance song should reflect your relationship, joy, accomplishments, and excitement for your new life together. Maybe the song is a tune from the first night you said, "I love you." This special ballad is chosen with input by both the bride-to-be and groom. Traditional first-dance song choices include:
"Because You Loved Me" by Celine Dion
"Faithfully" by Journey
"To Make You Feel My Love" by Billy Joel
"When a Man Loves a Woman" by Percy Sledge
"Everything I Do (I Do It For You)" by Bryan Adams
For a more modern pop love song, couples can opt for song choices such as:
"Thinking Out Loud" by Ed Sheeran
"All Of Me" by John Legend
"I'm Yours" by Jason Mraz
"Home" by Edward Sharpe and the Magnetic Zeroes
If you and your soon-to-be spouse are fans of the 60s, then a classic wedding song may be a good choice for your first dance. Two songs that perfectly represent your true love include:
"Can't Take My Eyes Off You" by Frankie Valli
"Can't Help Falling in Love" by Elvis Presley
Country music has a way of tugging at the heartstrings, which makes it suitable for weddings. For a country music loving couple, they can dance to:
"God Gave Me You"- by Blake Shelton
"I Cross My Heart" by George Strait
"Breathe" by Faith Hill
Furthermore, covers of classic hits are also favored for a first dance song, especially if a favorite artist covers a special song. Michael Bublé's cover of "Have I Told You Lately That I Love You" showcases a soft and angelic voice, which makes for the perfect song for the couple.
Ideal Songs For A Father-Daughter Dance
Once the proud father escorts the bride onto the dance floor, let the waterworks begin. This moment does not have to include a "father", but can extend to a stepfather, father figure or brother. This is a very sentimental moment culminates an entire life of watching a little girl grow up to become a strong woman and beginning the next chapter in life with a new important man to love—her husband. Timeless father-daughter dance songs include:
"Isn't She Lovely?" by Stevie Wonder
"My Girl" by The Temptations
"What A Wonderful World" by Louis Armstrong
"My Little Girl" by Tim McGraw
"My Wish" by Rascal Flats
"In My Daughter's Eyes" by Martina McBride
"You Raise Me Up" by Josh Groban
"Hero" by Mariah Carey
But if you want the ultimate classic father-daughter song, consider dancing to "Dance With My Father" by Luther Vandross. In addition, a wonderful trend for father-daughter dances is to choose a song together from the bride's childhood or a favorite song they once cherished. These songs can be more upbeat and unexpected so long as they recall fond memories. A few songs include "You Are My Sunshine" and "Brown Eyed Girl" by Van Morrison.
Selecting A Song For The Mother-Son Dance
One highlight of any wedding reception is the mother-son dance. It's truly a special moment when the groom and his mother take to the dance floor, smiling as 'their song' plays while tears of joy and pride flow from them both. This is a moment when the son thanks his mother for being a role model who is loving and supportive, and raising him to be the man that he is today. Popular mother-son dance songs include:
"How Sweet It Is (To Be Loved by You)" by James Taylor
"She's Got a Way" by Billy Joel
"Through the Years" by Kenny Rogers
"Do I Make You Proud" by Taylor Hicks
"Unforgettable" by Nat King Cole
"Thank You for Loving Me" by Bon Jovi
One common trend for mother-son dances is for the groom to surprise his mother with the song choice. This can be a song the mother always loved, or a tune that they both held close growing up. Dancing in front of family and friends at such a special celebration is a truly wonderful tribute.
How To Dedicate A Wedding Song
In a world of personalized weddings, many brides and grooms arrange their wedding entertainment to include specific songs tributes to their loved ones. Following this trend includes planning multiple song dedications to play at their receptions.
But how couples choose to announce a song dedication is entirely up to them. Most often, the DJ announces the song dedications at the start of the reception. In other instances, the bride or groom will get on the microphone and say a few special words themselves. A song dedication may be made to parents as a thank-you for their help in planning the wedding, in this case both sets of parents get to share the moment.
Not all of the song dedications have to be slow songs. When the DJ or wedding band are ready to transition from slow dinner music to dance music, a great way to begin is the first fast-song announced as a dedication. It could be from the groom to the bride, a dedication to the bridal party, friends, immediate family (siblings, cousins, aunts, uncles, and grandparents) or your kids (if you're blending families or have children as a couple).
Finally, you can have a song dedication at the end of the reception. As your wedding entertainment comes to a close, be sure to dedicate the last dance of the evening to someone who holds a special place in your heart. As the bride and groom, you may choose to propose a song dedication for this last number. This may be another one of 'your songs' or a song that's special to your family. At this point, you might take the microphone to propose your song dedication directly to each other.
Dance The Night Away At NJ's Top Wedding Venue
Before you confidently step onto the dance floor with your betrothed, why not practice your first dance ahead of time with a dance instructor or have a routine choreographed? Doing so makes your moment in the spotlight even more touching. No matter the ballad, your song choice is open to your consideration as the soundtrack for your first dance as husband and wife, father-daughter dance, or mother-son dance. For more insight into wedding planning, contact The Manor today.