Creative Marriage Proposal Ideas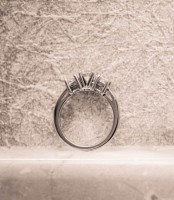 Every one of our New Jersey and New York City wedding couples has a marvelous, creative marriage proposal story, and we're impressed at the lengths to which grooms are going to pop the question in the most imaginative and personalized ways. Here are just some of the marriage proposal ideas we'd like to share to inspire you or someone you know:
Taking a limo to dinner at a top New Jersey restaurant where the menu is personalized to your love story, including menu items from the first time you cooked for one another, or from your first dinner out, plus an indulgent dessert and champagne.
A flash mob wedding proposal, arranged with the couple's friends and family performing the number when the bride least expects it, creating a fun spectacle and a great way to share the moment with loved ones.
Tying the ring in a velvet pouch to your pet's collar and sending the pet to greet the bride-to-be. Just make sure this marriage proposal idea is planned with safety in mind, such as locating it in your house, not on a beach or other location where the pet can wander and the ring lost.
Popping the question on a New Jersey beach at sunset, perhaps choosing a beach that's special to you, such as the one you've always vacationed at or where you first met.
Planning a destination marriage proposal. Resorts now offer  complete marriage proposal packages at your vacation spot, with champagne, flowers, cake, and professional photography to capture the big moment, planned with the help of the resort's event coordinator.
Taking the bride to a top New Jersey jewelry store to try on rings, but you've already picked out The One, or you simply propose right there with the ring she falls in love with.
Spell out 'will you marry me?' in rose petals on your bedroom floor, or in front of your fireplace.
Make a grand gesture at a top NJ community theater, arranging with the theater to have the appearing musician invite you on stage to propose.
Or, plan a romantic dinner at a top NJ restaurant, and then surprise the bride-to-be with tickets to a dream concert or show to celebrate.
Or, plan a romantic dinner at a top NJ restaurant, pop the question with a champagne toast, and surprise the bride-to-be with a friends and family celebration party either at the restaurant or back at your home.
Arrange with a sports venue, such as the major or minor league ballpark, to have your proposal featured on the Jumbotron, with the stadium cameraman standing right before you to capture the proposal moment.
Go out under stars, especially on a night of a meteor shower or just under a bright moon and stars, to propose with a beautifully-written speech, followed by an outdoor picnic and champagne.
Plan a marriage proposal scavenger hunt, a popular way to add some playfulness to the big moment, personalizing the hunt items list with easily-found choices in one location to make it easy and to get you more quickly to the point of proposal! Some brides don't like being sent on a complicated scavenger hunt, or feeling like they have to jump through hoops, so the simpler the hunt in one location, the better.
If you have children, involve them in the proposal, such as dressing them up and asking them to lead the bride-to-be into a wedding garden or decorated space in your yard.
What are some marriage proposal Don'ts?
Don't propose at someone else's wedding, or that can be seen as stealing their thunder.
Don't make the bride embarrass herself, such as signing her up to do a karaoke number when she doesn't like to sing.
Don't propose via a YouTube video. In-person is always best.
Don't precede the marriage proposal by setting up romantic dinners at which she thinks you'll pop the question, but you don't. These fake-outs will only cause frustration and hurt feelings.
Don't plan an outdoor proposal without a plan B. Just like our wedding planning team has a streamlined plan for rainy days and outdoor weddings, so too should your proposal have an indoor plan if the weather makes your original vision impossible.
Preston Postlethwaite, Director of Private Dining, The Manor