Wedding Receptions: Formal Sit-Down Dinner vs. a Buffet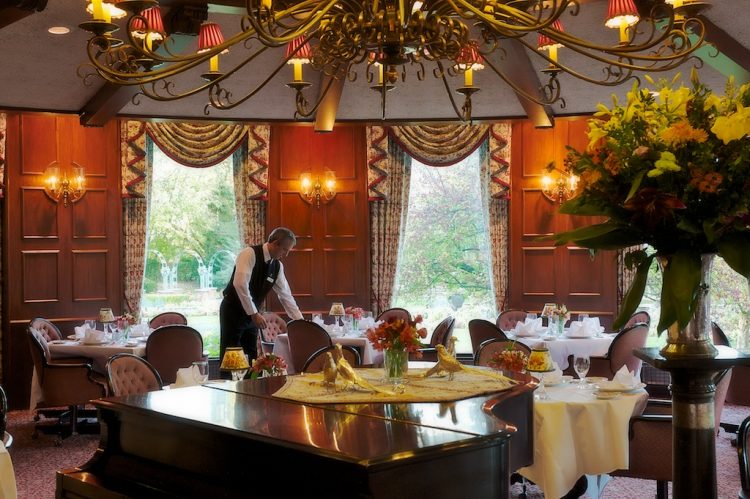 The question, "Which is better for a wedding reception, a sit-down wedding dinner or a buffet" can only be answered by you. The two styles are different, but each offers elements of indulging your wedding guests with the finest wedding menu items. Your personal decision on which style of wedding dinner serving style depends only on how you'd like your guests to delve into their delicious wedding fare.
A sit-down wedding dinner, of course, consists of several plated courses served to your seated wedding guests. You select from a first course, perhaps a soup, salad, entrée, perhaps an intermezzo, and each course is brought to your guests' tables, with friendly, experienced wedding servers bringing guests the entrees they desire.
A wedding buffet consists of an elaborate spread of wedding menu items arranged on long tables and stations, and guests enjoy the freedom of going right to the station or buffet table they choose, with attendants plating their choices or guests self-serving their picks of wedding menu items from the buffet.
Great artistry goes into both wedding reception menu serving styles, with top chefs arranging each plated dinner for a sit-down meal with careful attention, balance, beautiful presentation of gourmet fare, and garnishing. Dinner plates might be swirled with delectable sauces to accent the taste of each course. And at the buffet, great artistry goes into the menu item platter presentations, with attendants constantly refreshing platters and keeping food item arrangements looking picture-perfect.
It's most often not a matter of which reception serving style is more affordable, since different menu item choices can affect the price of a sit-down dinner or buffet. Various reception buffet packages come at different price levels, so you'll find a range of prices for both sit-down wedding dinners and wedding buffets.
One factor that might lead you to choose a sit-down wedding dinner is the cocktail party buffet and stations you may have planned prior to it, giving your guests the best of both worlds. One factor that might lead you to choose a buffet is allowing your guests the freedom to choose what they'd like to eat when they'd like to eat it. Since wedding guests' dietary considerations are important to consider – such as gluten-free, vegetarian, kosher and the like – your buffet arrangement can allow all guests to pick and choose from the items they enjoy.
Another determining factor: some wedding couples consider their guests' comfort levels when it comes to seated vs. buffet wedding dinners. If they have many elderly guests, pregnant guests or mobility-challenged guests, they often feel it would be best to prevent these guests from having to move around too much, instead having servers bring plated dinner elements to them in sit-down wedding dinner fashion. And some couples worry needlessly that guests would wait in long lines at a buffet [top New Jersey banquet halls arrange their buffets and stations to avoid this problem.]
It's become a top wedding trend to plan a buffet wedding reception, since the menu options are so varied, and easily replenished fresh, hot and inviting to wedding guests. And with the interactive nature of buffet party stations manned by experienced and artistic attendants, food presentation becomes an experience for guests, and guests tend to mingle while helping themselves to the buffet options, making a festive celebration for all.
So the choice of wedding dinner vs. buffet depends upon what you wish for your guests to experience, since a top wedding banquet hall will turn each choice into a culinary dream come true.
Rolf Shick, Private Dining Manager, The Manor