Finger Food and Hors D'oeuvres for Winter Weddings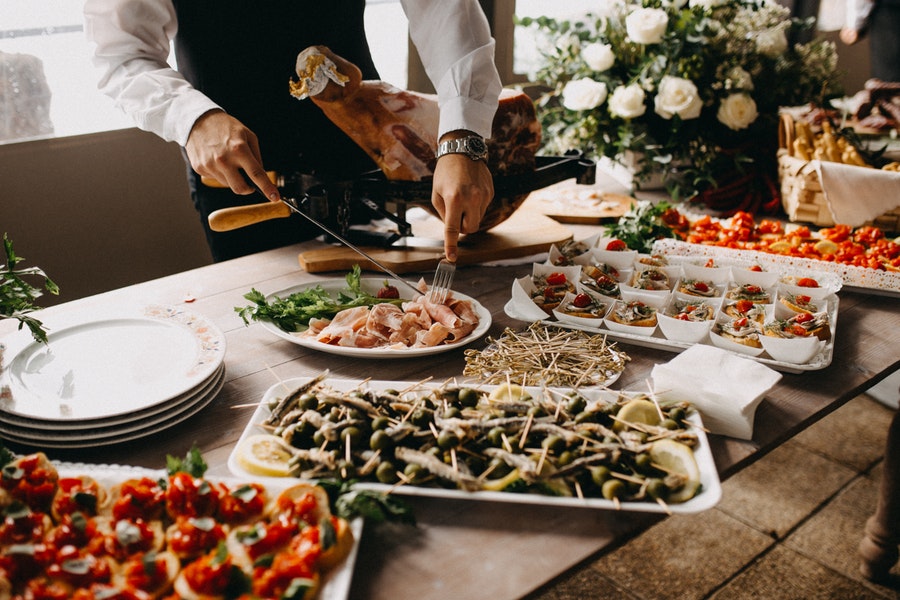 From the exchange of vows to the first dance, winter weddings should feel elegant, magical, and cozy. The finger foods and hors d'oeuvres served during cocktail hour should also invoke the same sense of opulence and warmth. Selecting the perfect assortment of hors d'oeuvres to quell your guests' rumbling tummies can prove challenging, but the renowned wedding planners at Knowles Hospitality recommend a few crowd-pleasing dishes you can add to the menu for an extra-special winter celebration.
First, make sure to accommodate your guests' diets with a variety of scrumptious choices. Serving vegetarian, vegan, kosher, keto options, allergen-free, and kid-friendly options are all important factors to consider before finalizing your list. Furthermore, the menu should also match your winter wedding's aesthetic and theme.
Dropping temperatures call for warm, cozy dishes. Here are some ideas that combine sweet, salty, savor, and smokey finger foods and hors d'oeuvres that you can serve to your guests during cocktail hour at your magnificent winter wedding.
Mouth-watering Flatbreads
Crispy flatbreads make an exceptional appetizer with an array of variations. Like a pizza, flatbreads are thin-crusted versions of the classic pie. You can make the flatbreads vegetarian-friendly with an option like Cheesy Spinach Pesto or a meat version like Maple-Roasted Vegetable and Crispy Bacon. This dish's simplicity allows guests to grab as much or as little as they wish, so consider adding flatbreads to your winter wedding menu.
Buttermilk Biscuits and Honey Ham Bites
Just like your favorite restaurant, starting the night out with some crispy bread is always a winning choice. But remember to include a diverse assortment of bread Warm, buttery biscuits topped with honey smoked ham, for example, is a savory way to give a plain bun a "WOW" factor. Finally, don't forget to serve some soft herbed butter or olive oil in your bread buffet.
Tasty Deviled Eggs
A classic yet straightforward snack for all formal events, deviled eggs make perfect finger foods for your guests to snack on. Deviled eggs are boiled eggs with the inside taken out. In replacement, the yolk mixes with mayonnaise and mustard to create a more sophisticated flavor than a plain egg. These bite-sized morsels are easy to make and sinfully delicious. Take this dish a step further by adding delicate garnishes, like parsley or paprika, to make your deviled eggs look polished and fancy.
Soup Shot Glass
Cold weather calls for soul-hugging soups that give some much-needed heat to the wedding venue. Soup shot glasses allow for appetizer-sized portions that leave guests with plenty of room for other items on your cocktail menu. Some delicious soup flavors that go well in the winter include Pumpkin, Classic Tomato Basil, Cauliflower Chowder, Creamy Sweet Potato, and Roasted Butternut Squash.
Cranberry and Creamy Goat Cheese Baguettes
Cranberry is a classic winter flavor and makes for the perfect complement to creamy goat cheese spreads. Using a toasted, mini baguette slice with the cranberry and cheese looks elegant and tastes even better. Not a fan of cranberry? No problem! You can serve a crostini with prosciutto and goat cheese, instead of cranberry, for a protein-rich twist.
Sweet Cinnamon Churro Bites
Whoever said you shouldn't snack on dessert before your meal probably hasn't tried a mini churro. Trust us when we tell you that mini churros will crave any guest's sweet tooth. Your guests can have one or six, regardless, these sweet treats are tasty and easy to make.
Spiced Grilled Shrimp Forks
Sometimes an edible display can seem as delicious as the dish. With some creative tweaking, you can find many innovative ways to serve grilled scrimp rather than on a boring plate or a skewer. You can use beautiful wooden spoons paired with parsley to allow for a unique display for your guests to enjoy. Also, this option cuts out the messiness of dealing with buttery shrimp by hand.
Bacon-Wrapped Cream Cheese Jalapeño Peppers
If your menu doesn't feature any items with bacon, then you're doing something wrong! While warm and cozy dishes pair well with the colder weather, so do spicy foods. For your guests who enjoy a little zest, these peppers are great to pack a fiery punch, with everyone's favorite meat.
Hors D'oeuvres and Finger Foods Perfect for Any Cook
All these finger food options are easy and small enough for your guest to enjoy before bigger meals. Whether you have hired a chef or are going homemade, these tiny foods are simple to craft up with or without help from a professional.
At the end of the day, your guests attend the ceremony for you rather than a meal. But having a delicious and appropriate selection of finger foods and hors d'oeuvres for your guests can make your big day far more memorable. You'll have guests talking about your soup shooters for years to come. Be sure to check out Knowles Hospitality's venues and other blog posts for your winter wedding.