Top Flowers for Winter Weddings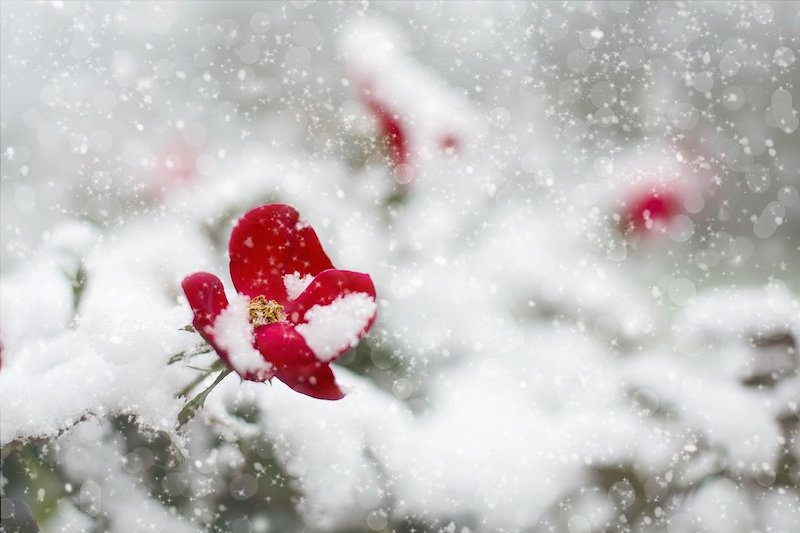 Winter weddings, although cold, are not complete without beautiful flowers. Flowers add a delicate and unique touch to your wedding venue that is definitely worth the cost. Flowers also can warm up a venue and give a "dream-like" feel to your event. Colder seasons bring bare branches and snow-covered grounds, but that does not mean your wedding has to reflect the freezing outdoors.
The beautiful flowers in your wedding should provide pops of color that complement your theme. Some popular color palettes for winter weddings involve colors like navy, deep red, purples, and whites. The wedding experts at Knowles Hospitality rounded up some wonderful ideas concerning popular winter color palettes. Whether you're getting hitched in Hawaii or New Jersey, you can incorporate these flowers into your winter celebration without too much hassle.
Winterberry: Festive Berries 
These bright-red strands of berries are perfect for winter weddings, especially if you're aiming for a festive and holiday-inspired theme. They are beautiful as a centerpiece or intertwined into the bride's bouquet because the little bulbs of red give an exciting pop of color, rather than another flower. If you are using a vineyard or any vine decoration, you can incorporate Winterberries into the vines to upgrade the greenery with a wintery touch. HGTV has an immense photo gallery with creative ways to decorate with Winterberries.
Pussy Willow: A Vase Classic
Pussy Willows are fuzzy little flowers that make a perfect centerpiece or fill for a big floor vase. Specifically, Pussy Willows have soft, silver tufts at the end of green and brown branches. They do not have buds nor scents, making them a unique flower. These branch-like flowers give a rustic feel to your wedding and complement a barn wedding or a country venue. Rustic weddings often incorporate wooden pieces and accents that tend to look worn in like a barn or old building. Often, rustic weddings involved D.I.Y decorations and cute displays that have twine or lace.
Carnations, Poinsettias, and Roses: Blooming in Red
No color represents the holidays like a true red. All three flowers give off holiday and wintery vibes without requiring you to write a hefty check. Roses, poinsettias, and carnations tend to be more affordable than other flowers but do not compromise quality or appearance. These are beautiful in a bouquet or combined in floral pieces on tables. These red flowers give a pop of color to a simple plant.
Exquisite Evergreens: Honoring the Great Outdoors
Depending on where you live, the chilly weather will probably prevent you from hosting your wedding outdoors. In the colder months, evergreen trees allow for snow to have a place to rest and lie beautifully. You might not have the snow inside but using real evergreens in your décor is a simple way to incorporate the beautiful outdoors into your wedding. Even without snow on them, evergreens are beautiful and straightforward greenery pieces to make your accent colors pop. Evergreens are beautiful spread out on tables combined with winterberries, other winter flowers, or even acorns. This plant has a "Christmas tree" smell that will leave your guests' noses filled with wintery scents.
Alluring Black and White Anemones: Dark and Modern
These flowers are indeed an eye-catcher. With their light white exterior and a dark black interior, these flowers provide an edgy and modern twist that few other flowers can give. If you're not the biggest fan of the airy or holiday vibe, you can opt for blacks and whites instead. These flowers allow for a great contrast between each other and give a unique twist to traditional bouquets.
Splendid Sweet Peas: Romantic in Pink Purple, and White
Although pinks and purples are often associated with spring, a winter flower like the Sweet pea is the perfect floral addition to a winter wedding. Sweet peas come in an assortment of colors – like pink and purple – so you can mix them with other flowers for a more romantic and soft arrangement. Sweet peas are delicate because of their small and soft buds, so you would have to exercise care with a bouquet. But with smaller buds and stems, it can give a velvety feel to your floral arrays. A perk to having sweet peas in your bouquet is not only their look but their fragrance as well. Sweet peas have a feminine and sweet smell that isn't overwhelming on the senses.
Gorgeous Gardenias: A Men's Classic
Flower shopping is hectic and time-consuming, but don't forget about the boutonniere. This pure white flower is a simple yet elegant choice for a men's boutonniere. You can use Gardenias on their own with a bed of lush greens or combine with another flower that complements your color palette.
Winter might not feel like the picturesque season for floral displays, but using seasonal flowers in elegant floral pieces will warm up your venue and give an attention piece to tables or photos. Looking for an elegant event venue to host a magnificent winter wedding? Check out Knowles' three breathtaking venues or blogs for more help on your upcoming winter wedding celebration.