Guide to Wedding Menus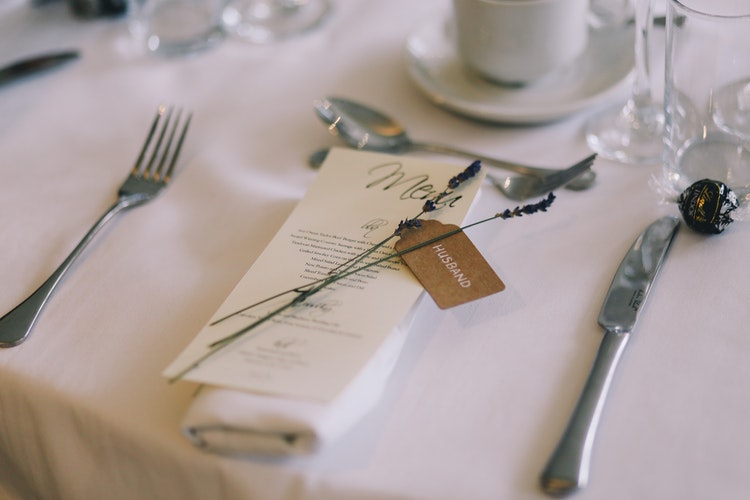 With so many options, deciding on a wedding menu can be extremely stressful, but it is also something that many couples look forward to when planning their big day. From cocktail hors-d'oeuvres to delectable desserts, planning a standout menu takes effort. Luckily, the wedding planners at The Manor are ready to help create menus to satisfy every couple's appetite.

Cocktail Party
The first impression of a wedding begins with cocktail parties, and many couples aim to create an elegant first impression with guests approached by smiling, white-gloved waiters presenting them with spectacular hors-d'oeuvres on silver platters. As sensational as it is to welcome guests in VIP-manner, the true measure of a successful wedding cocktail party is the variety and pleasing gourmet tastes of hand-passed hors-d'oeuvres.
Be sure to offer 4-6 hot hors-d'oeuvres at the party, regardless of the season. It is also recommended to offer guests a diverse variety of flavors to satisfy all tastes. Be sure to take into consideration offering both meat and non-meat options to include any vegetarians. Offer a mix of seafood, cheese and veggies, and meat appetizers.
Many people overlook the opportunity to include personality in the hors-d'oeuvres, but it is encouraged to be creative with this menu option. Choose colorful dishes to compliment the foods, or incorporate cocktail napkins with printed monograms to include a personal touch in the cocktail party menu presentation.
Reception Dinner
When planning their reception menu, many couples ask the inevitable question: sit down dinner or buffet? The two styles are different, but each offers elements of indulging wedding guests with the finest wedding menu items. While wedding buffets may offer more flexibility and variety, sit-down dinners can be more elegant and can prevent guests waiting in long lines. It comes down to personal style and wedding theme when making this decision, but both can be opportunities to impress guests.
While some wedding couples are planning 'green weddings,' a great many of our New Jersey wedding couples are focusing on their wedding menu's green salads. In one of the freshest wedding catering trends, a new focus lands on the salad course, with couples requesting gourmet mixes of greens, vegetables, nuts, and cheeses. The salad course is no longer an afterthought as couples design their menus. The salad course has long been designated as a refreshing 'palate-cleanser,' giving guests a delightful plate of fresh, organic salad greens, crisp raw vegetables and vinaigrette after they've enjoyed heavier, perhaps creamy or cheese-based appetizers at the cocktail hour. Rather than salads made with iceberg or romaine lettuce with tomato, cucumber and a classic dressing, being creative and adventurous with salad options is an opportunity to impress and satisfy wedding guests. Be unique by adding seafood to the salad, or by incorporating the sweetness of a mandarin orange. Alternately, couples spice up salads by choosing exotic vinaigrettes
When deciding on the reception menu, be sure to consider aspects such as the season and location. Couples marrying on a snowy December night may choose comfort food, for example. Or, if the wedding is taking place on the beach, seafood may be the highlight of the menu. Whatever options are being considered, it is highly recommended to do a taste test first. Most caterers will offer this free of charge.
Wedding Desserts
Deliciously tempting desserts is one of the most exciting menu elements to plan. From dessert buffets to delicious ice cream or shooters and of course, the cake this element is an opportunity for guests to indulge. A wedding cake has to taste wonderful, as well as be beautiful to look at, and wedding guests have very high standards for wedding cake flavors. They love the classics such as a top-quality, moist vanilla cake with not-too-sweet vanilla buttercream; but they also love to be surprised by exotic flavors, and culinary combinations.
In addition, dessert buffets have quickly become a popular addition to wedding receptions that satisfy everyone's sweet tooth. Some couples serve waffle sundaes, others opt for chocolate mousse, gourmet donuts or mini ice cream cones.
Making A Miraculous Wedding Menu
As with every element of the wedding, the menu offers a unique opportunity to be creative and showcase personality. There are no rules, so couples are encouraged to have fun with their wedding menus and even break tradition.
For example, it is a rising trend for brides and grooms to serve an unexpected additional wave of menu items during the last hour of receptions that last long into late-night hours. Sliders, mini pizzas, soft pretzels with gourmet dips, and funnel cake are examples of delectable late night wedding snacks.
The key to all wedding menus is formal, detailed presentations, incorporating in artistic designs and flare. The wedding planners at The Manor are experts at incorporating personality into each and creating a most attractive and impressive presentation, to impress the guests from the first to the very last bite.