Irish Wedding Traditions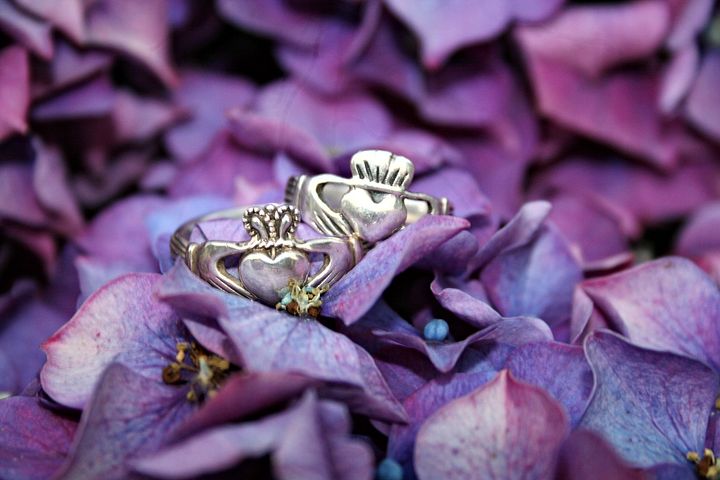 Irish wedding traditions incorporate numerous folklore and superstitions; in modern times, couples add twists to ancient practices in order to personalize their weddings in appreciation of their Irish heritage. Did you know the phrase, "tying the knot" originated from an ancient Celtic tradition known as hand-fasting, in which when the bride and groom's hands are tied together as a symbol of their union. In celebration of St. Patrick's Day, event planners at the Manor are here to add a dash of green, white and gold to your wedding, as well as incorporate Irish traditions to ensure the best luck on your wedding day.

Claddagh Ring
One of the most romantic and symbolic Irish traditions is passing down of the Claddagh ring. Named after the fishing village, Claddagh, the ring is a gift, typically passed down from mother or grandmother to the bride. The ring's distinctive design features two hands clasping a heart, topped with a crown representing friendship, love and loyalty. The ring follows a bride and groom's journey to marriage from a young age, as it moves with each step closer to the wedding day. Once married the ring turns so that the heart points towards the bride's wrist. In modern times, brides often incorporate the Claddagh ring design within the wedding invitations. In addition, the ring can also be used as the formal wedding band.
Good Luck Tokens
Did you know that ringing bells on a wedding day was once considered a way to protect a marriage from evil spirits? In modern weddings couples incorporate bells into the wedding décor as cardholders, vases, or ring at the conclusion of the ceremony as guests exits.
The Irish also believed that horseshoes brought good luck, and should be placed in an upright position the whole wedding day. In modern weddings, traditional iron horseshoes are replaced with more elegant materials such as glass or ceramic. There are many ways to incorporate this lucky charm, whether it is a pendant on a necklace, sewing a small version into your gown, or including a horseshoe in decorations and invitations.
Bagpipes and Irish Dancers
To best celebrate your Irish heritage, incorporate native music into your wedding entertainment. Booking an Irish band or featuring Irish bagpipes is a great way to embrace Irish tradition. You can further delight guests by taking pre-wedding lessons to learn the Ceilidh, a traditional Irish dance. Some of the Ceilidh dances represent a specific location in Ireland and so selecting a song and dance that reflects your family's heritage will make for a beautiful wedding moment.
Irish Wedding Cuisine
Give your guests a taste of the Emerald Isle by creating a traditional Irish menu featuring Irish soda bread, corned beef, cabbage and potato soup, all with of course plenty of Guinness and Bailey's Irish Cream. A traditional Irish wedding cake includes a fruitcake filled with almonds, raisins and cherries soaked in Irish whiskey with a sweet glaze frosting, topped with four leaf clovers for good luck. After the wedding it is common tradition for newlyweds to drink mead, a wine made from fermented honey, until one full moon to encourage fertility. This coined the colloquial term "honeymoon."
Flowers and Lace
Rather than a veil, an Irish bride often wears a wreath of wildflowers. English lavender along with Bells of Ireland are the most popular Irish wedding flowers that are incorporated into the wreath. In Celtic tradition, the bride would give her bridesmaids a myrtle plant, and if the plant grew, the bridesmaid would be married before the end of the year.
Lace is also incorporated into the wedding gown and veil; in addition, lace handkerchiefs are often carried the day of the wedding, which is then used as a bonnet for the christening of the couple's first child. A modern twist to this tradition is to carry lace handkerchiefs and hand them out as gifts from the bride.
A Lucky Wedding
While you worry about finding your "something old, something new, something borrowed, something blue; And an old Irish penny in your shoe," the wedding planners at the manor will help you creatively incorporate Irish touches to your special day. Whether you desire a traditional Irish wedding or just a few elements of your heritage, the Manor is adaptable to creating your perfect Irish wedding from working with florists to creating the perfect Irish ceremony. At the Manor, our wedding planners happily plan weddings for couples of all different cultures. We look forward to planning a wedding that best incorporates your heritage.