New 'First Look' Wedding Photo Trends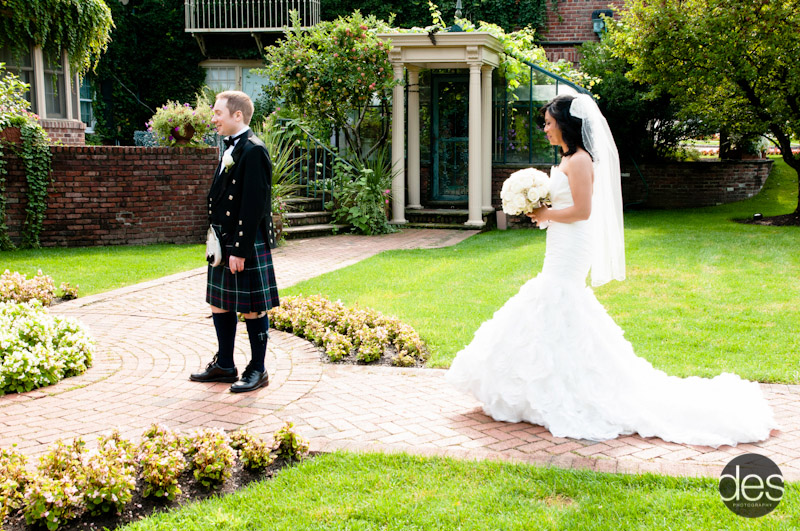 One of the top wedding trends 2016 is an expansion on a top wedding photography trend: First Looks photos. First Looks photos capture that amazing moment when the wedding couple see each other for the first time on the wedding day; the wedding photographer expertly captures the anticipation of turning around to see the bride in her gown or the groom in his tux or suit, then the emotional reactions when they do see one another – and embrace. First Looks photos provide forever a glimpse of those reactions, the teary eyes, the jaw-drop when you are seen, better than imagined.

As First Looks photos continue to top wedding couples' photo wishlists, and dominate the 'top wedding photos to get' charts, we're happy to report an expansion of these First Looks photos into first glances by additional special people on the wedding day. Again, your big reveal creates a heartfelt emotional reaction by your loved one, and your wedding photographer and videographer are right there to capture these very special moments, a priceless memory for you all.
Here are the new First Looks photos and moments to plan for your wedding day:
Father and bride First Looks wedding photos: When the bride is dressed and ready, her father is brought into the bridal suite (or the bride walks to greet him in a scenic spot of your wedding venue) for dad's first look at his little girl in her wedding gown. This is a very emotional moment for Dad and for the bride, which makes this a top pre-wedding photo to get right now.
Mother and bride First Looks wedding photos: If the bride's mother hasn't helped her dress for the wedding day, such as fastening the back of the bride's wedding gown, a special First Looks reveal moment may be planned for the mom's first look at the bride. It may be in your wedding venue's bridal suite, or in your event venue's wedding gardens filled with lovely flowers and a sweet backdrop for this big moment. Mom gets her first look at you, a dream come true, and the moment is captured by your NJ wedding photographer or videographer.
Groom and his father/mother First Looks wedding photos. The same trend applies to the groom, looking so dashing in his tuxedo or suit, his parents' pride and joy, with First Looks moments planned in your wedding venue's event space, on the grounds, in the wedding gardens, at a spot your photographer or videographer suggest to take advantage of the excellent wedding venue scenery and lighting.
Bride and bridesmaids First Looks wedding photos: Imagine the looks on your bridesmaids' faces when they see you for the first time in your wedding gown, with your hair and makeup styled, your dazzling wedding jewelry on, those fabulous wedding shoes carrying you forward into your wedding day. The big reveal to your bridesmaids can also be captured at a First Looks wedding photo session, in the venue's bridal suite, in a gorgeous room at your wedding location, in your wedding venue's gardens, or a setting your wedding photographer suggests for its scenic views from a wedding venue.
Here are some additional First Looks wedding photos to take with your most important people, in your wedding venue's most beautiful spaces:
With grandparents
With godparents
With your kids
With your flowergirls
With your ringbearers
With your child attendants
With the people who originally introduced you to each other
With your sisters and brothers
With your dog(s)
You choose which First Looks you'd like to do before the two of you see each other for the first time, which then allows you to plan some First Looks sessions as a couple greeting your special people. For instance, you'll have your Bridesmaids First Looks photos prior to your wedding couple moment, and your groom may do the same with his attendants, and then after your big moment, you can greet your child bridal party members, godparents, and other special guests together for unforgettable images and the best wedding photography possible.