Spring Wedding Floral Arrangements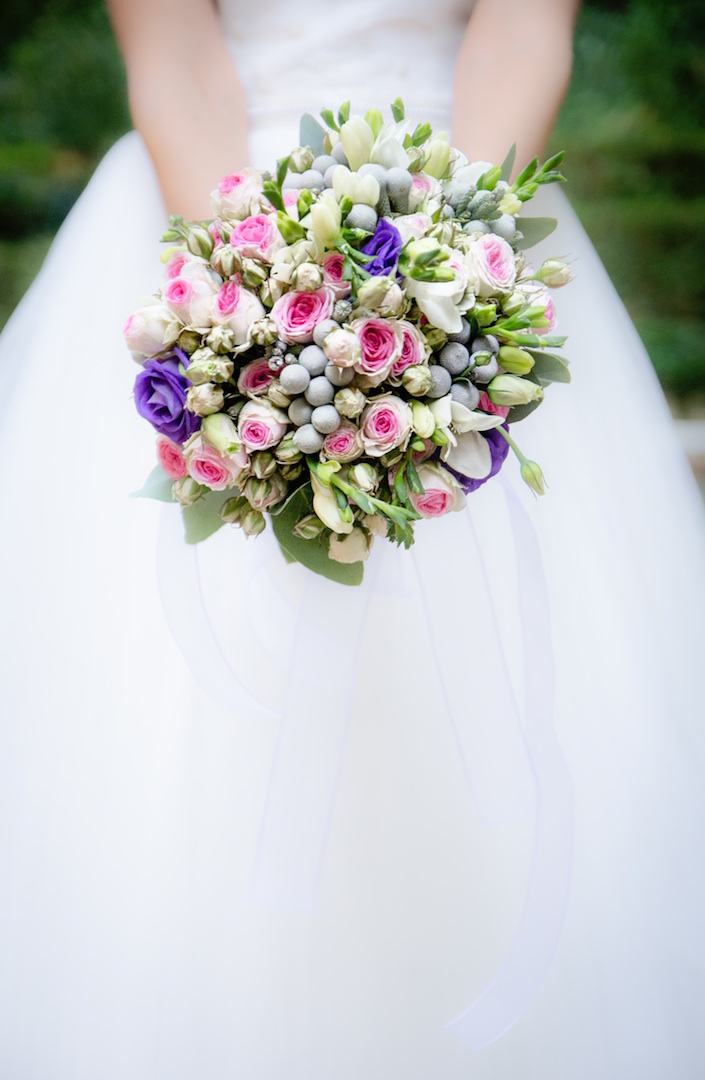 The awakening energy and refreshing air makes springtime a wonderful season to have a wedding. For brides choosing to marry during the months of April, May and June, there are endless available floral options now budding, from soft and elegant arrangements to fun and bold colors. Whether couples choose an outdoor or indoor ceremony, The Manor knows the perfect way to ensure your floral arrangements enhance your spring wedding theme.

Select Blooming Spring Wedding Flowers
There's no better way to bring the clean and sweet-scented feel of spring to your wedding than featuring in-season flowers! Take advantage of the economic benefit of purchasing floral arrangements that are currently blooming, as well as purchasing locally grown flowers to preserve the freshness of new blooms, and reduce your ecological footprint. Some essential spring florals you should consider include:
Peony
Daffodils
Cherry Blossoms
Dogwoods
Delphinium
Anemones
Iris
Tweedia
Cybidium Orchid
Pink Gerbera
Pink Ranunculus
Pink Rose
Sweet Pea
Calla Lily
Hyacinth
Hydrangea
Lilac
Purple Tulips
To enhance the look of your floral arrangements try combining these in-season blooms with year-round flowers such as Roses, Lilies, Gerbera, Daisies and Orchids.
Choosing Your Floral Arrangement Color Palette
Spring flowers include an assortment of bright colors and soft textures, which incorporate
pastels and tangerines, as well as rustic, vintage and garden colors. This allows to truly customize your color palette to the spring wedding of your dreams. Coordinating wedding colors in with table linens will help floral arrangements stand out. Light and airy fabrics can also help to create a cool spring feel. Using light nude shades in your wedding décor compliment all colors including creamy whites, soft pinks, light purples, earthy greens, and deep blues.
Choosing a floral color palette that represents the liveliness of spring will enhance your wedding theme and coupled with natural tones will overall creates a fresh and relaxed feel to each wedding floral arrangement.  For a bold and cheery color scheme, include luminous bright yellows found in Ranunculus flowers. For a bold bouquet showcasing one type of flower, opt for a hydrangea bouquet featuring many different pastel colors. Shades of pink found in a peony flower, mixed with nude tones, add sophistication with sprinkles of pretty color. The elegant shades of purple in sweet pea flowers adds charm, while tulips add a more rustic touch. For an eye-popping entrance down the aisle, consider holding the graceful magnolia flower.
Centerpieces and Tablescape Floral Arrangements
It is important to enhance the theme of your spring wedding, not only with flowers but also with the decorative elements used to hold each beautiful floral arrangement. The type of vases you choose will ultimately ground your wedding theme. To enhance the springtime feel, glass vases add a classy and elegant touch. Spring is an ideal time to have fun with your vase choice and you can incorporate colored glass vases, ceramic white vases and more. For a garden themed wedding, consider placing your florals in watering cans or painted tin cans, or for a rustic theme use wooden crates or copper cans. You can also add candles to the floral centerpieces or statues such as lovebirds or trees that truly embrace the outdoor spring feel.
Spring Has Sprung
The soothing soft tones and vibrant colors of blooming spring flowers can truly make your spring wedding as stunning as you have envisioned. The Manor will work closely with top florists from choosing color palettes, designer flowers and décor fillers to perfect your arrangements, and add creative touches to personalize your spring wedding. Spring Weddings are in full bloom, sit back and take in the fresh air while we take care of your spring wedding floral arrangements.