Spring Wedding Guests Favors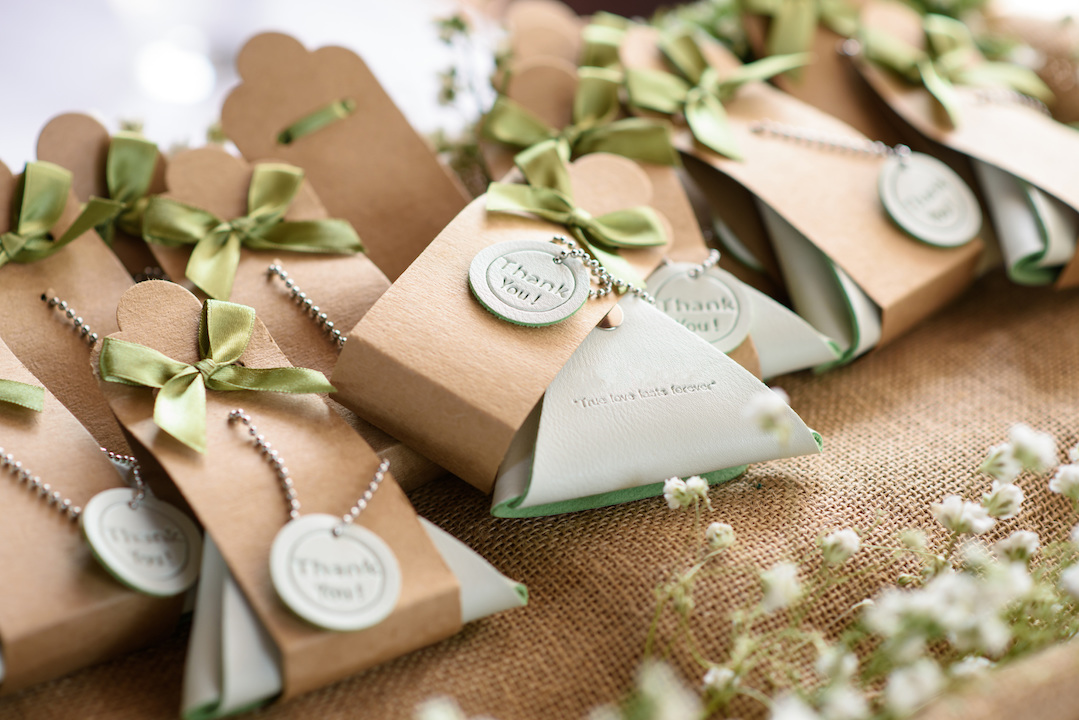 Spring brings a new awakening; the sun is shining, the weather is turning warm, flowers are blossoming, and love is in the air, making spring a popular season for couples to get married. To celebrate the season and help your wedding stand out, express your gratitude with spring wedding guest favors. The Manor has gathered top trends, as well as special seasonal twists on signature favors. Whether you're gifting a stunning accessory or an edible treat, these ideas will surely delight your guests long after your wedding.

Tablescape Take Homes
Tablescapes are designed with the intent to be the artistic arrangement for all your tables. What better way to have guests remember your wedding than having them take a small piece of your wedding home? Glassware and Mason Jars are perfect items to customize with your engraved wedding date or name. Vases are another option available in endless colors and finishes. Mini vases are perfect holding flower bulbs, considered non-porous materials such glass, metal, and acrylic. Clay vases such as stoneware and porcelain are also a durable material to hold flowers.
Drink ware such as stem less wine glasses, whiskey tumblers, or Moscow mule glasses offer practicality. Select your type of drink ware favor based on your wedding theme. For a rustic wedding select copper and metal Moscow mule glasses decorated with lilac flowers and dried lavender so an extra beautiful touch. For a modern wedding, opt for stem less wine glasses with your wedding date engraved; consider colored glasses that mirror the color scheme of your wedding.
Mason Jars are popular to hold sweet treats from M&Ms and gumballs to cake and smores kits, even turn one upside down to be a cupcake holder. You can also use Mason Jars to hold tea lights, herbs and spring floral arrangements. Don't forget to personalize each with a tag or engraving!
Edible Favors
Edible wedding favors are a unique gift guests will love to indulge in! Popular spring ideas for edible gifts are white chocolate-coated nuts, dove shaped mints, and pastel colored marshmallows. Package each edible favor with cellophane and ribbon to match your wedding colors. Common edible favors include delicious macaroons, sugar cookies, lollipops, and candied apples. You can also use linen, cotton, or burlap gift bags for a clean spring look to bundle up jellybeans, popcorn, and dried fruit. Take advantage of spring gardens by gifting harvested blueberries, apricots, and strawberries in the form of preserved jam.
Natural Beauty Products
Spring is an awakening season. What better way to make guest feel refreshed than with a natural beauty product as a favor? Consider using all natural paraben free cosmetics with ingredients such as: coconut oil, eucalyptus oil, tea tree oil, rosemary, lemon, white pear soap, green tea soap, brown sugar scrub, and lavender. Pamper your guests with ingredients for aromatherapy to help relax while also having certain anti-bacterial properties. Favors such as organic lip balm, sanitizer, moisturizer, lip butter, and bath gel are small and great for traveling. Using subtle cellophane color such lilac, silver, ivory and rose gold will make favors look elegant. Also, natural cosmetics last longer and do not contain preservatives or additives.
 "DIY" Planting
As flowers blossom, spring is the perfect time for planting in the garden. Perennial and annual seed of sunflowers, peonies, dahlias, tulips, and petunias are ideal DIY favors. You can choose to gift in a small decorative pot or bundle seed packages with decorative twine. The care instructions card is where you can get creative! For the care card, use a double sided card: on one side state the planting instructions, while on the other side, write your wedding date or monogram. Get extra creative and allow your guests to learn something new about you and your partner by providing a fact about yourselves such as where you met or why the flower has a special meaning to you.
Creating Memorable Guest Favors
Spring-themed favors are the perfect way to not only play off your wedding theme, but the blossoming season altogether. When deciding on appropriate favors, it's important to consider a personalized gift. From a sweet treat to a pretty decorative piece, our wedding planners will happily spring into creating the perfect wedding favor for your wedding day.