Top 10 Rehearsal Dinner Trends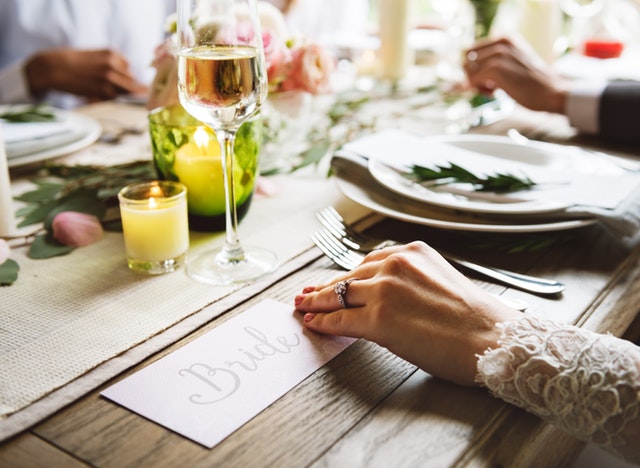 Traditionally many couples hold a rehearsal dinner the night before the wedding. In a relaxed atmosphere, the bride and groom can spend quality time reflecting on moments culminating to their big day while happily surrounded by close family and friends. Once customary for the groom's family to organize and host this soiree, today however, couples host themselves or opt for both sets of parents to host this special night.
The rehearsal dinner now breaks free of its traditional setting and rituals. From upscale dining and custom cocktails to sophisticated décor, The Manor proposes these top 10 rehearsal dinner trends to inspire couples and show guests a touch of your loving devotion for one another. Here's a toast to planning your special celebratory rehearsal dinner.
1. Fine Dining
It's not often people can experience an impressive five-star dinner accompanied with candle light or scenic views. More often, couples invest in holding their rehearsal dinner at high-end restaurants to extend gratitude and give guests a memorable experience. By incorporating savory dishes such as fine cut meats and aged fine wine, couples can truly pamper their guests. In addition, having the rehearsal dinner at a restaurant helps to relieve the stress of entertaining and cooking for a larger group. Since a grand dinner is typically expensive, couples can limit invitations to the bridal party and immediate family.
2. An Evening Out
Wedding planners agree that the rehearsal dinner should have its' own distinct identity from the wedding. Couples can opt to take their bridal party and family to a special location for a nice dinner with a view of the city, beach, or countryside. Choosing to drive out of close proximity allows the couple to feel as though they are "getting away" from wedding planning and appreciate quality time with close loved ones. Out of town guests and family will get excited to step out and see the town that the couple chose to say 'I Do' in.
3. A Custom Menu
Steering away from a standard catering menu that limits selection, rehearsal dinner hosts take it up a notch by collaborating with chefs to craft unique signature dishes including favorite dishes shared by the bride and groom and childhood favorites. It's not surprising to expect rehearsal dinners to include farm fresh ingredients, seasonal cuisine, trendy presentations and pairings, and incorporate food restrictions such as gluten-free or vegan. In addition, couples can ask for a tasting with the chef prior to the dinner.
4. Extending The Guest List
Traditional past wedding etiquette states that only the bridal party, parents, siblings, and the officiate should attend the rehearsal dinner. More and more wedding couples are extending the invite to include out of town guests. Couples can unite with guests after the meal for drinks and dessert or welcome guests at their hotel with cocktails and hors d'oeuvres.
5. A Second Option Themed Dinner
Do you have a second option for your wedding theme? Your rehearsal dinner is your chance to use it. By using two different wedding themes or color palettes for the wedding weekend, your rehearsal dinner will be an extra special event. A rehearsal dinner with a terrace is perfect for a beautiful garden chic or rustic decor. Similarly, applying a cohesive color scheme can make the dinner more polished and personalized, especially if the silverware and dinnerware is a different material than at your wedding reception.
6. Showcase Signature Cocktails
Cocktails aren't just for the wedding reception bar menu anymore. Instead, offer a special his and hers cocktail and have fun creating personalized names for your signature drinks. Couples can choose to spruce up the toast with a specialty bubbly cocktail.  In addition, you can create a virgin version of your cocktail.
7. Special Decadent Desserts
A sweet way to reflect on the couple's love is to include memories of their first date. The rehearsal dinner can also include childhood favorites— peach cobbler, just like grandma made. Also, couples can treat guests to a custom ice cream station or offer a variety of artisan cupcakes. Some restaurants will even allow for a custom name change to a dessert item for guests' menu cards.
8. Replay Moments With A Presentation
Utilizing multimedia for your rehearsal dinner provides an entertaining way to enhance the evening. Couples can replay the proposal, childhood videos, or have a slideshow of photos from milestones in their relationship. Choose to play the video on a loop or hold a special time to view it during dinner or to conclude the evening.
9. A Toast From the Bride and Groom
It's time to break out that fine bottle of scotch or Don Perignon so the bride and groom can show gratitude by toasting to their parents and bridal party. By highlighting beloved individuals, the bride and the groom now make time to share sincere thoughts for those that watched their love blossom. Also, couples can play song dedications as the soundtrack for their toast.
10. Wearing White
Many brides now embrace the opportunity to wear white for wedding events including their rehearsal dinner and bridal shower. Brides can choose a less elegant white dress for their rehearsal dinner. Some are embracing trendy details such as shorter cuts, off the shoulder, overlays, plunging backs and in a variety of color shades including creams and champagnes.
Uniting The Wedding Events
Planning a wedding is an exciting time and your rehearsal dinner should be a night to relax and enjoy quality time with the people you cherish along your journey to finding love. For more expert tips and advice regarding planning your rehearsal dinner and all the events leading up to your wedding contact The Manor to start planning today.