Top Quinceanera Themes for 2015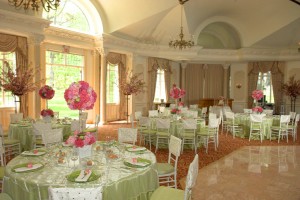 Part of the excitement of planning a quinceanera is choosing a quincenera theme. The girl celebrating a quinceanera will be very involved in choosing the details of her party, and one of the first tasks is deciding on a fun, festive and decorative theme.
Quinceanera girls are very much in tune with what their friends have done for their quinces, and they aim to outdo their 'competition' in celebration details, starting with the selection of a party theme, which leads into decisions on plans for decorating the ballroom, choosing florals, selecting a quincenera cake design, and ultimately choosing a quinceanera gown design.
Here are some of the top quinceanera themes expected for 2015 celebrations:
Princess. The quinceanera girl may reflect her Princess theme in a pink or blue ball gown, and may wear a crown or jeweled hair accessories. Popular Princess theme party décor includes a glass slipper centerpiece, horse and carriage ice sculpture, and a princess themed cake.
Butterfly. The quinceanera girl may wear a pastel-colored gown and wear gossamer butterfly wings for her introduction into the room. A live butterfly display is often featured at a butterfly themed party, and butterfly motifs may be used on the invitations, linens, and the cake.
Old Hollywood. Black-and-white décor stands out with pops of red in displayed signs, on the invitations, and the Hollywood sign may be featured on the cake, with the quinceanera ballroom transformed into a Golden Era of Hollywood-style lavish restaurant.
Mardi Gras. Centerpieces may be draped with Mardi Gras bead necklaces, and all guests get to choose their pick of masquerade masks. The quinceanera menu may get a New Orleans-style theme, as do adult beverages.
Shine Bright Like a Diamond. Faux diamonds in oversized 'cuts' adorn the cake, the centerpieces, and all of the quincenera décor dazzles with lots of bling.
Animal Print. Everything from the ballroom tables to invitations is adorned with animal print motif, at this fashionable party.
Ombre. The fashion-forward trend brings in a theme of graduated colors, from light to dark, to create a brightening of hues. The quinceanera girl may wear an ombre dress, and a top trend in quinceneras of this theme has the quince girl wearing ombre-colored hair extensions so that she may coordinate perfectly with her décor, her cake, signs and other elements of her party.
Fairy garden. If the quince will take place outside in the banquet hall gardens, a top theme is fairy garden, including lots of flowers, greenery garlands, fairy lights in the trees, bird accents and drapery displayed outdoors to dance in the breeze.
Paris. One of the top quinceanera themes is Paris, using Eiffel Tower centerpieces, French food and French desserts, and guests dressed in their most fashionable dresses, and of course, shoes.
Winter Wonderland. A winter quinceanera makes the most of a snowy time of year, featuring silver and blue décor, lots of candles and silver glittering accents like linens with shimmer in them. Ice sculptures add theme effect to this party, as do high-end faux snow machines and a hot cocoa bar.