Ways to Make Your 'First Looks' More Special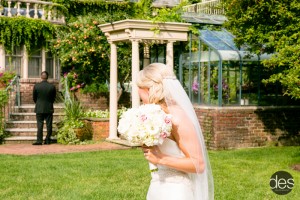 A top wedding trend is for the bride and groom to forget about that old wedding superstition that it's bad luck for the bride and groom to see each other before the ceremony. Now more couples love the idea of setting up a 'First Looks' moment in which the bride and groom appear before one another in a private meeting that is captured by the wedding photographer, and also the wedding videographer. You'll get that amazing first look at each other, in a spectacular wedding setting, and capture the expressions on your faces when you see each other in your wedding attire for the very first time.

Plus, this pre-ceremony meeting allows you to look your absolute best for your partner, not wilted if your wedding day is hot.
Here are some ways to make your Wedding 'First Looks' extra-special:
When scouting for your  wedding venue, look also for great places that could be your ideal First Looks location. Many of our NJ wedding couples choose indoor rooms with dramatic windows as the backdrop for their first meeting, and doors are also a top spot for that First Looks moment, as are fireplaces, and the bridal suite.
Make this a private event, just for the two of you, and with your wedding photographer and wedding videographer in attendance.
Choose 'two shooter' photography that has one photographer in front of you and one in back of you so that the 'big reveal' allows them to capture both of your facial expressions.
Plan for a private champagne toast for the two of you after your First Looks moment, and propose a sentimental toast.
Now is a wonderful time for the two of you to exchange your wedding gifts, if you haven't done so at the rehearsal dinner. This too can be captured by your wedding photographer.
At your 'First Looks,' have photos taken of your hands pre wedding rings. This is a great way to get a Before shot, to pair with the later After shot of your hands with your wedding rings on them.
Set up your iPod dock or arrange for music to play for your First Looks moment and during your champagne toast.
Allow for enough time to make the most of your First Looks and for any photos you'll want taken of the two of you there and then. Aim for a half hour. 15 minutes isn't long enough.
You could, of course, invite your parents and grandparents to be there for this big moment. This is your special moment to plan, and you can have special guests there with you to share in it. Plus, your photographers will also capture the looks of joy on their faces that they might not otherwise get during the ceremony, when cameras will be trained on you.