Wedding Etiquette: Engagement Party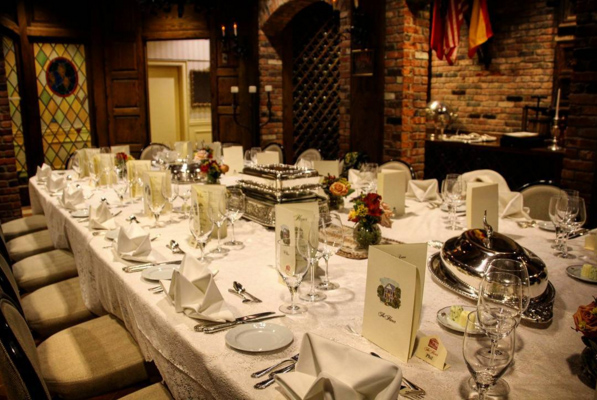 Wedding etiquette may have changed a bit in recent years, with some of the stricter rules relaxing to allow for more personalized weddings, but there are still many wedding etiquette rules still in play, and many also apply to engagement parties.
An engagement party is an exciting kickoff to your wedding planning season, and our NJ wedding couples come to us with exciting plans for their party to be held in our top NJ event venues. Restaurant settings are a new top engagement party trend, since it allows for the best catering in NJ, a stunning setting and views, and the hosts get to relax and enjoy the celebration more than they would at an at-home engagement party.
To help you plan your engagement party in fine style, and to impress your guests, we've collected the following engagement party etiquette tips:

Wait a few weeks before hosting an engagement party. A delay allows you both, and your families, time to just enjoy your engagement, and not dive into a big wedding to-do list or party planning timeline right away. Especially if you are a holiday engagement, allowing time to just enjoy current holiday weekend or week-long plans, this delay keeps wedding stress at bar for a while. Top etiquette experts advise planning an engagement party two to four months after the question was popped. This also gives you plenty of time to envision your wedding, and plan your wedding guest list before stepping into any engagement party etiquette mistakes.
When thinking about "who hosts an engagement party?" know that the parents of the bride are most often the hosts planning the celebration, although today it is acceptable for the parents of the groom to plan an engagement party of their own if they live far away from the couple or the bride's parents hosting an event. Both sets of parents should make efforts to attend both parties, if so. Friends may also host an engagement party for you. It's not considered good etiquette for you to plan your own party, since that can be seen as a plea for engagement gifts.
Set up your gift registries right away, before planning your engagement party. Guests want to know what to get you for an engagement gift – which is their choice to bring – so having a gift registry set up before engagement party invitations go out is as much a favor to them. Be sure to include plenty of gifts at a range of price points, from low-cost to moderate to pricier, so that guests get a nice variety from which to choose.
Engagement party invitations may have a link to your personal wedding website, which you should also set up in advance of engagement party plans, where links to your registries are located. It is not considered good etiquette to include registry cards in an engagement party invitation.
Only guests who will be invited to the wedding should be invited to the engagement party. It is a big party etiquette mistake to invite everyone you know to an engagement party, and then have them not get an invitation to the wedding. It is okay to keep an engagement party guest list smaller than your actual wedding guest list, only inviting your closest friends and family to this celebration. Other invited guests will understand that you wanted a more intimate engagement party.
Send engagement party invitations at least3 months prior to the celebration, to give guests plenty of time to plan. If your engagement party will take place during the busy holiday season, send invitations at least 4 months prior.
On invitations, list the names of all family members invited, just as you would on wedding invitations, so that there is no confusion. Guests will see if their kids are or are not invited to this party, and single guests will learn if they have been given a +1.
Hand-write addresses on envelopes, since it is still considered bad etiquette to print out guest addresses on labels.
Set a timely RSVP date for guests, weeks prior to your restaurant venue's catering deadline, so that you may make plans accordingly.
At the engagement party, the hosts give the first toast, and the couple may make the second toast right away, or wait until the cake-cutting or end of the party to speak.
It is wonderful etiquette to include in your toast a thank-you to your hosts, and to your engagement party venue's chefs and experts for their excellent work on your party details.
It is etiquette-okay to hand out gifts to your parents and bridal party members at your engagement party.
You may choose not to open your engagement gifts in front of all your guests, if you so choose. This relatively new trend keeps the party flowing in relaxed mingling, and allows all guests to enjoy their engagement party meals, drinks and desserts uninterrupted.
After the engagement party, send out hand-written thank-you notes to all guests, regardless of whether or not you received a gift from them. Some guests will opt not to bring a gift, but may arrange to send one to you after the party.