Wedding Trend: Having Your Pet In The Wedding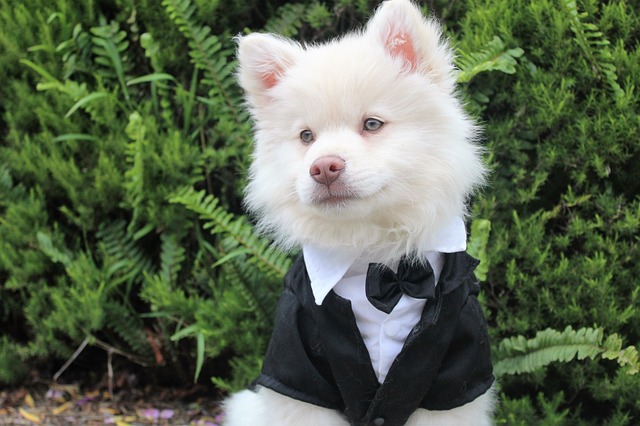 Pet owners know their four-legged friends are a big part of their life, and often considered family. For couples getting married having their pets present for their big day is essential. Incorporating pets into weddings is a practice is growing in popularity. From cats and dogs to more unexpected pets, being creative with how to incorporate these animals into your wedding is sure to make some social media-worthy pictures. The wedding planners at The Manor have everything you need to know to successfully showcase your fur baby on your upcoming nuptials.

Pet Precautions
Incorporating your pets into your big day will take some extra planning and considerations. First and foremost, check that the venues you choose allow pets. Many wedding venues have a strict no pet policy. Next, ensure your entire bridal party is onboard with the plans and that no one has any pet allergies.
Weddings can be stressful for animals that do not adapt well to flashing lights, commotion, new environments or strangers. For instance, receptions tend to be overwhelming with loud music and extensive guest lists. But people-friendly pets will happily extra attention they will receive. However, if your furry best friend is shy or uncomfortable around new people, it may be best to leave them at home. Rest assured, there are many ways couples can still have their beloved pet included in the wedding, such as featuring their pet in their engagement or save the date photos.
Handling Your Pet
Be sure to practice with your pet before the big day. Also, leave plenty of time to practice during the actual rehearsal at the venue, so that your pet and their handler know exactly what to do and when to do it. Doing so will help your pet to behave around your guests. For example, if your dog tends to jump up when they meet new people, your guests may not appreciate this. Before the wedding, teach your pet appropriate greeting behavior such as sitting and giving paw to a new acquaintance rather than jumping.
It is important to designate a caregiver or handler for your pet since your and your partner-to-be will be preoccupied the entire evening. This person will be in charge of your pet at all times ensuring they are safe and if they are behaving properly. It is also important to make travel arrangements after your pet has wooed the crowd, so they do not get overwhelmed.
Including Your Pet In The Ceremony
What role is your pet going to play at your wedding? Will Fido be the ring bearer? Will someone pull your cat in a wagon, or will your pooch sit in front next to the groomsmen as the pet of honor? Prepare and plan early for the tasks you want your pet to do during the ceremony. A growing trend is to include your pets in the ceremony as a stand-in for the flower girl or ring bearer. You can have fun dressing your pet accordingly in a cute top hat or flower crown. Be sure to have someone capture this picture perfect moment.
Some couples incorporate less traditional animals such as llamas, goats, birds, and even pigs into their wedding day. Adding these animals into your ceremony can make the day even more unforgettable. Dress them up with a floral wreath or bow tie to really be a hit.
As with the rest of your bridal party, everyone should look their best including your pet. Be sure to have your pet groomed before the big day. You want to ensure your pet looks and smells good when admirers are handling him/her.
Non-Traditional Bouquets
Looking for an alternative to a traditional bouquet? A new wedding trend is for bridesmaids to hold rescue puppies or kittens instead of bouquets. Not only is this cost-free; couples can raise awareness to animals that need homes. Coordinate with local shelters to bring puppies to use for your wedding. Be sure to announce to guests all animals are adoptable — wedding favors anyone?
Sharing Your Big Day
Sometimes your best friends are furry; these furry friends deserve to be part of your special day. More often than not you've had your pet before you met your significant other, so it's only natural to celebrate like one big happy family. Contact The Manor today for more inspiration to have your pet be part of your paw-some wedding day.