Wedding Trends: Best of Bridal Jewelry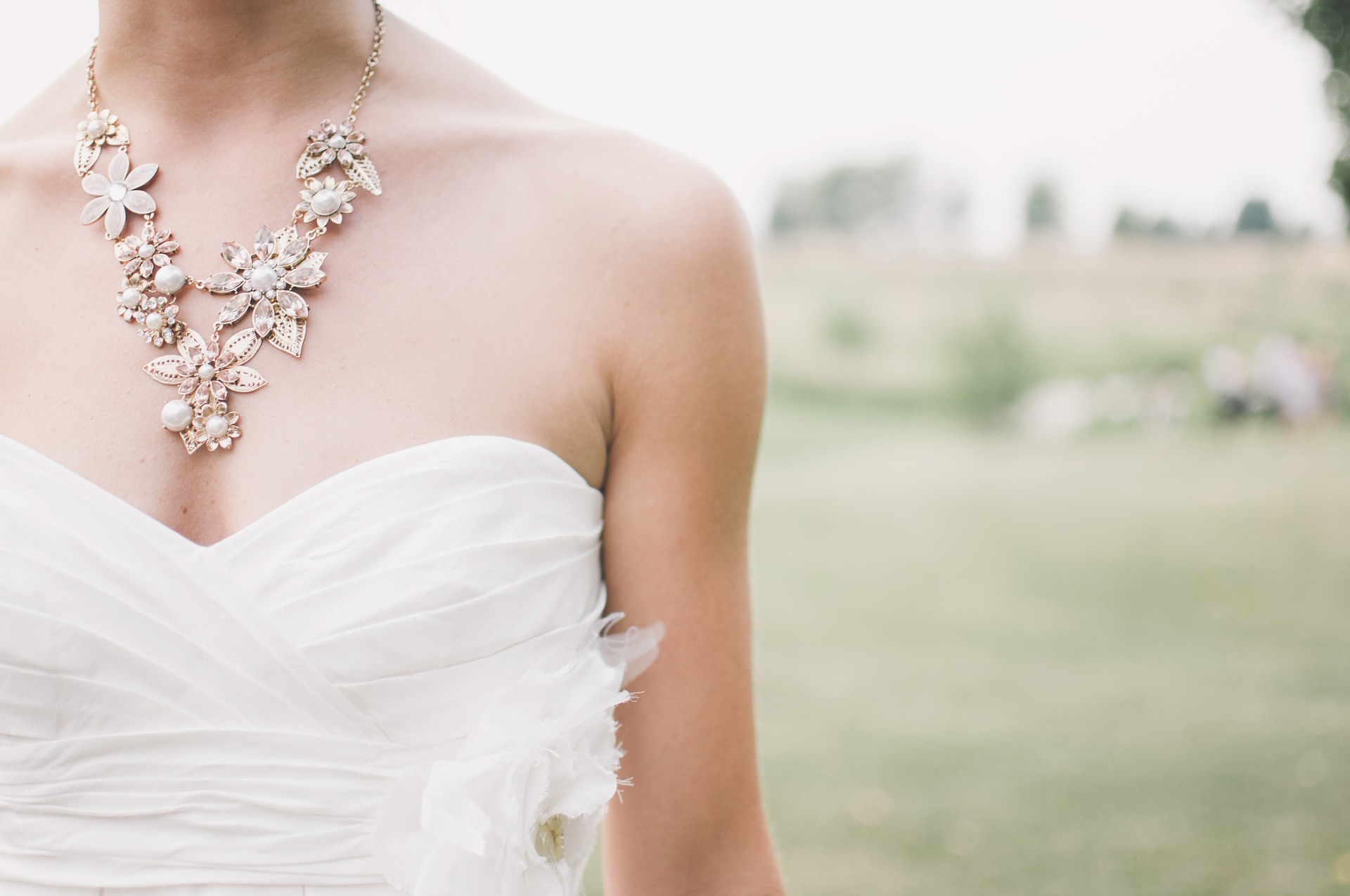 You have your wedding dress and veil, but now you must pick out your bridal jewelry! The accessories you choose to wear as you walk down the aisle will become ingrained in many of your photographs and memories. Since you'll want to look your best, you must familiarize yourself with the latest bridal jewelry styles and trends. Luckily, the experts at the Manor can deck you out with all of the right bling.

Bridal Jewelry Trends – Earrings
Earrings are tricky. If you want to buy your earrings, you'll need to have a general idea about your hairstyle since they complement one another. Will you keep your hair down? Do you want your hair in curls? Maybe you want an elaborate updo? Try answering these questions before deciding which kinds of earrings will match your style.
You'll also need earrings that suit your face. There are multiple different face shapes out there, and each has its own shape of earring that compliments it well. However, there is one earring that fits all: studs. Don't know your face shape? A pair of diamond or pearl studs is the safe route. They are also incredibly simple, go with just about anything, and are currently trending. They are perfect if you want to keep your hair down.
But what if you want to keep your hair up? That's what statement pieces are for. Statement pieces are unique earrings that stand above the norm and will surely catch your guests' attention. There are also many choices if you want long, dangly earrings, or perhaps some large classic hoops to add a bit of pop. Elegant strands of crystals or diamonds accented with a pearl will go well with your white gown.
Bridal Jewelry Trends – Necklaces
Whether or not you should have a necklace depends on your dress's neckline and sleeves. If you are going for a strapless dress, your neck will look bare without a necklace, so it is a worthy investment. However, if you want a higher neckline, perhaps with some lace or jewels, you might want to opt out on the necklace idea. You do not want your neck area to be too empty, but you also do not want it to be as busy as the mall on Black Friday.
If you do decide to invest in a necklace, what should you get? Swarovski crystals are always a stunning option, and their iridescent shine is likely to match your dress and bring out the sparkle in your eye. A string of pearls is more old school, but still incredibly classy and sophisticated. Small gemstones, perhaps your birthstone, can add a touch of color to the typically white ensemble when place on a chain. It's simple, yet delicate and eye-catching. Favorites now include tanzanite, sapphire, and opal.
Bridal Jewelry Trends – Bracelets
Bracelets, like necklaces, all depend on the bride's dress. This time it is the length of your sleeve. If you are sporting long sleeves, perhaps you have a winter wedding, then a bracelet may be unnecessary. Wearing bracelets over the sleeve isn't exactly fashionable nowadays, but if you really want long sleeves and bracelets, then no one should stop you from looking how you want to. However, it looks better to have a bracelet or two if your lower arms are bare.
Bracelets come in all kinds of metals such as gold, silver, and platinum. These options are elegant, will complement your dress, and will not tarnish like other metals. It is preferred that the metal of your bracelet match the band of your rings so that everything looks like it was meant to go together.
Bridal Jewelry Trends – Rings
Your wedding ensemble cannot possibly be complete without your engagement ring. That little circle of metal represents a whole lot, but so do your wedding bands. When going to the jeweler, ensure that the styles of the two rings compliment one another and can be stacked together. These two will be placed on your ring finger for years to come, and you do not want them to clash in any way. Bring the engagement ring when you and your partner go out to find the wedding bands—you won't regret it.
He liked it, he put a ring on it, and now its time for you to find the rest of the jewelry set for your big day. Make sure that you have found your dress first, so that everything you have will match. Need more assistance? The wedding experts at the Manor are just a call away!