What You Need to Know About Gender-Fluid Weddings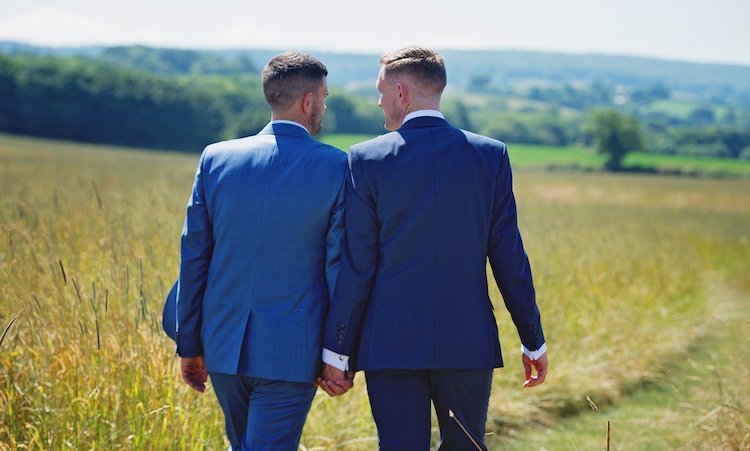 The wedding industry is largely heteronormative (favoring cisgender heterosexual couples) in its traditions and can feel somewhat exclusive to those who do not fit the mold.  With more people bravely coming out as gender-fluid, there needs to be space for every couple and their wedding party to feel respected, celebrated, and represented. As we celebrate pride month, here is everything you need to know about gender-fluid weddings, and important information to keep in mind when planning or attending a gender-fluid wedding.
A Brief Explanation of Gender Fluidity
As a relatively new term, many people do not yet understand the meaning behind gender fluidity. Identifying as gender-fluid means gender identity and expression change over time. The change varies in intensity of expression and identity. Many people will make the common mistake of conflating gender fluid with non-binary, which means the person does not identify exclusively as male or female.
Using Proper Pronouns
Labels can be confining and problematic. Therefore, it is important to always ask a person what their preferred pronouns are before making any assumptions. Common pronouns are he/him or she/her, and non-binary pronouns are they/them. In many cases, we make the assumption based on a person's expression. To avoid any incorrect labeling and awkward interactions, make it known throughout the wedding planning process what the couple's preferred pronouns are.
Gender-Neutral Wedding Party Titles
Weddings often incorporate "Mr. and Mrs." decor, "his and hers" gifts, and involve many gender-specific titles and roles. Changing small titles to be gender-inclusive can greatly reduce stress for the wedding party and the guests. In a gender-fluid wedding ceremony, the couple may choose the term "marrier," "partner," or "newlyweds" rather than the traditional "bride and groom."
Similarly, bridesmaids and groomsmen may choose the title of "wedding party" or "attendants." Instead of flower girl, try using "flower person" or "flower child." Rather than opting for a maid of honor and best man, try "person of honor" or "best person." There are many more gender-neutral terms and each person may choose something different.
Making Traditions More Inclusive
Ultimately, it is up to the newlyweds to decide how they want their wedding. There is always a gender non-conforming solution to meet the gender-specific expectations of traditional wedding events. Instead of choosing what dresses and suits the wedding party will wear, try choosing a color palette and allowing them to find the formal attire they are most comfortable wearing. When introducing the couple at the reception, instead of welcoming "Mr. and Mrs.," try welcoming "the newlywed couple." Gender fluid weddings require a small shift in mindset to ensure everyone has a positive experience.
Celebrating Gender-Fluid Weddings with the LGBTQIA+ Community
LGBTQIA+ deserve to celebrate weddings without feeling deterred by traditional heterosexual and cisgender norms, and with ultimate freedom of expression. So staying educated about genderfluidity is important to a successful, inclusive, and fun wedding. Each couple's ceremony is going to look completely different. At Knowles Hospitality, we take the time to understand each of our unique clients to provide them with the best wedding experience possible. We are here to exceed your expectations and bring your dream wedding to life! Connect with our wedding team today!