When to Cut the Wedding Cake During Your Reception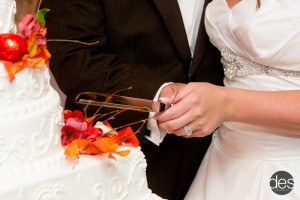 For many years, weddings held in the top event venues stuck to a well-worn timeline, including the plan to stop the dancing music abruptly when it was time to wheel out the wedding cake. Guests cleared the dance floor and encircled the bride and groom for the cake-cutting ritual, and after the wedding couple exchanged bites of cake – or smashed cake in each other's faces – the deejay or wedding band began the music again, hoping to regain and surpass the Fun Factor momentum he or she had built at the reception. The interruption in the dancing hours of the night very often brought the celebration to a screeching halt, the energy level plummeted, the dance floor never filled back up again, and guests began departing early…thinking that cutting the cake was a signal saying 'this party is over.'
Now, to avoid this ruination of the reception's great energy and packed dance floor, brides and grooms have created a new trend for the cake-cutting ceremony: they're cutting their wedding cake right after the spotlight dances and the first toasts by the best man, maid of honor, and the wedding couple welcoming their guests to the best NJ wedding venue for a fabulous celebration.
Here is how this new trend in cutting the wedding cake works: your cake will be on display by your sweetheart table, and after your spotlight dances, you'll take your seats at your sweetheart table for the toasts. Then, your wedding emcee will announce that 'the bride and groom will now cut their wedding cake,' and you'll stand to have your photos taken while admiring your uncut (so far) cake, while cutting your cake, and while feeding one another the first cake bites.
Then, the staff at your wedding ballroom will wheel your cake back into the kitchen to keep it safely refrigerated and stored away from the party – rather than leaving your wedding cake masterpiece out in the ballroom for many hours, which can tempt disaster – and then bring it to the ideal temperature for the wedding cake fillings and frosting before serving slices during your wedding dessert hour.
Wedding guests love this new twist on tradition, especially since older guests are used to the old etiquette rules saying that guests may not leave before the cake is cut…and then they must stay until perhaps the latest hour of the reception and depart (and drive) while tired. Cutting the cake earlier lets guests know that they have complete freedom to leave, if they must, without worry about etiquette rules or 'looking bad' to others.
And if you cut your wedding cake earlier in the reception, you'll look fresher in the photos and video of that big moment, not shiny-nosed or with a flattened hairstyle after hours of dancing and enjoying your wedding celebration.
Of course, you may very well decide to cut your cake later in the night, perhaps right after dinner service in your wedding banquet hall, to still avoid interrupting the dancing vibe and to protect your cake, but as a way to mark the end of the meal (and the slow-dance music) and get the party started with higher-energy songs and performances that fill your NJ wedding reception venue with very happy guests showing off their moves in great lighting and great sound for the best wedding they've ever attended.